Mmmm. Thanksgiving. One of my favorite holidays, and not just because it gives me every excuse to eat the way I wish I could every day: Like a continuous GIF nom'ing through treats without end. What's the saying? Love you like a fat kid loves cake? Yeah, that's me. I'm totally a fat kid at heart, only my "cake" is apple pie, which my mom makes flawlessly. So Thanksgiving is, like, literally the best day of the year.
Anyways. 
Also at the top of my reasons of "Why Thanksgiving is the best" are all the good vibes it brings. Really, does it get better than a day of hanging with your favorite people, celebrating one another and the year at large, and going to town on turkey? I think not. Alllll of the good vibes, my friends. All of them.
And I'm about to throw some more at ya with Kelly and Shaheen, as a part of our motherhood series. Today we're serving up a pre-emptive Thanksgiving feast of what we're thankful for.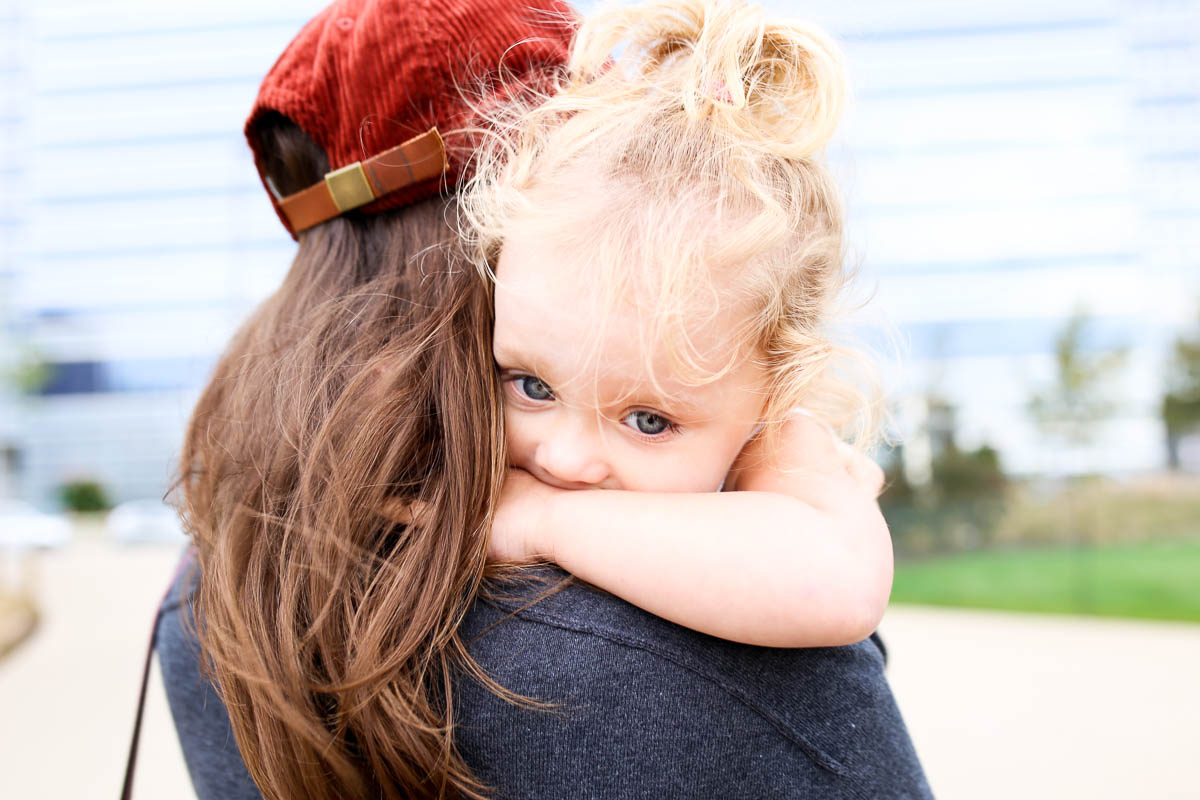 Despite the in between moments of messiness, sleepless nights or frustration at attempting to reason with a two-year-old, being a mother is simply wonderful. It's been the best experience of my life thus far, and I have no doubt when I'm looking back on things when I'm 95 and asking my girls to help me hobble to the bathroom, that will still hold true.
Truth be told, when it comes to being a mother, I have new things that I'm thankful for every day. I find myself continually looking at my girls in awe, soaking them in, and wondering what I did to deserve such blessings. (Really though, I must have been a nun in another life, because in this one, I've been mediocre at best.) Though my list of things I'm thankful for runs deep, in the interest of time (and your attention span,) I've come up with some key ones below!
20 Things I'm Thankful For
Health. First, and most importantly, I'm thankful for the health of Grace and Josephine. I'm also thankful for the health of myself, Doug, our parents, and families at large. The older I get, the more I realize how important health is, and I consider ourselves so fortunate to have it.
Grandparents. We've got the best in the business. Love you all!
When Grace says "I love you". She's been wrapping her little arms around my neck, puckers up in a sloppy toddler kiss, and whispers "I love you, Mommy". It just started happening recently, and it doesn't happen often, but when it does it literally breaks my heart.
The internet. Because I've looked up things like, "What does green poop mean?" far too often.
4 am wake ups from Josephine. She'll breastfeed, then fall asleep on me. Sometimes I'll just sit, rock, and hold her. I truly cherish those little moments and never mind that the next day I'm tired.
The ability to breastfeed. Josephine's cow's milk allergy has lead to me breastfeeding far longer than I had planned, but that said, I'm so thankful that I'm able to provide the nutrition and food she needs. I know many women can't, so having the fortune of the ability to do so is not lost on me.
Coffee. Enough said. Oh yeah, and wine.
Play-Doh. Enables every kid's imagination to go wild. The best toy ever invented.
Creatively speaking, kid movies today (looking at you Moana, Trolls and Beauty and the Beast) are quite impressive. They also provide a great segway to cuddles. I'll selfishly say yes to movie time just to get a little dose. (Tee hee — the girls have no idea what my true motives are.)
In line with the said entertainment above, Lin-Manual Miranda for creating the Moana soundtrack, which we've listened to 2,485,485,103 times and yet I somehow don't hate?
Music. Family dance parties are some of the best moments of my day.
Doug. He's the best partner in life, and I couldn't ask for someone more caring, kind, fun, and wonderful with our kids. Parenting with him has made me fall in love with him on a deeper level than I ever thought possible.
Laundry detergent. Diaper blow outs are no joke. What did they even do in the old days?
Diapers. Seriously, what did they do in the old days?!! Think about life without diapers. Can you even?!
Our careers. They help to provide a safe home, clothing, food and comfort for our children. They also help pay for a caring daycare provider, participate in experiences like weekend outings or travel, and enable for us to afford life in general. I'm truly thankful, as a mother and an individual, for my job, for Doug's job, and the opportunities they've provided.
Our group of friends. We're so fortunate to have a very close group of friends who genuinely want to know our kids, and who have made huge efforts to remain close despite crazy schedules.
From labor and delivery, to calling our pediatrician at any hour of the night, the doctors and health care providers who help us be better parents/people deserve a major shout out.
Planes, trains, & automobiles. Okay, this is technically three things, but whatevs. They enable us to see loved ones on a very regular basis. Though we're a state away from most of them, they're all still very involved in our lives!
From gmail to my calendar, Google keeps my schedule straight, organizes all plans, and essentially helps me function as a normal human being. Also on the technology front, my iPhone and camera for allowing me to capture so many precious moments that I already look back on and cherish.
Laughter. There's no better sound than when Grace or Jo are happy.
What are you most thankful for? Would love to hear in the comments below! Be sure to swing by Kelly and Shaheen's posts to read their lists, too!
PS — Where do you see yourself raising children? + The most beautiful words I've read in a long time + How did you choose your baby's name?