Note: This post was pre-written on Saturday, April 15. My due date is April 20. By the time you read this, I very well may have already delivered! Follow along on Instagram and Facebook to keep up to date with the latest. 
Current status: I'm sitting in my bed, surrounded by a cloud of pillows tucked under and around every part of my belly, waiting to go into labor. I'm fortunate because work gives me the week before my due date off, so I've had a few days to have some "me time" and finalize preparations, which has been so helpful.  I didn't even realize how much I needed this time until I had it.
…And yet, I'm cursing the clock. Every day I think, "This could be it! I could have my baby today!" And, every day, no traction. I think because I was four days early with Grace, and since they say second pregnancies tend to come earlier and labor is faster, I expected the baby to be here by now.
The last few weeks are such a waiting game, and honestly, I've found that to be the hardest part about it all. (Can you tell I'm not the most patient person?) Anyways, much has changed since my second trimester recap, so I owe you the nitty gritty of the homestretch of this pregnancy!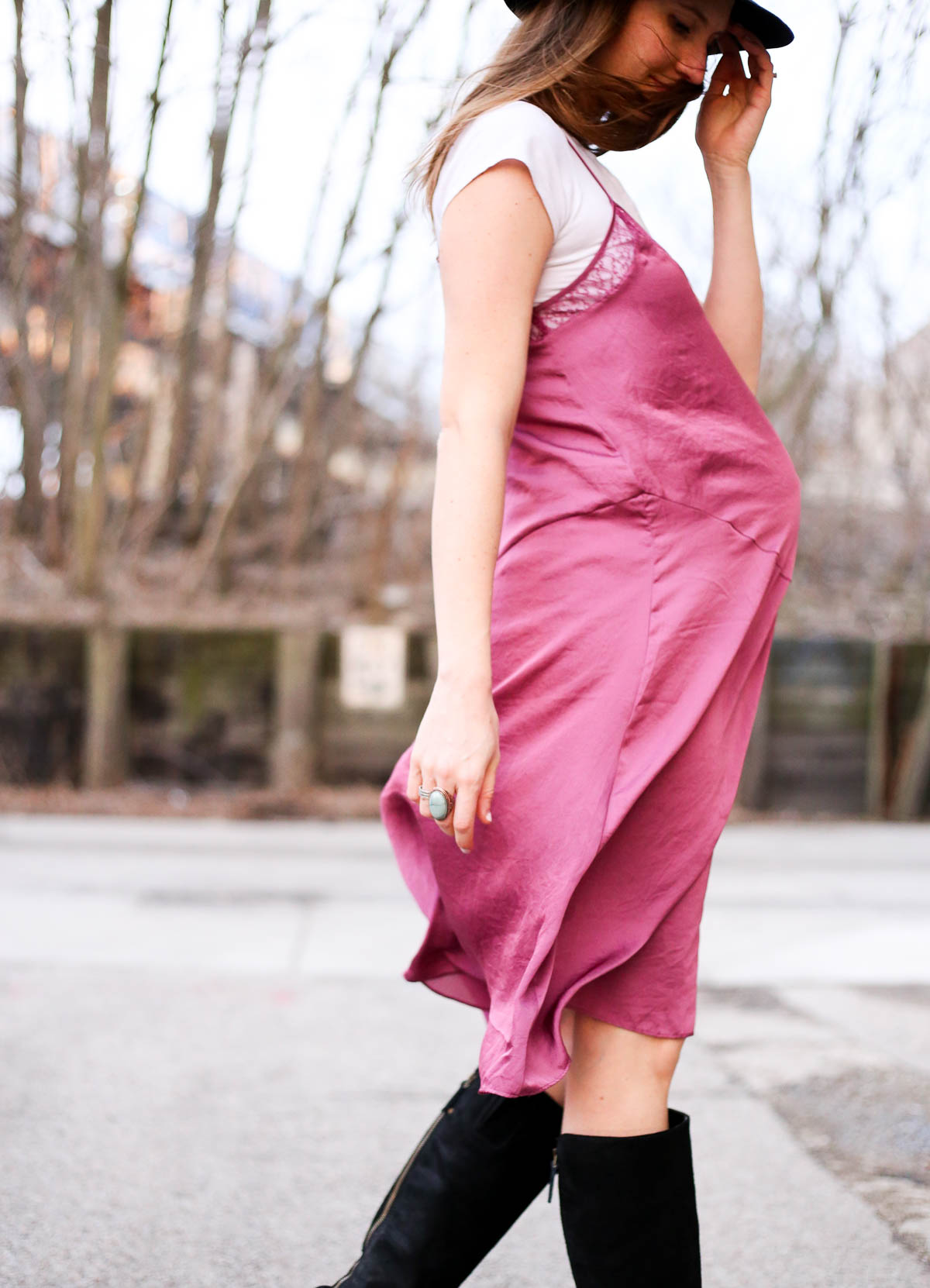 How are you feeling? Excuse my candor, but how I feel currently could be summarized in 6 words: Get this baby out of me. I'm ready. So, so ready.
While the first and second trimesters went by like lightening and I've generally had a status-quo pregnancy, the third has been quite a challenge. Starting around week 35, things got uncomfortable. Really uncomfortable. More so than I remember feeling with Grace. (In fact, when I talked about it with my doctor, he said this is very common with second time moms. When I asked for his advice, he basically said to suck it up. Ha!)
I think the baby dropped right around then (for those who may not know, this means that the baby moves further down the birth canal and starts settling in for labor), because that time period cued up a ton of pressure in my pelvic area. Ever since, that pressure is consistently there, making even laying down challenging at times. Everything just…aches. My feet, hips, back, sometimes even my bones. It's wild.
The exhaustion that hits when doing even the most mundane of tasks can be tough. All those aches, paired with a growing baby, is making it difficult to even grocery shop without feeling like some sort of award should be given just for getting out of the house. I think working and having a toddler in the mix of it all has made the exhaustion part more trying.
Despite all that, I feel pretty lucky as my energy is high during the day, all things considered, and I still feel pretty good most of the time. Honestly, at this point I think I'm mentally just so ready to not be pregnant anymore that my perception of all these physical aliments may be worse than they actually are, ya know? Where with Grace I was experiencing it all for the first time, I'm now over here like, "Bring it ON, mother nature! Let's do this. *fist bump*"
What's helped? Rest. Lots and lots of rest. I've tried to take it easy – I go to bed embarrassingly early, and whenever I feel tired, I let myself sit and relax. The other thing that's helped is a total juxtaposition of rest, which is kind of funny. I try to stay very active. I've found that being busy helps with the mental anxiety that can come with the third trimester; we go on lots of family walks, head to the lake front, play at the park, and stay busy as much as possible. (Within reason, of course!)
How's the baby doing? Great! Every check up has been met with a strong heart beat, which is music to any pregnant mother's ears. My doctor says she's right in line with where Gracie was – he's guessing she'll be around 8.5 pounds when born. We had an ultrasound at our 36 week check up, and the technician got some 3-D photos for us. It's crazy how much she looks like Gracie did while in the womb! I keep wondering if that was just because it's not the clearest picture or if she's actually going to be Gracie's mini. We will see!
Are you scared for labor? A little bit. It's weird…I've almost forgotten the pain from last time. It's like my mind has blocked it out and I feel more prepared despite knowing full well what I'm in for. But, no matter how you look at it, labor is labor. Not exactly an enjoyable experience, ya know? I just hope everything goes well and my baby is born safely and healthy.
Are you planning on getting an epidural again? Hands down…YES. Although, I'm a bit nervous of not being able to if I'm too far along with labor by the time we get to the hospital. All these stories of women giving birth so quickly are making me anxious!
How's Grace doing with it all? She's happy as can be, however I still don't think she's fully comprehending it all yet. She loves patting my stomach and saying "Baby", and she's still playing with her baby dolls a lot. She's also started to get excited when we talk about "her baby" coming soon. I really think a lot of the tips that people provided on transitioning a second child into the house are working!
Any more cravings? During the first trimester it was cottage cheese, and it was old fashioned doughnuts during the second.  The third trimester has thrown me a bit of a curve ball: I've been craving….mango. I don't know where that even came from, since I never really even thought of mango before. There's just something about the sweet paired with the almost sour taste of them that I can't get enough of!
Do you have names picked out? We have 3 top contenders that we love equally! As we did with Grace, we're going to see what comes to us as the final call when we see her. I know that sounds a bit odd, but I really think we will just know, just like we did with Grace.
Do you have the nursery finished? We've got it in a great place! Still some finishing touches to do, including getting a crib, but we've got a little time for that since the baby will be sleeping in her bassinet in our room for the first few months. I promise to share a nursery tour soon! It's shaping up to be super cute; it's a moroccan theme and definitely not your standard soft pink or blue "baby" vibe in there, which I think is super fun. (Hopefully she will too!)
Will Grace be going to day care while you're on maternity leave? Nope. We've chosen to have her stay home with me and the baby. I've heard this is likely to be a tougher route for me, but I think it'll be the best for her as she transitions to having a sister. I'm looking forward to spending lots of quality time with both kiddos, and having Grace be a part of every day of her new sister's life!
Oh dear. Will you have help? Yes! First of all, Doug is a rockstar dad, and I know he'll be very hands on as he was when Grace was born. Plus, our parents are the best. My mom is staying for a week after the baby comes, then my dad and step-mom are coming in the following week, and Doug's mom has offered to come in and help as well. We're so lucky!
Anything planned during maternity leave? Beyond taking the time to adjust, we do have a few things in the works! I found when Grace was born that getting out of the house was very helpful. So, we have a few Michigan trips planned, and we're going to Cleveland and Salt Lake City for weddings. All with the kids, of course! It'll be tough traveling with them but I think it'll be nice to be out and about, not holed up in the apartment, and it'll be nice to spend lots of time as a family.
—
Any other questions? Leave them in the comments below and I'll be sure to answer them!
PS – The truth about maternity leave, what to pack in your hospital bag for labor, and 4 ways to do push presents.