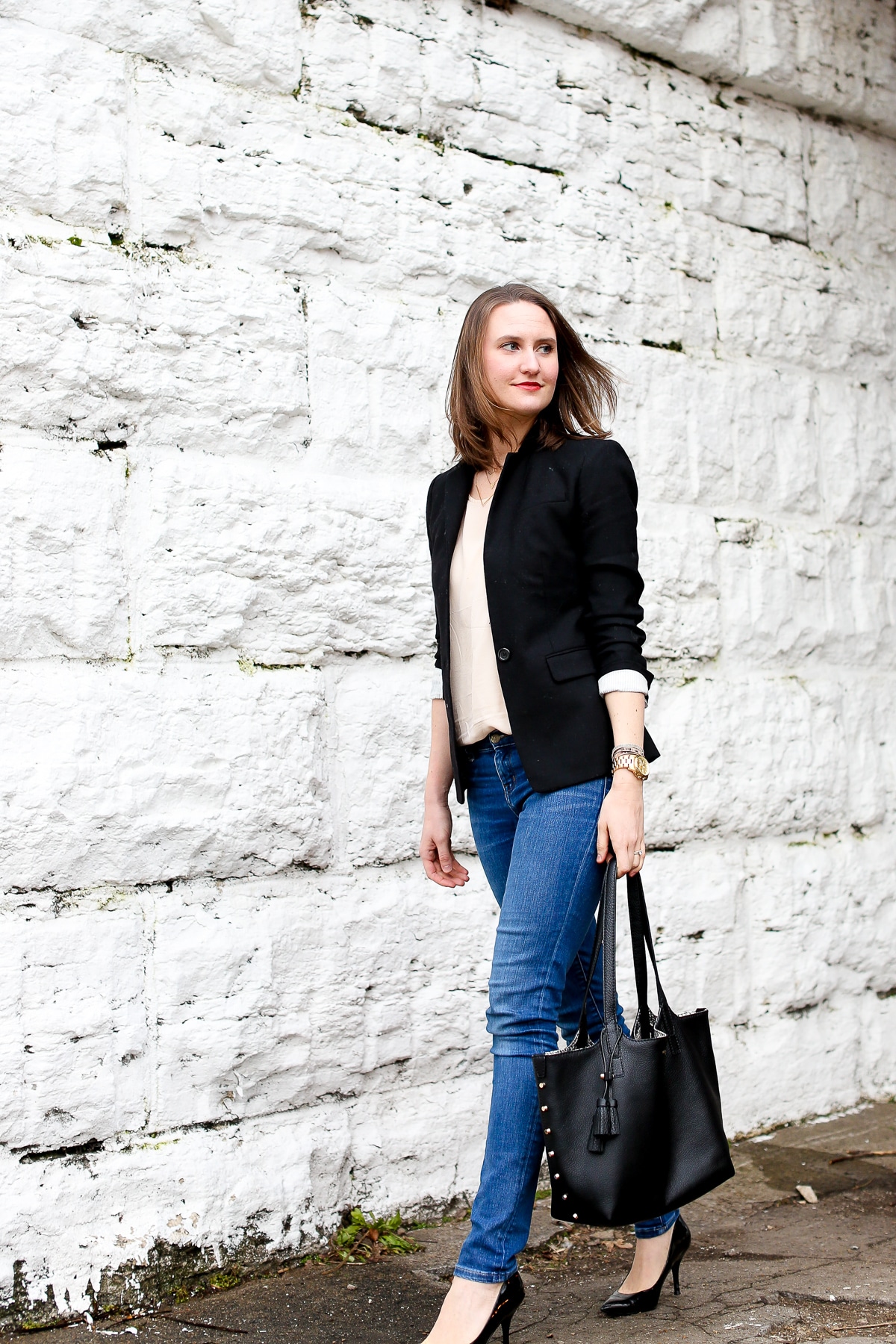 When it's January, sans snow, and warm enough to wear heels without tip-toeing over ice (Am I the only one crazy enough to do that drill?) it's a major cause for perusing around in heels with the ladies, amiright?!
Last week I had a few days off before starting my new job, so Kelly, Lauren and Arin came over for lunch and a work day session. Though we didn't get a whole lot done (let's be honest, "work sessions" with girlfriends really just means catching up,) we did manage to sneak out and take some photos.
Besides catching up with friends, one of the to-do's on my list for the week was to clean out my closet. It's amazing how things pile up, especially in a city apartment with very little closet space. Clearing out the old was the perfect way to kick off the new year – there's just something about streamlining your belongings that makes you feel so much lighter and ready to tackle anything.
Plus, a little extra space means more room for the classics that will always have a place in your closet, like this Henri Bendel Bedford Studded Tote or my constantly on rotation J.Crew blazer. Together they're an unstoppable duo — I paired them with jeans, a blouse (similar here or here), and heels to chic-up the look a bit more. The entire outfit was made up of staples that I reach for again and again, which is just what I was hoping to keep top of mind with my closet clean out. I'm finding that the more I refine my personal style, the more I gravitate toward timeless pieces like these. 
Oh, and don't think I didn't notice the lint fluttering around on my blazer in these pictures. This is what happens when you hurriedly clean your house minutes before friends come over in efforts to make them think it naturally looks like this every day. You know the drill. They walk in and say, "It looks so good in here!" and you act surprised, "Oh, gosh, stop! Really?! Thanks!" while secretly giving yourself a high five.
If you're laughing, it's because it's true. If you're not, then I'm lying above and my house really does always look spic and span. (Am I fooling you? Gah – I really need to grab another lint roller. #ColonelMustardInTheLibrary)
Lint aside, it's true that the best pieces stand the test of time, which is why in 2016, one of my style-centric goals is to focus on just the classics. I'll embrace them, wear them in different ways, and focus on quality over quantity. After many closet clean outs under my belt, it's clear that sticking with the classics is the only way to go!
:: Shop The Look ::