Nothing like waking up on a Monday to realize it's Tuesday, am I right? Short weeks are always best described with a double hands up emoji, as is any instance that brings you closer to the the weekend.
To celebrate the extra day of freedom, yesterday we went to the lakefront and had a little picnic. I love how the city comes alive when the weather is nice. People are everywhere, basking in the sunshine, and everyone just seems…nicer, ya know? They say hi to you. They wave. They smile and laugh when Grace tries to steal their food. (Literally happened a handful of times yesterday.)
Chasing after my little thief was made a bit more challenging in this outfit, but I didn't mind. I've been looking forward to wearing this top since I bought it back in March. I couldn't help it; my belly was growing massive, and daydreams of summertime tops danced in my head. I saw this and thought, "Yup. That's it. That's the one I shall make my summer debut in." …And I did.
I mean, how fun is it?! A little bit sexy, yet it covers all the right places. It's versatile (it's basically a wrap so you can wear it a number of different ways), and perfectly nautical. Plus, bonus for the new mamas, it was super easy to breast feed in. Win, win, WIN.
I paired it with a white midi skirt – mine is older but this one is so adorable – and Loeffler Randall gold star sandals. These sandals take the cake for the most fun I've worn in a while; they're light weight, go with pretty much everything, and the star details are adorable.
:: Shop The Look ::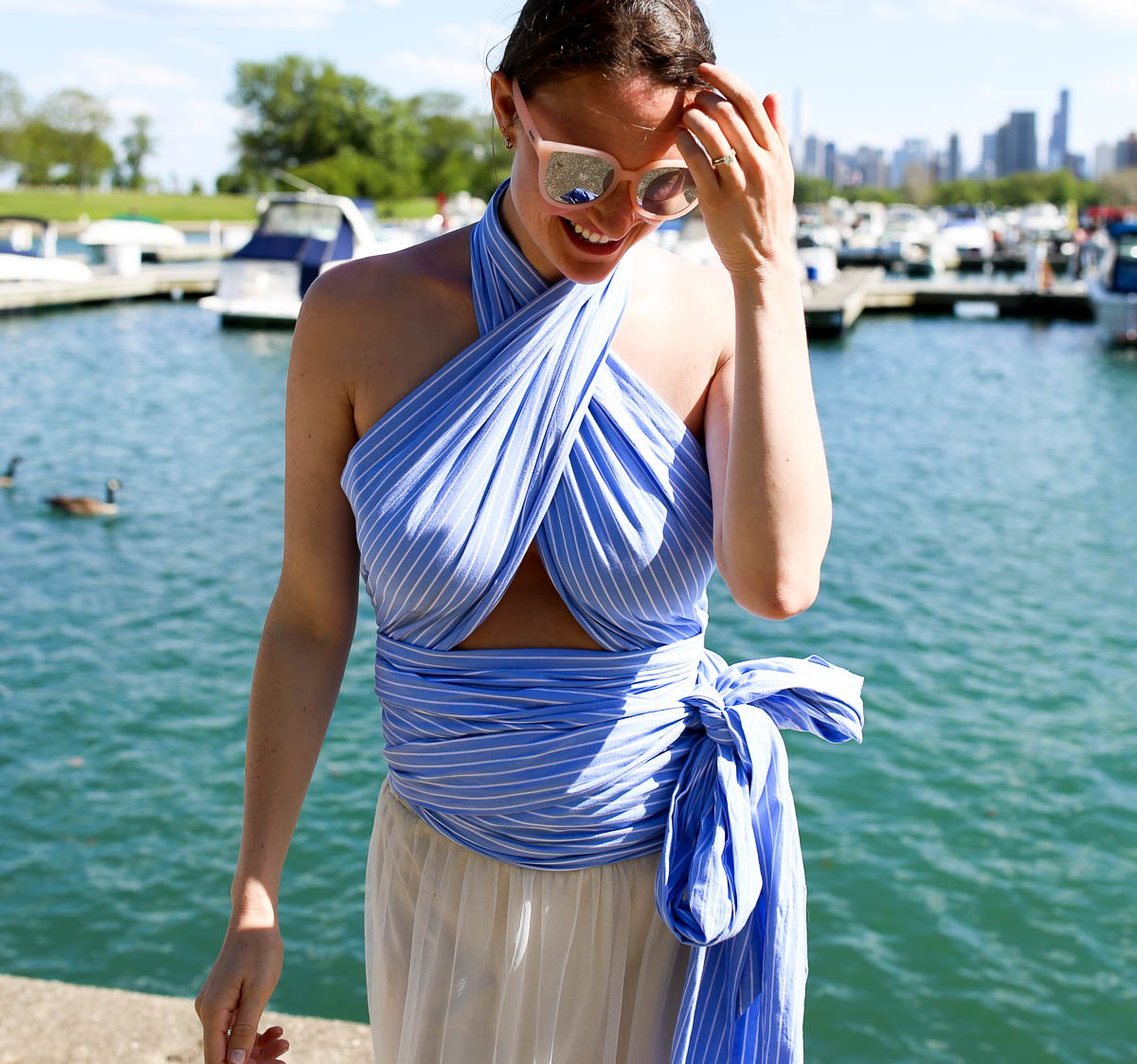 …As for our picnic. It was the most casual of casual – our friends Al and Becca swung by, and the majority of our time was spent lounging and chasing Grace. The perfect type of afternoon, if you ask me. Especially since Josephine started smiling the other day and was totally showing off her new skill left and right. There's nothing better than a newborn's gummy smile!
Here's a few pics, for good measure. I hope your Monday Tuesday goes swimmingly!