Well, it's back to the grind. Yesterday was my first day back to work from maternity leave, and while I can't say it was easy, I can say that it was easier than I thought it'd be. That's got to count for something, right?
Besides missing my little babes, dare I say it was even a good day? I caught up with coworkers, hopped in and out of meetings, attempted to go through the insane amount of emails in my inbox while nursing a warm cup of coffee, and occasionally stared at photos of Grace and Jo that their daycare sent.
The routine felt nice. It was familiar; like riding a bicycle. I sometimes felt weird with the time I had – like I should be holding a baby if I had a free hand or babbling to someone. I'm glad the former didn't blurt out in a moment of weakness. (Er…perhaps it did. I'm a bit out of practice with marketing buzz words, and I'm sure I sounded off at times.)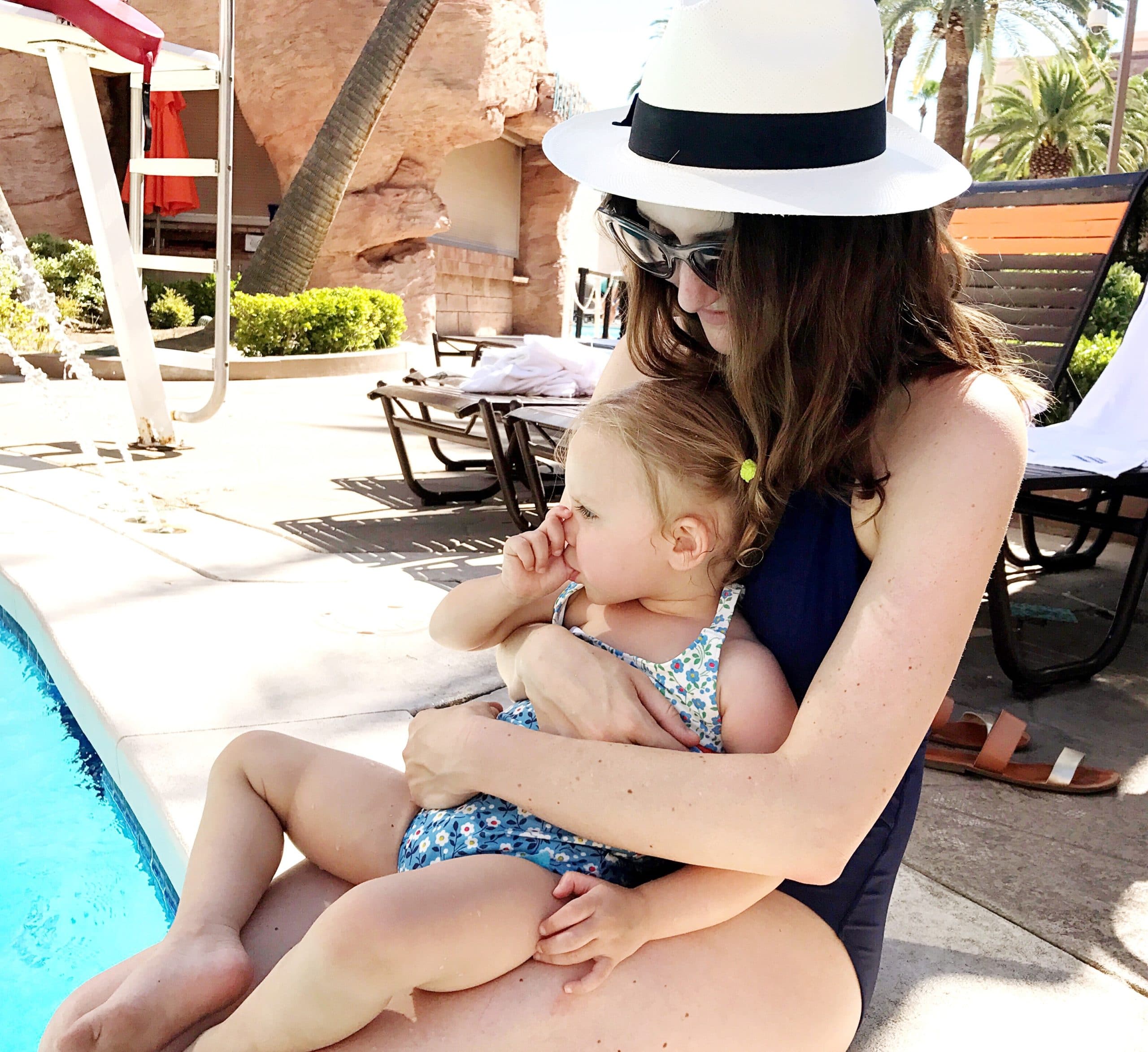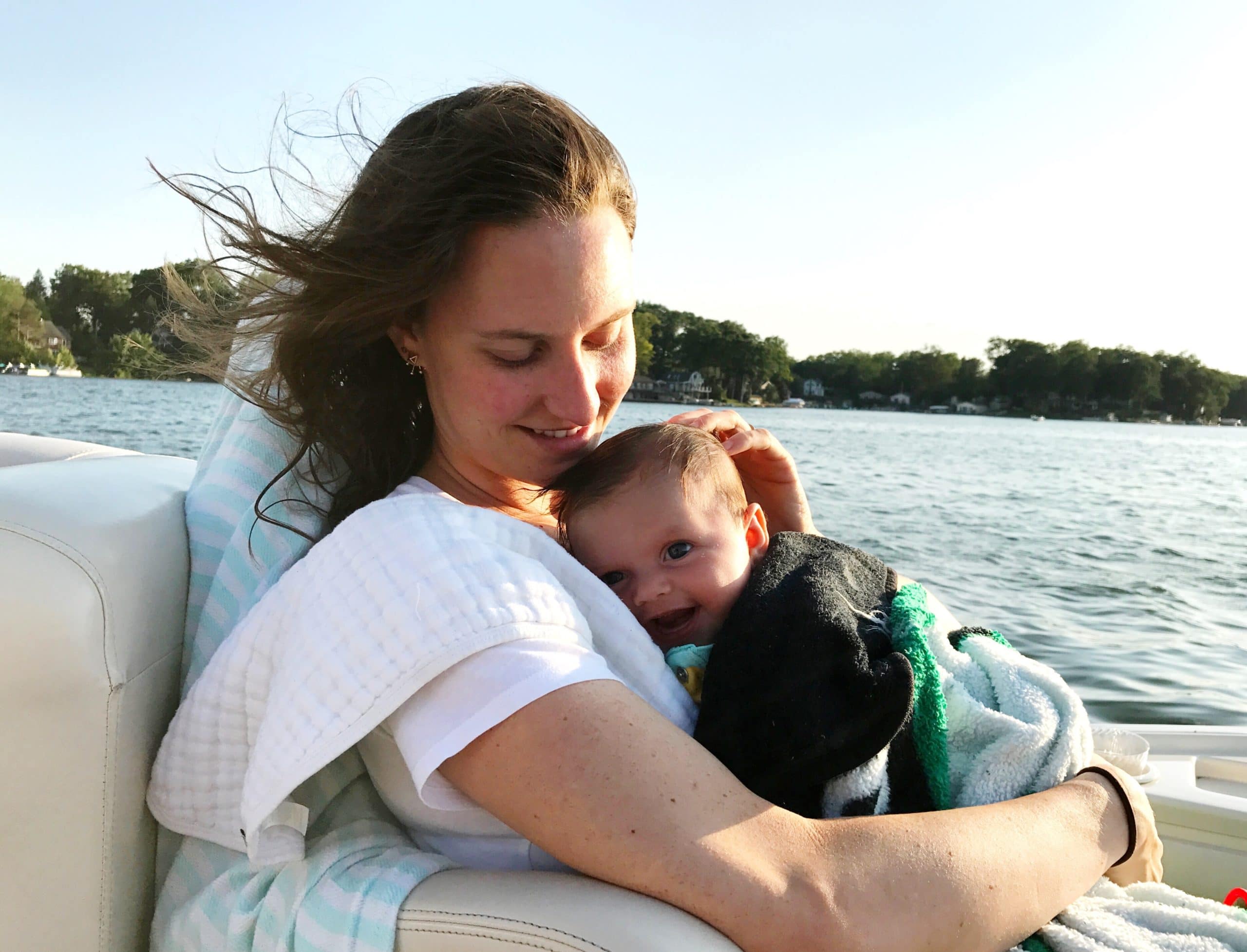 My mentality this time around was largely the same as when I returned to work after having Grace, but I think knowing what to expect helped with the transition this go around. Life goes on. We'll all adjust. Happiness isn't dictated by a job.
In fact, I have that job to thank. As I think back on the past 12 weeks, I'm so thankful for this time. I know that maternity leave is not something that everyone is able to take, and I feel grateful to have had 3 months of uninterrupted time. I was able to fully heal after delivery, bond with Josephine, and spend lots of time with Grace, too. We spent time with family. We traveled. I mean really, how lucky am I?!
All that's not to say that maternity leave was easy, mind you. Particularly in the first 2 months, it was filled with challenges. After introducing Josephine to formula, she was rushed to the hospital, and it turns out she's highly allergic to cow's milk. As a result, I had to cut out all dairy from my diet, which was a huge adjustment and learning curve for me. We had some breast feeding struggles, which was stressful because Jo currently doesn't eat anything else besides breastmilk as a result of her allergy. I talked about many other hiccups we faced in this post.
All that's really interesting to reflect upon, because things ended up coming full circle. The last month of maternity leave was one of my best ever. Seriously…ever. We all just kind of got in a groove, and with lots of fun travel in the mix, we really bonded as a family unit. It was exactly what we needed. Funny how life works like that.
Speaking of reflection, I realized that with all that's been going on, I've fallen short at keeping you all updated with things personally. So, here's a quick Q & A to bring you up to speed!
Where have you guys been!?
This past month has been busy with travel! We literally were home in Chicago for 4 out of the past 30 days, to give it added context. Crazy, right?! Even crazier is that we didn't really plan it that way – it just kind of happened.
My cousin got married at Zion National Park, so we made a family trip out of it and flew into Vegas, traveled to Zion, went to surrounding parks like Bryce Canyon, and ended with a few days in Salt Lake City. Then we were in Michigan for two weeks – first at Doug's parent's lake house for Josephine's baptism, then to Lake Michigan at a house my mom's side rented, and finally to the vineyards near St. Joseph for our friend's wedding. We did all this with the girls in tow. They had a blast, and so did we!
I have lots of trip recap posts in the works. Sorry for the delay – I have so many photos to sort through, and with everything in the mix it's been hard to sit down and put them all together! Stay tuned for more travel posts coming soon.
How did you handle traveling that much with two kids?
I owe you a post on traveling with kids. We picked up a ton of tips and tricks along the way. Don't worry, it'll come soon!
How's Josephine? What's new with her?
She's fantastic. She is the happiest baby – she loves to smile, and whenever you catch her eye, she lights up and shows those baby gums. It's the cutest thing ever.
I can't believe how much she is growing. Every day it seems like we're retiring another onesie; we officially just switched her drawers to all her 3 – 6 month clothing! What?! And she's becoming more alert, active and vocal by the day.
She just let out her first laugh on Sunday – a baby belly laugh when I tickled her – which I couldn't get enough of. She recently discovered her hands and loves to suck on them, watches her sister and smiles at her non-stop, is a pro at tummy time, loved Lake Michigan and the water, and is in awe at the colorful book pages when we read to her. I've been having lots of fun babbling with her and listening to her mimic sounds back. I swear, she's almost said "Hi" a few times! Perhaps she'll follow Grace in having that be her first word?!
What about her allergy?
Still there, but since I've cut out diary from my diet, all is going well. Supposedly 85% of babies who have a cow's milk allergy outgrow it by the time they're 3, so we're hoping she's in the majority! If not, we'll just do our best.
What I've realized through this experience is that though this is a huge adjustment for our family, it's really all going to be okay. A milk-free diet has turned out to be not as hard as I thought, and it's very healthy, so even the worst is not so bad! Plus, ultimately Josephine is healthy and happy, and that's all that matters.
How did you lose your baby weight so fast?
This is one of the most common questions I get. Too funny! And, I'm flattered.
The honest truth is that breastfeeding helps a ton. Did you know that you need more calories to breastfeed than you do when you're pregnant? True fact. The other thing that has helped, without even meaning to, is cutting out diary from my diet. Since I had to do this for Josephine, the weight has literally shed off. It's amazing how much food has dairy in it – with the exception of eating meat I've basically had to become vegan – and it's also amazing how much dairy I ate prior! I miss cheese.
Where are the girls going while you go to work?
Both Grace and Josephine are going to the same daycare that Grace has been going to since she was 3 months! It's run by two women out of their home, and they do such a wonderful job. One aspect that I think is cool is that they speak primarily Spanish to the kids, so all the kids that go there understand (and sometimes speak!) Spanish fluently. I love that the girls are getting exposed to diversity and different elements of culture.
Are you still thinking of moving?
Another question I get all the time! The short answer is yes, and the long answer is that we are still figuring all those details out, including where we want to go. With maternity leave, traveling, and now going back to work in the mix, we simply haven't had time to devote much thought to it.
We have adjusted our plans slightly, though. Our next big purchase will now be a van, which we realized we needed with all that travel in the mix. (No joke – it's Doug's dream car right now.) I'm still getting used to the thought of driving a van around, but know that I'll love it once I'm cruising. 😉
In closing, I wanted to say a huge thank you for following along during my pregnancy and motherhood journey. I really value this community, and truly consider all my readers friends. This blog started as a hobby, and has since become a side hustle and passion. I have all of you to thank, because it'd be nothing without its readers and supporters. So, from my family to yours, thank you!
PS – Thoughts on returning to work after maternity leave (I wrote this when I came back after having Grace), Why maternity leave is not a "vacation" (Even if you're like me and take a vacation while on it),  & Doug's Dad Survival Guide.