On Grace (All size 2): Leggings: Jersey leggings in Winter Wine (Also love these corduroy options)| Shirt: Mandarin-Collar Pintuck Tunic | Shoes: Leopard print lace-up sneakers | Vest: Button fur vest with hoodie| On Josephine (Size 6 months): Bodysuit: Thermal floral bodysuit | Sweater: Double breasted cardi | Moccasins: Sueded fringe in dark red | Leggings: Ruffle back jersey
HOLY HEART EXPLOSION. Gracie holding Josephine on her lap. I can't even.
She was so excited to be doing that, by the way. We had her sit down, placed Jo carefully on her, and Grace's eyes became big with the recognition that she had been given the utmost of important responsibilities. Then they started chatting together – little squeals mixed with baby laughs – and I pretty much turned into jello right then and there.
I believe it was a squirrel that ruined the moment, or was it a bouncing ball that Gracie couldn't help but lunge after? (Don't worry, we grabbed Jo before any harm was done.) More than 30 seconds was far too much to ask for, anyways. At least we got a few great shots of them in their adorable outfits!
Which leads me to the topic of this post, which is all about how my little ladies will be dressing for fall. Their wardrobe picks, if you will. Er…okay, my wardrobe picks for them. But I assure you, they agree.
As a part of our motherhood series, Kelly and I thought this could be a really fun way to highlight how our kiddos are dressing for the season. I'm sure you're familiar with Emma, her daughter, by now – she's basically the Gerber baby in real life, only cuter – and Kelly of course dresses her impeccably. Be sure to swing by her post to find her picks for Emma!
Total side note: I was texting with Kelly yesterday, and sent her a picture of Gracie and Jo from this post noting that I was so excited to put these live. We both noted how wonderful it is to have a creative outlet that propels us to photograph/write about all things motherhood. It's almost like a mini motherhood diary, and I love looking back on posts to reflect! So, thank you for reading, and for following along on our journey, and a big extra thanks to Kelly for being the best column buddy/friend ever!
Psst – If you haven't seen them yet, check out a few favorite posts in our series:  What have you learned from your kids? | How many kids do you hope to have? | How did you know you were ready to have kids? | Tips for traveling with kids | Three funny moments with Grace and Jo |Top 15 favorite newborn products |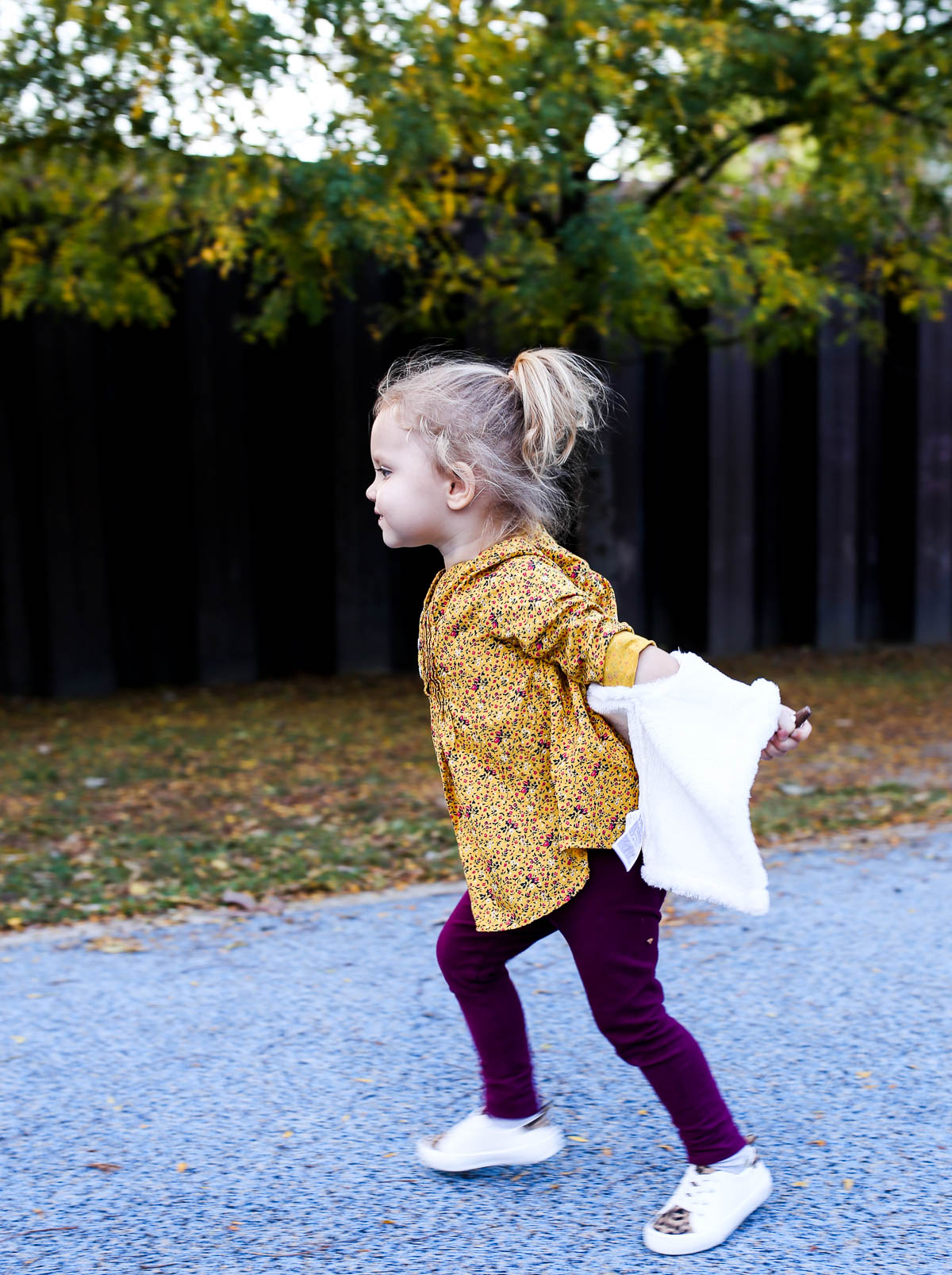 Alright, so, let's start with kids brands that we love. A few favorites include Janie + Jack (A bit more pricey but the quality is amazing), Sammy + Nat (THE softest cotton!), and Carters (Such a wide selection of items). In terms of places to shop, we typically go to Old Navy or Gap Kids because they have so many cute pieces for such great prices, but we also of course love Nordstrom, and also dabble in H&M kids too.
In terms of dressing, both girls have of course different considerations because of their age and bodies. For example, in most clothing Gracie is a size 2T, but her legs are so long that 2T leggings are short, so we buy 3T there. BUT her waist and legs are also so thin that most 3T waists are too big, so leggings (as opposed to kids jeans with no elastic waistband) are our solve with her. And Josephine is long, but really small in terms of weight for almost 6 months. (My little peanut is 86th percentile in height but only 30th percentile in weight – we're working on getting her bulked up!) So, some onesies are too big width-wise but too small length wise. So sizing totally varies with both girls!
Enough set up. Here are their fall wardrobe picks!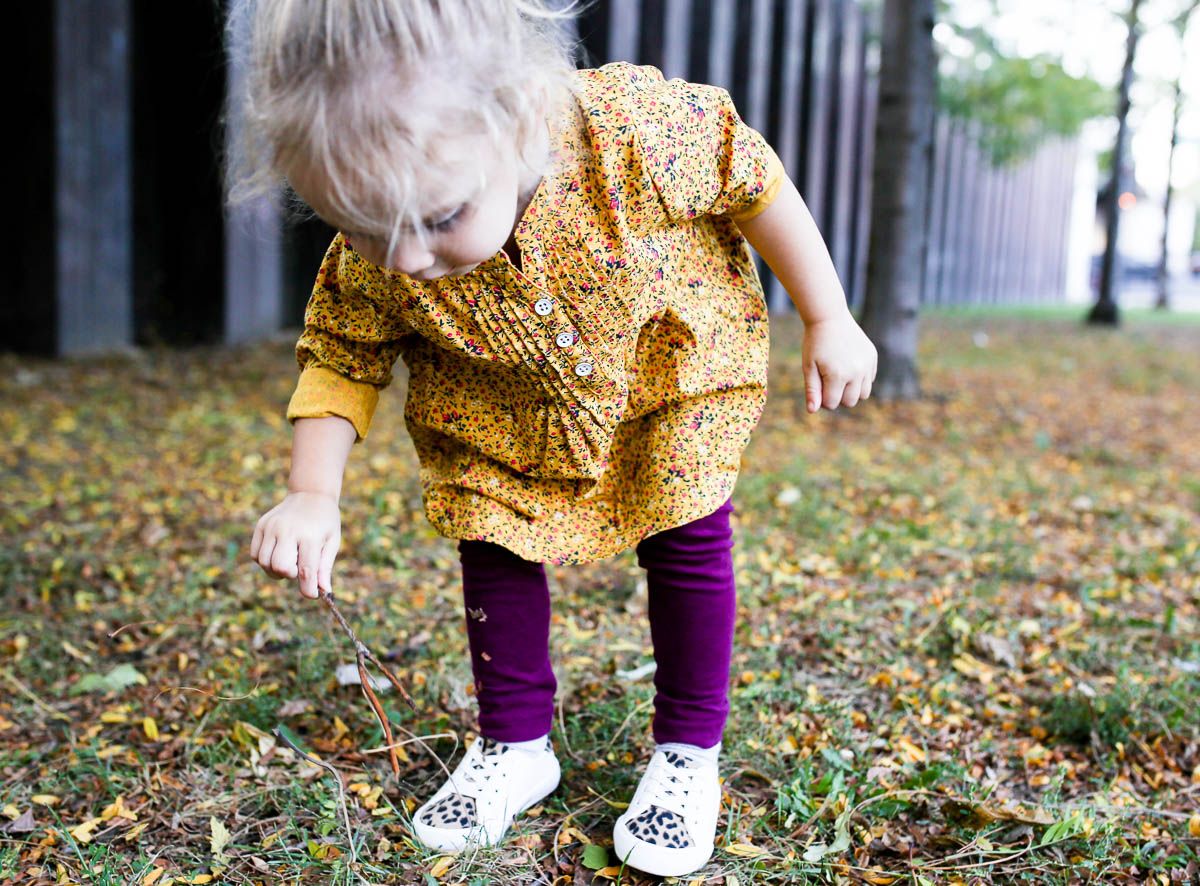 Gracie + Jo's Fall Wardrobe Picks
Any other suggestions for the girls that we should consider this fall? Leave your thoughts in the comments below!
Be sure to swing by Kelly's post for more baby girl outfit inspiration!