The other day, I was browsing department store aisles, and – BOOM – there it was. Fall, staring at me in the face, in the form of multi-colored leaf decor and an awkward Halloween-themed skeleton flailing its arms in attempt to scare me.
"Fall stuff already?!" I snuffed. If there's a sure way to turn someone into a curmudgeon (Does anyone else use that word all the time, or is it just me?), it's by rudely interrupting their summer-focused mindset with promises of cooler temperatures.
I can't. I won't! I'm taking a stance against the changing seasons. Didn't summer just start?! I haven't even made my summer bucket list yet.
But, alas, it's coming. Whether I like it or not. And, so…I must.
Of course, one of the most visible components of fall arriving is one's wardrobe, and I naturally started thinking of all things boots and comfy sweaters. It made me slightly more excited for the change of season. Switching out my spring/summer wardrobe to fall/winter is always a big deal, you see. I de-clutter and re-organize, leaving me feel mentally refreshed and ready for a new season.
In that process, I get excited when there are items that are so versatile that I can keep them in my closet, no matter what the season. Things like my favorite jeans, classic heels, or this silk slip dress from Cuyana.
Soft, silky fabric with a fluid silhouette. Beautiful details, a deep neckline and thin straps to make for a flattering fit. Comes in black, blush and now terracotta, in which I can't think of a hue to embody fall more.
Worth every penny, especially since it's season agnostic. Sunny out? Wear it with sandals. (Obsessed with these star options!) A bit cooler? Pair it with a leather jacket or blazer, and boots. Snowy? Nothing that a chunky sweater can't fix. It's perfect for any weather, any season, and that's why I love it so.
So, as fall approaches, I'm comforted by the fact that favorite items like this, in which I bopped around in 100 degree heat in places like the Bonneville Salt Flats, can also be worn when temperatures cool. As I live up every second of what remains of summer, it's a nice little reminder that my favorite season can truly last all year.
:: Shop the Look ::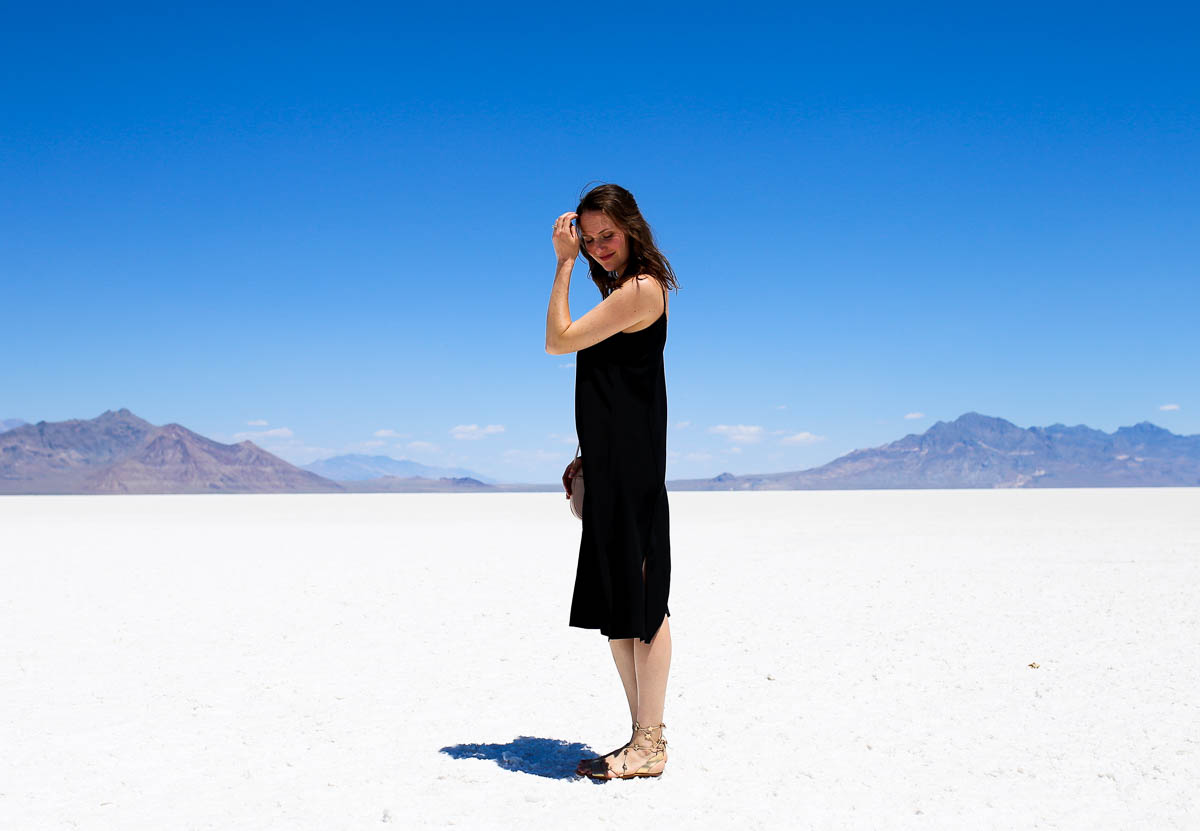 What items in your closet do you love wearing across seasons? Share in the comments below!