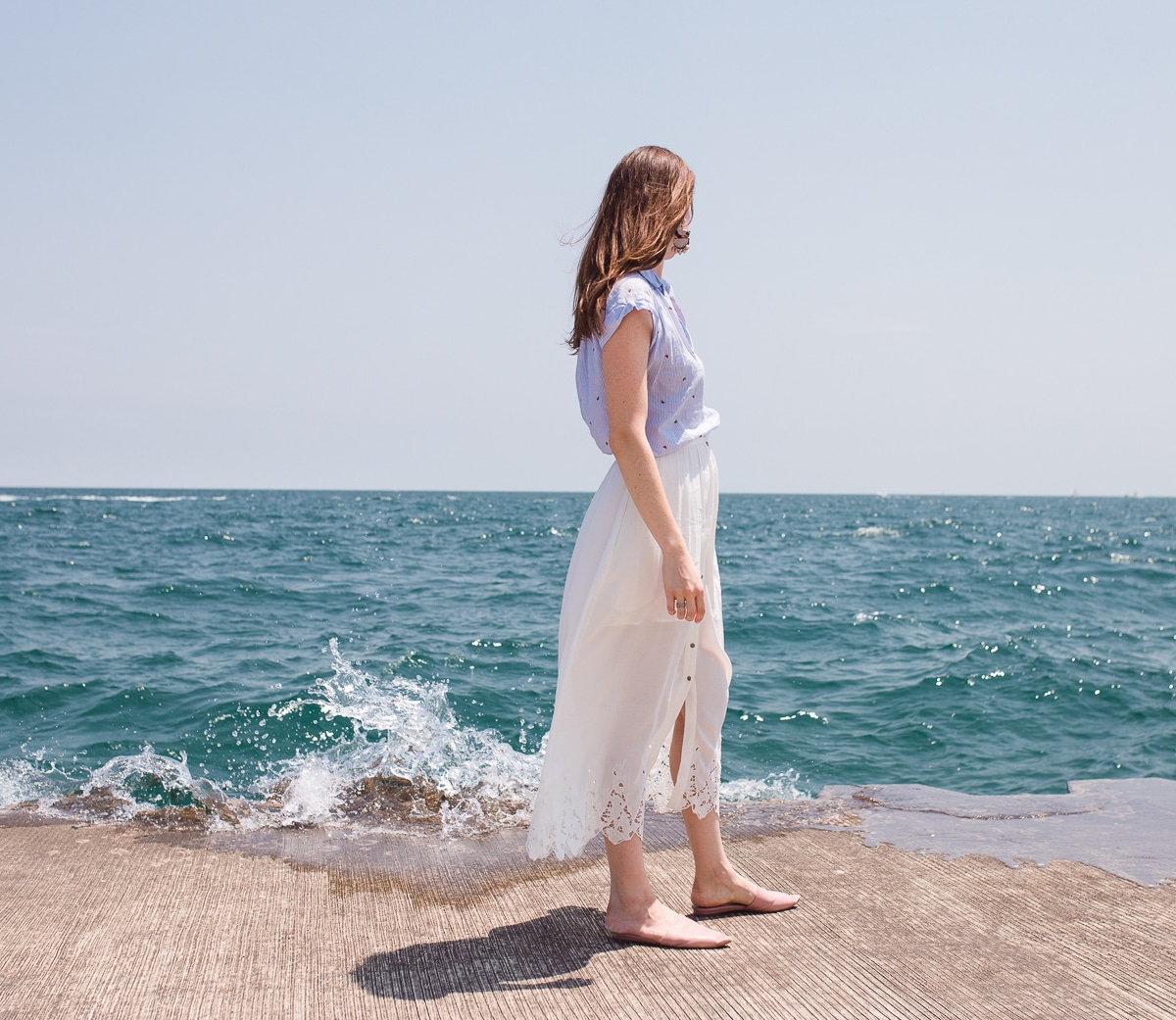 Shirt: White maxi from Nordstrom past season. Flowy, perfectly-summer options are here, here and here. Also, the florals on this one are making me swoon! | Blouse: Relaxed Printed Button-Front. Only $24! | Flats: Everlane Pointed Slide Mules. Sold out, however the Everlane Modern Loafer Mule, or Editor Slingback Flats are lovely. I'm also loving these open-knit options! | Earrings: J.Crew past season. I adore these colorful hoop options and how fun are these fruit bowl options!?
—
Dear Chicago,
Well, here we are. Moving day.
It's weird to think that in the days that are my life, this is the one where I leave you. Where we leave you. And, despite our decision to go, I can't thank you enough for all you've given us.
I think of all the memories, good times and bad, that have gotten us to this point. As I sit here typing, our apartment packed into cardboard boxes and a moving truck on its way, pausing and reflecting is certainly more of a mandatory than an option.
I close my eyes and see a tornado-like stream of memories, faces, and places woosh by. It feels like it's been both a minute and a lifetime. The city has become so much more than a collection of streets and skyscrapers and cultures and people and friends. It's become our home. To be redefining that is exciting and nerve-wrecking at the same time.
The feelings of gratitude, both for coming and for going, are perhaps all too vast to put into words. There's what is and what was. The have and have nots. The wishes, hopes, could-have-beens and, yes, the will never be's. Mostly, there's what's ahead, and an appreciation for what's behind.
In lieu of a long trip down the road of all of this and more, I will instead simply say this: You have been an absolute joy. At the end of the day, when all is said and done, the closing of this experience has been the best reminder to truly enjoy every single life stage. I can honestly say I lived up every single moment of you. Your hardships provided strength and your good times provided it, too. Living here has been one of the greatest pleasures of my life thus far.
So, Chicago, thank you. A million times over, thank you. Though Michigan has our future, you will always be a monumental part of our past.
Love,
Emily
PS – I'm not sure if the "excessive heat" warnings being given by my weather app are a sign of good tidings, but either way, I'm wondering if you could throw us a little of your famous wind today, eh? 😉