Pictured above: Stealing kisses from Gracie in December. This was one of the last blog shoots we did in 2017 for Isn't That Charming! 
Happy New Year!
I'm a firm believer that looking back to look forward is the best way to gain a well-rounded perspective, so before I lay out my resolutions in another post, I'm putting on a personal, more serious, hat today as I stop to reflect on 2017.
In other words, this post is about all of the feels.

Pictured above: While still on maternity leave, our family of four traveled across Utah, stopping for adventures along the way. This photo was taken on Antelope Island, after wading in the Great Salt Lake. (You can still see some of the salt water marks on my shirt!) As we stopped along the road to take in the wide open spaces and better get views of the wild life, I remember thinking about how carefree and happy I felt.

Pictured above: The four of us, wading in the Great Salt Lake. Taking this trip was a great opportunity and way to pause from the hectic city life, enjoy time together, bond, and adjust to life with Josephine. 
Not to be a total Deb Downer, but judging from what I've seen on social at large, the collective feeling about 2017 is that, well, it was kind of a doozy. A reeeeal big doozy.
For one, it was the first full year of Trump tweets and White House drama more shocking than "Sandal". Woof. There were heartbreaks like Vegas and Hurricane Harvey/Irma/Maria. Really important issues were brought to the forefront of discussions, like #MeToo and Harvey Weinstein. I know I'm just scratching the surface here, and I won't go too deep right now, but I do want to recognize that there were some very difficult happenings over the past 12 months.
I look back and am saddened that 2017 is the year in which I've felt defeated at the news stories more than ever before. My heart goes out to all those who were/are directly affected by any number of the very hard situations noted (and un-noted) above. I wish for you, more than anyone, a year ahead filled with peace, stability, and love.
However, as someone who likes to practice a "Glass half full" mentality, one thing that's been a constant among all the hardships going on is the fact that there are always good people who rise above the negative. They make me believe in the power of humanity. The doers. The action-oriented. The first responders. The people who speak up and take a stand. Those who make a difference. There is so much good in this world, and I'm in awe of all of those who embrace and demonstrate this. So if you're one of those people, thank you. I am inspired by you, and vow to better myself and take more action in the year ahead.
Pictured above: Lounging in Las Vegas. The awful shootings really hit home for me, since our family had just been in the city vacationing months prior. 
Switching gears to the personal front, I do need to recognize how fortunate I feel for having a year filled with as many blessings as it was.
The obvious one is Josephine's birth, which was easily the top moment of 2017 for our family. She's just the best. The absolute best. As is Gracie. Having two little girls to enjoy day in and out, to watch grow, and to mother, is an experience so wonderful that I can't quite put my gratitude into words.
Beyond my babies, there were so many great moments and memories that were made this past year. We enjoyed a babymoon in California, took our first big trip as a family of four to Utah and Las Vegas, soaked in little moments like blueberry picking in Michigan or celebrating our 3 year wedding anniversary, and fully embraced summertime in Chicago. There were also things that I've kept more on the private side, like Josephine's baptism on the lake, successes at work, or celebrating the marriages of some of the most important people and friends in our lives. All of these moments, big and small, helped to make this past year one for the books.
Adventures aside, there were the little, every day things that truly made this year special. Things like Grace taking a huge bite into her birthday cupcake celebrating year 2, or Josephine doing all her "firsts" like smiling, crawling and standing up. Jumping into the lake, soaking in the summer sunshine on the weekends, looking at fall foliage on long drives, and throwing snowballs. Dancing with Doug until the hours of the morning at weddings.
Being together. That's what's always most important, after all.
When I look back at memories, I always am reminded that it's not where you are, but who you're with, that matters most. All my best moments of 2017 have been because of, and spent with, those who I love.

Pictured above: One of my favorite outfits and photoshoots of 2017! Zion National Park was the most beautiful sight and we loved every second there. 
Don't get me wrong, there were hard times, too. Things and situations that I perhaps didn't let you in on enough here (more on that in a separate post.)
I went through a pretty tough healing adjustment after delivering Josephine. There was a massive learning curve with Josephine's cow's milk allergy, as I adjusted to life mothering a child with a severe allergy, breastfeeding full time while working, and a diet without dairy. (Love yew, miss yew, cheese.) While I'm so grateful to be a mother, it's also required more patience and selflessness than ever before. As someone who holds myself to a very high standard, I've had to learn to be a little more forgiving and flexible of myself. I struggled with going back to work and finding balance as a full time working mother. I've felt unbalanced frequently while trying to juggle it all. I've tried my hardest to be a good wife, mother, employee, blogger, daughter, and friend, but sometimes I've felt like I have horribly fallen short.
Nothing like the good, the bad, and the ugly to round things out, huh? 
Pictured above: Grace and her "shelf", just weeks before I gave birth to Josephine. This is one of my favorite photos of us together.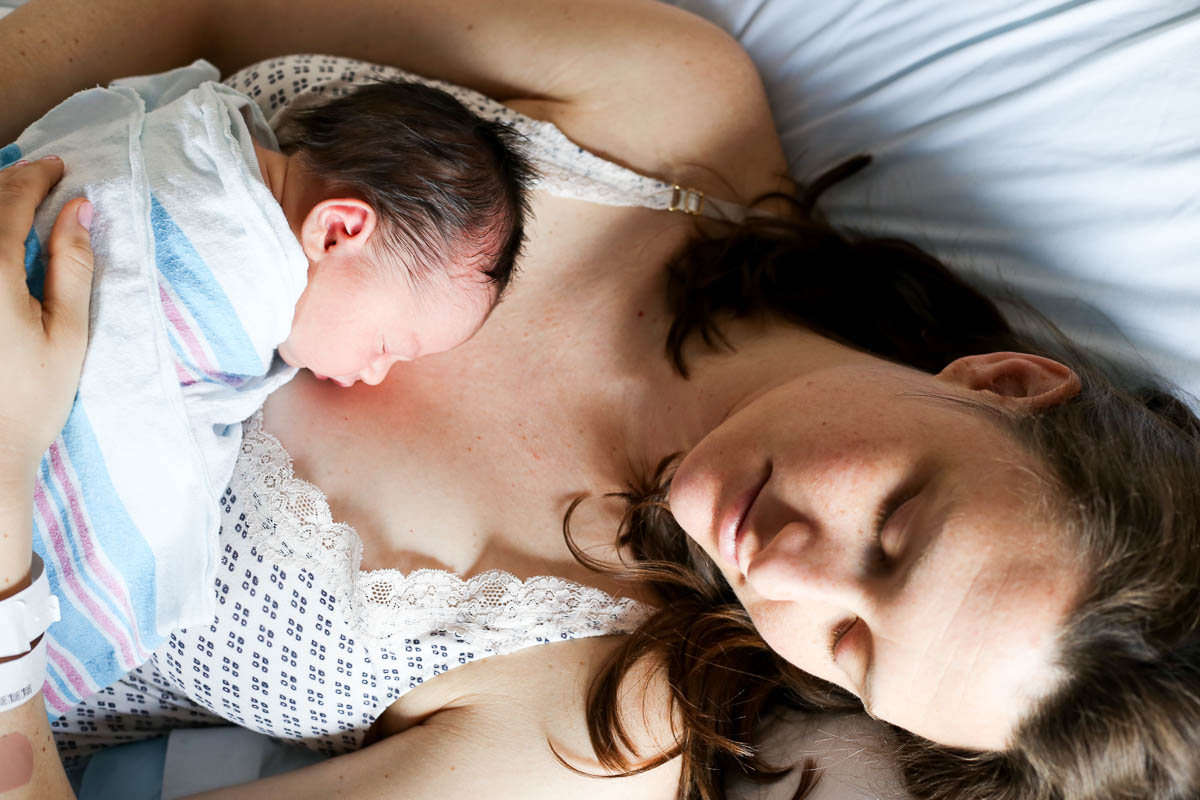 Pictured above: My little Josephine Bloom, just hours old. She has made life so much sweeter than I ever thought possible! 
With all that said, as I look back on 2017 from a bird's eye view, I see that this past year was filled with challenges, opportunities, and blessings, all of which have enabled growth. Our family grew in a very literal sense, but as a mother and individual I've grown exponentially as well. I really feel like this past year was one in which I personally have changed a lot; I've become more confident, and am learning to be more at peace with where I am in life, as life has thrown experiences my way. I'm very, very grateful.
As I step into 2018, I'm filled with hope, excitement and an energy I haven't felt…well, ever. I don't know how else to describe the feeling to you, other than to say there's a lot of great vibes going on, and I can't wait to really embrace them.
Do I have it all figured out? No. Have I learned that not having it all figured out, and letting life take me where it may, is perhaps the core beauty of it all? Yes. Do I have a better idea of where I want to go, what I want to do, who I want to be from here? Hell yes. 
Cheers to what I hope will be the best year yet. For you, for me, for us all.