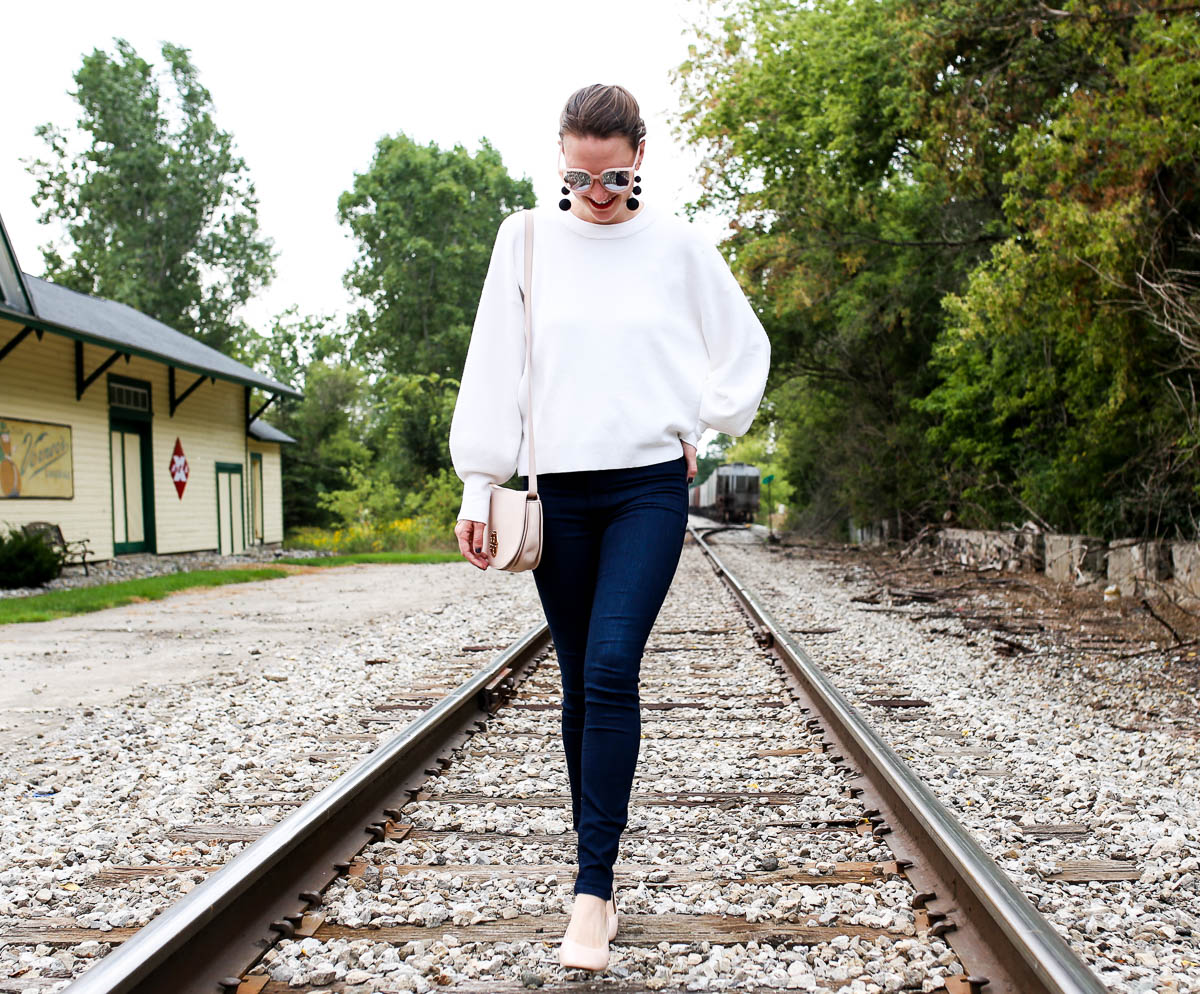 Sweater: H&M Fine Knit Sweater. I adore the sleeves on this and it's so comfortable! | Jeans: Hudson high-waist skinny jeans | Heels: Everlane Day Heel in blush. If you get one pair this fall, these should be it!  | Earrings: Crispin Ball Drops. You've also seen them in this post – they go with everything! | Sunglasses: Similar blush finds here.| Purse: Tory Burch crossbody in blush (I swear I own others in my closet, ha!)
Alright, alright, I'll admit it. Despite being a curmudgeon about the pending changing season over the past few weeks as I desperately held onto summer, I'm beginning to welcome fall.
…Dare I say I'm a little excited? Fine, I'll say it. I'm excited for fall. Cue the changing leaves.
My mind frame started to change over the weekend. I can pin point the exact moment, even.
At the last minute, we decided to go to Michigan to spend Labor Day weekend at our family's lake house. (Us in Michigan?! You're shocked, I know.) As we gathered into the pontoon and cruised along the waterfront, I reached for a blanket to wrap up myself and Josephine because the breeze was just a bit chillier than preferred. We cuddled under its warmth, with the sun's rays complimenting the brisk air perfectly. "Hello fall", I thought with a smile. And that's when it happened.

A few other things added to my excitement.
All the sales from this past weekend had me pining for fresh fall finds, and I grabbed a few that I can't wait to show you. On that note, in case you hadn't seen, J.Crew has extended their Labor Day sale! 30% off everything with code YESPLEASE. I snagged this classic turtleneck over the weekend (I have this striped option and this amazing blazer currently and wear them ALL the time), and today I've got these earrings, these crop pants (lots of lovely color options!), and this boatneck sweater in my shopping cart.
:: Shop J.Crew Picks (Use "YESPLEASE" for 30% off!) ::
The other thing that got me excited was our drive back to Chicago yesterday. The drive takes you through windy, tree-filled back roads and we spotted early changers that had red, orange and yellow leaves already in sight. There's no doubt that this time of the year is one of the prettiest in Michigan and I'm excited for all the fall-related activities that come with it.
I kept it casual in my favorite Hudson jeans (love their dark wash and the fit is perfection), a fine-knit sweater, Everlane day heels and ball drop earrings.
This sweater is a recent purchase and it's only $34. I love the subtle statement sleeves – they bring a fresh take to an already-lovely item, and the material is so soft and comfortable. It was the ideal item to welcome cooler temperatures; wearing it made me want to curl up and read a good book. These day heels come in a plethora of colors, including black, red and brown, and are the perfect heel height. (A tough feat to find sometimes!) If you invest in one pair for fall, these should be it — they're comfortable (order a size up, they run a bit small), are made of Italian leather, and look great paired with basically everything.
:: Shop The Look ::
Total side note: I did a half-up braid and looped it into a low bun in the back, and loved the laid back vibe of this hairstyle. It was super easy! For other easy braided hairstyle ideas, check out this post.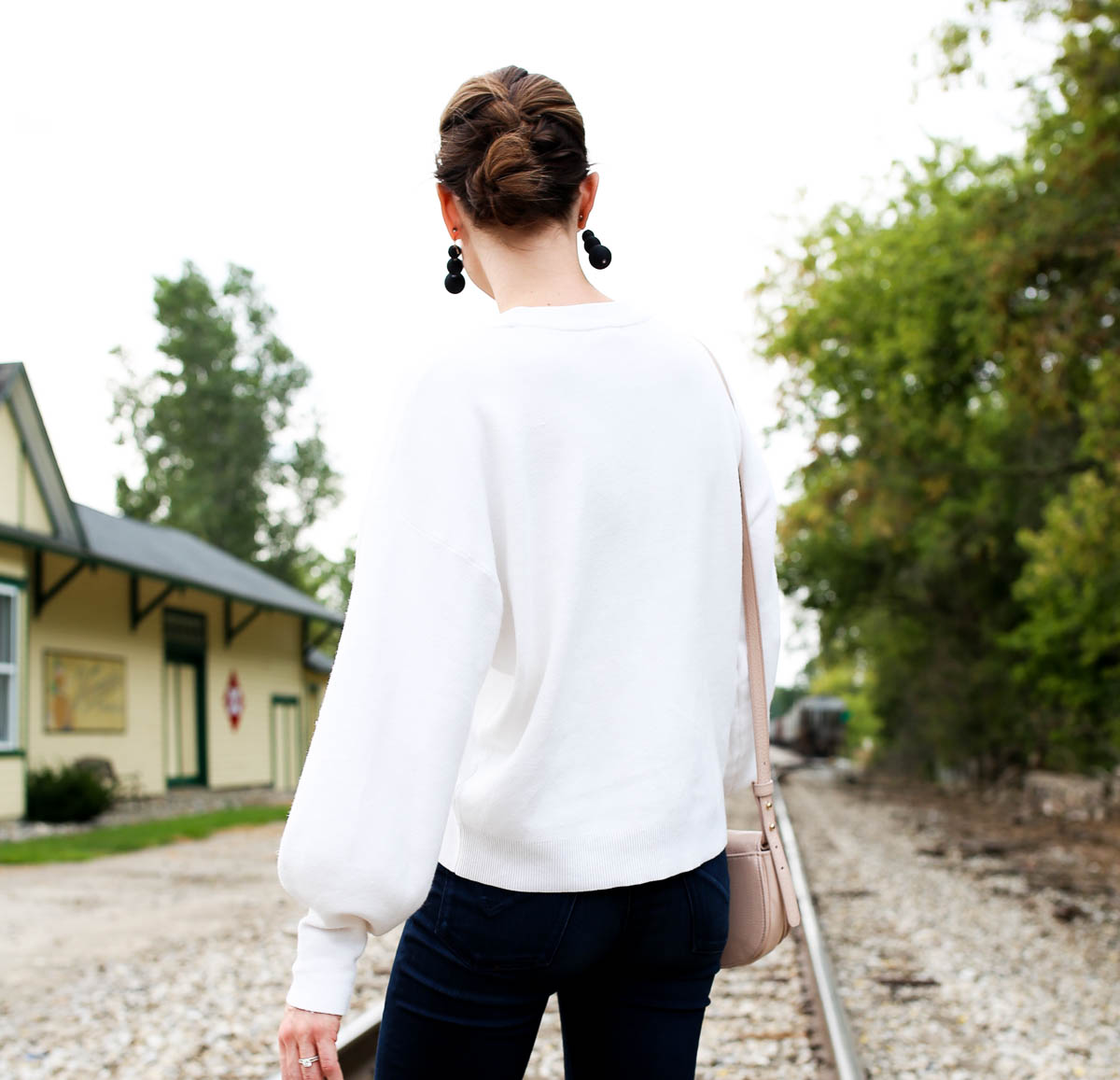 Hope you enjoy the last few days of summer, my friends. Even though I'm fully jumping into the new season, remember, it's not over until we say it is! 😉
Did you have any "Ah, Fall!" moments this past weekend? I'd love to hear about your Labor Day in the comments below!