It recently occurred to me that I've let something terrible happen. Since our move in late January, I've neglected to share any photos of our new apartment! 
I have the craziness of life to blame, but only partly. The other part is that it's taken much longer to get organized and decorated than I anticipated. (In fact, we're still working on a few rooms, like the office, which has become our life-sized junk drawer.)
First there was the move, which is always a feat within itself. After we got all our current belongings in, our parents brought all our wedding presents to us, which had been kept safe by them until we had enough room. We sorted through all the presents, got rid of (most of) the old stuff that our wedding presents replaced, and started to organize everything. Simultaneously, we worked on Grace's nursery (a tour that will come soon!), which took precedence as her due date got closer and closer. In between it all, there were multiple paint jobs (our dining room used to be a nasty mustard yellow color – you can see it in this post – eek!) and many DIY projects to tackle.
Now, here we are! A few rooms like the dining room are finally share-ready.
I'm so excited to share this little corner of our world with you. It was really fun to put together, and though I'm one of those decorators who constantly are changing things up, this is definitely a room that I'd like to keep as-is for a while because it's so full of personality and charm!
One of my favorite pieces in this room is the dining room table, which is handmade by my hubby and I. (Okay, fine, it was 95% Doug. I basically shot the photos and acted as his cheerleader.) If you'd like to make a reclaimed wood table of your own, all the instructions can be found over at Wandeleur!
Surrounding the table are Ikea chairs (Only $79!) on one side and a wood bench on the other. I still need to get two more clear chairs for the heads of the table, and I plan on getting these options that have arms. (FYI – There are a ton of great, cost effective options on Amazon!) Below the table is a black and white Moroccan style rug, which is from West Elm. 
The centerpieces to the table are a dead giveaway that I'm West Elm's biggest fan. The candle holders, gold accents (specific items here & here) and waterscape-inspired vases are all from the store. I love the eclectic look of all these pieces together. Also present is a mason jar that was once my grandma's, which I try to always keep fresh with bright flowers.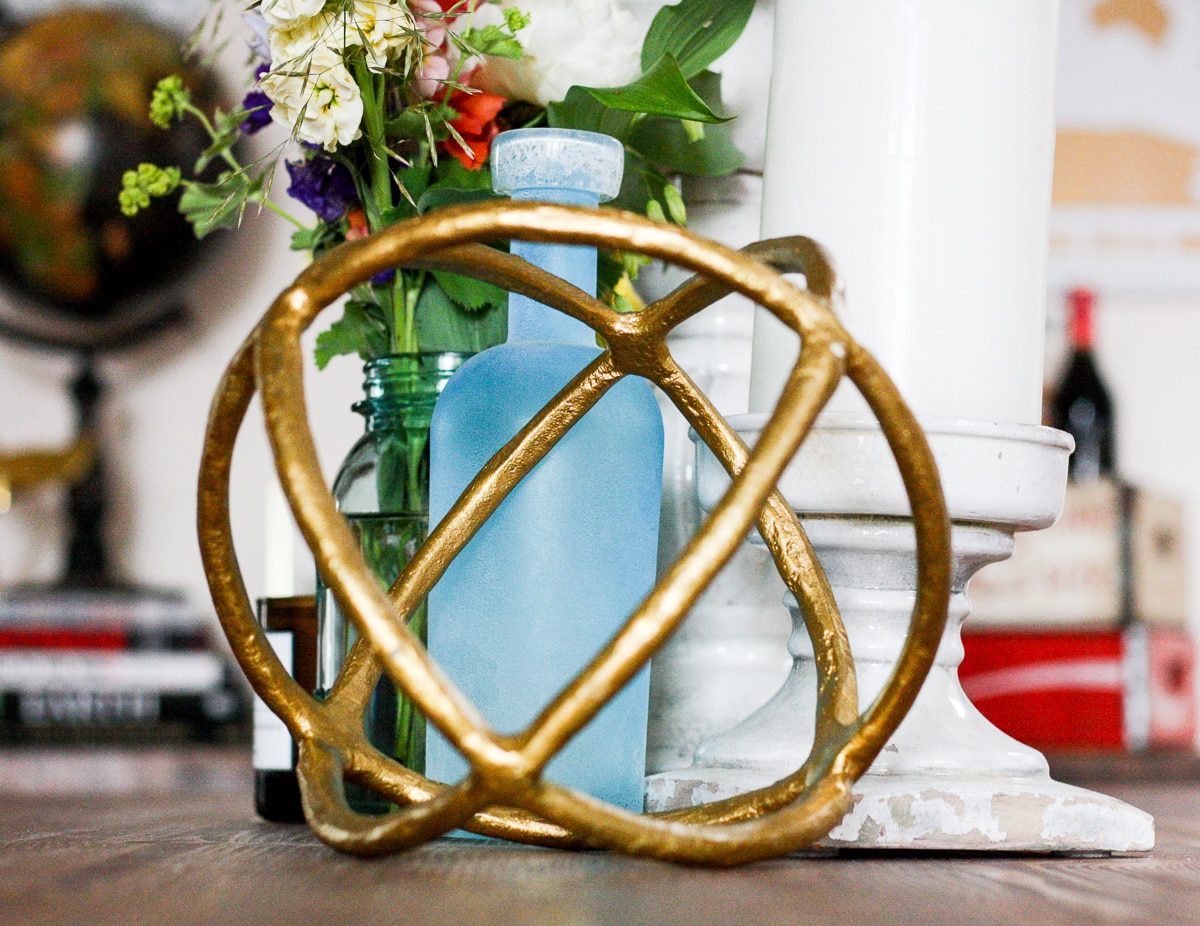 On the wall behind the table is an all white deer head from White Faux Taxidermy, which is just insanely adorable. I love that it's the sole focal piece on the wall behind the table, making this room have a really clean and approachable entry. I love that store and all the animal options that they have – you should check them out if you're in the search for something similar! 
Now, for another fun part of the room, and that's our bar and gallery wall.
The table is another DIY that Doug and I did a while back, made from reclaimed wood. Our "bar" sits in old soda crates that we found in a barn sale. Also on the table is a stack of interesting books that have a black globe and golden whale tail sitting on them. In the middle of the bar and stacked books is a gold frame of us on our wedding day.
The gallery wall, also known as our "adventure wall", features a map of Puerto Rico, which is where we took our honeymoon. Next to it are three pieces of wood that have photos of our honeymoon printed on them, which was a thoughtful gift from Jessie, one of my maids of honor. The other map is a present that I gave to Doug on our wedding day, which is a scratch off map of the world. Both maps are in DIY frames that we made – I did a tutorial on Wandeleur if you're interested in making them! Also on the wall is a vintage lantern that Doug bought me while we were in Australia.
Last, but certainly not least, is another all-white head from White Faux Taxidermy, this time a lion. We just thought this looked bad-ass in the mix of all the adventure-themed items. When I look at it, I think of it saying, "Go on, I dare you." which is definitely fitting considering the theme of the wall.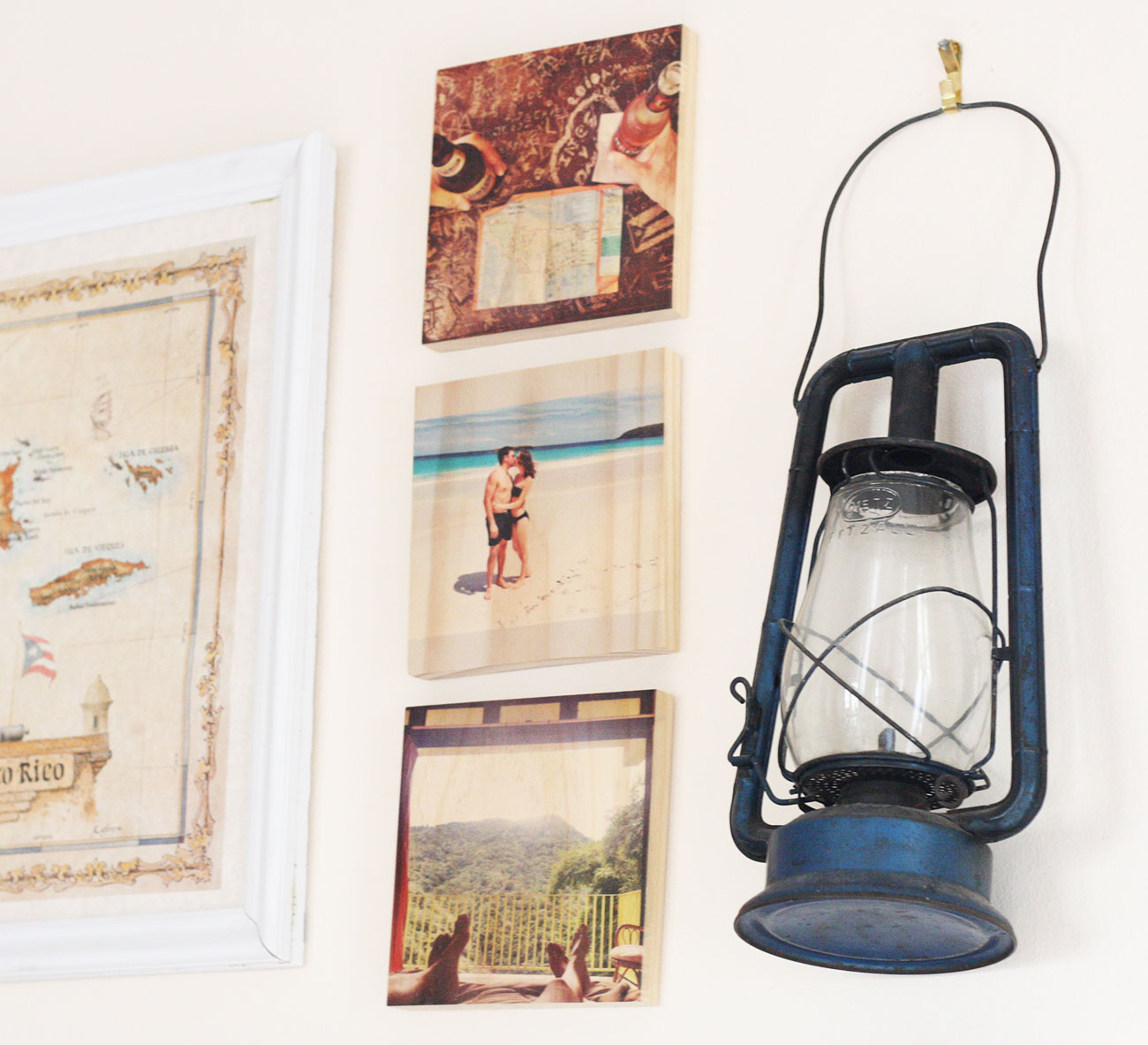 The bottom of the table has a wine rack that Doug made for one of my birthdays ages ago. Next to it are metallic chargers with a cute succulent on top. (I'm a firm believer that you always need a pop of greenery wherever possible in decor!)
And that, my friends, is a little tour of a corner of our world! I compiled a few of the key pieces below so that you can shop them if you'd like. Be on the lookout for more home tours coming soon!
:: Shop The Post ::

[thefeedproducts style='four']