I'm officially 37 weeks, which means that in the metaphorical world of pregnancy timelines, the alarm is set for delivery. I could go into labor at any moment, which is a reality that is equal parts exciting and terrifying. Since the only way to prepare is to be prepared, I've been making to-do lists and checking them twice as of late, so that no stone is left unturned.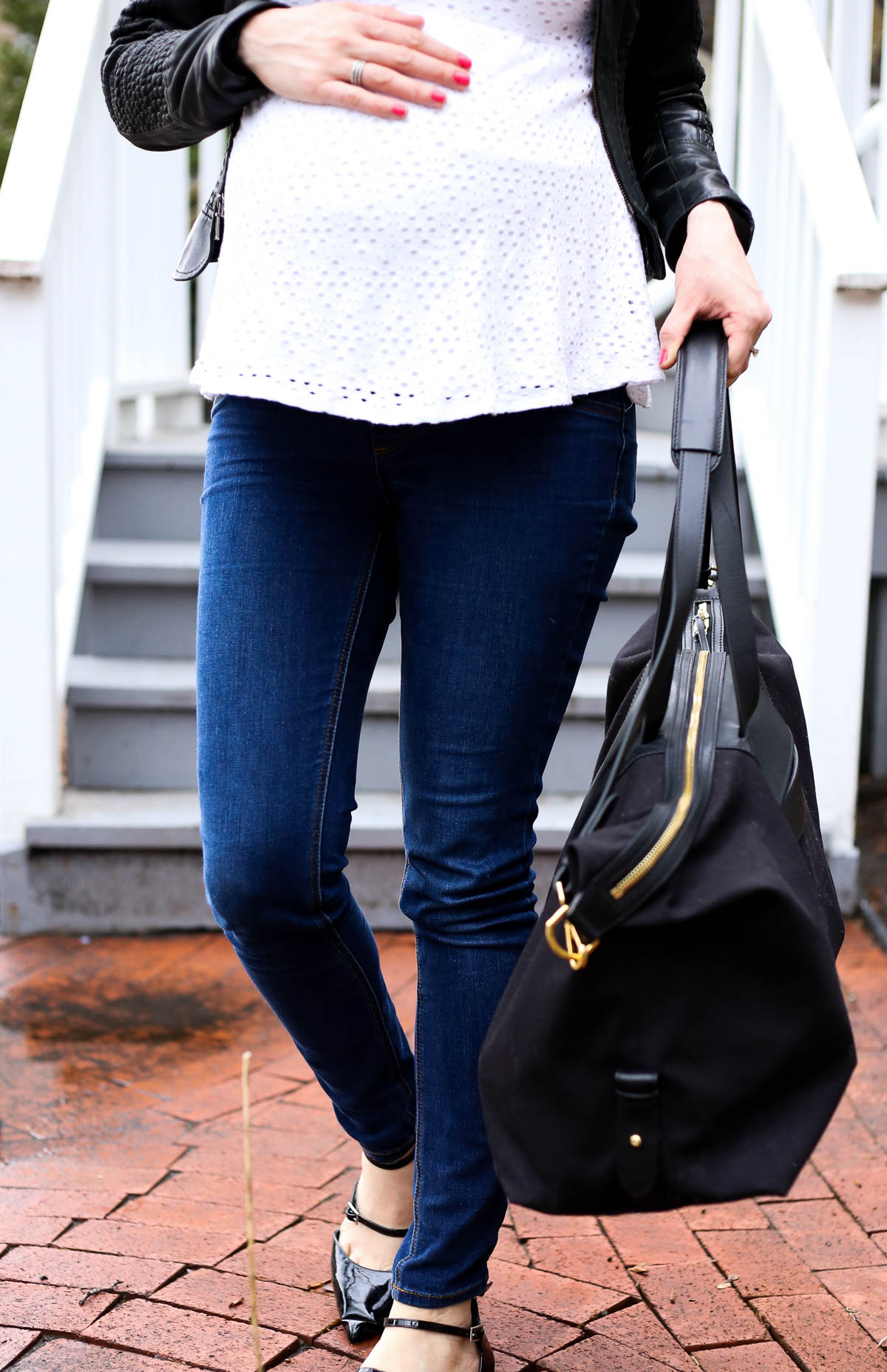 Of course, a part of that preparation is making sure the hospital bag for when I do go into labor is packed and ready. Which, let me tell you, is no easy feat. Why? There are so many things to consider, and once you go down the rabbit hole of grabbing all that you think you may need, a Noah's Art of sorts starts to emerge.
"Keep it in check, Em."  Keeeeep it in check.
Seeing as this is my second time going through labor and delivery, that's actually my biggest advice for packing your hospital bag. The reality is that the hospital will have most of the essentials you need. But, there are some important things that you'll need to consider, which I've laid out below! What to include, what not to, and what people say you need that you really don't.
Before we get started — keep in mind that these suggested items are based off my first time experience, and round II could be totally different. But, I can't imagine much has changed in two years, right?! Delivery is delivery.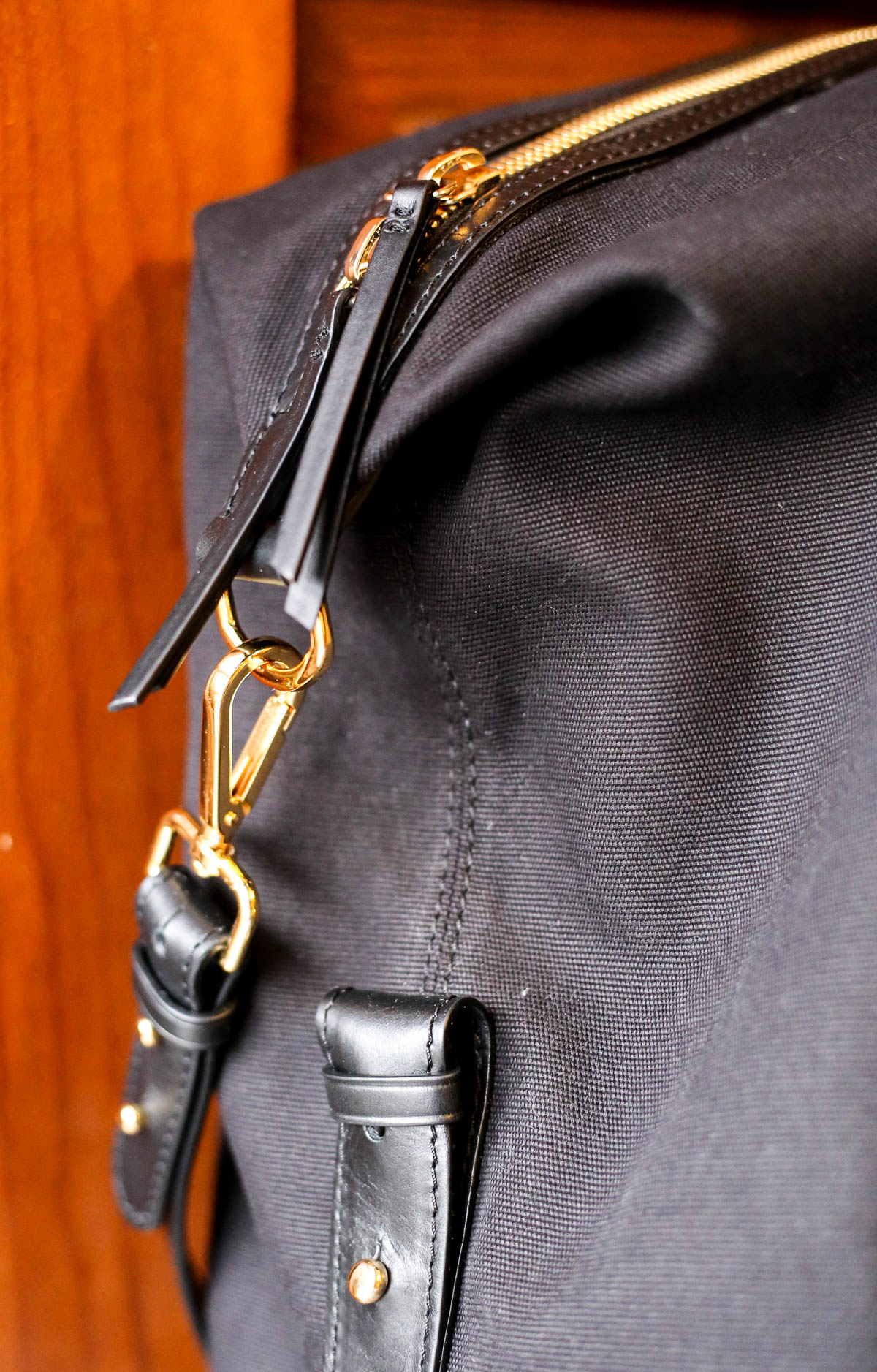 First, let's talk about the bag itself. You'll need something big enough to pack items for a few nights, but light enough to where you can easily grab it and go. Practical, ya know? I'm using the Le Stud Weekender from Cuyana, which is one of my favorite brands for their focus on having classic items that you can use again and again, over quantity. Their collection is well curated and high quality, their bags being no exception.
I love this weekender bag because it fits just enough, is made of beautiful canvas and leather, has plenty of pockets, and is chic. As a to-be-mother-in-pain who will no doubt be heading into hospital not looking so hot, I actually find it comforting that my bag will at least be cute. (I recall from last time, sitting in the waiting room while having contractions, with tears in my eyes and taking large breaths to calm myself down. Not the most compelling version of oneself, I assure you.)
…Onto what to pack inside your bag.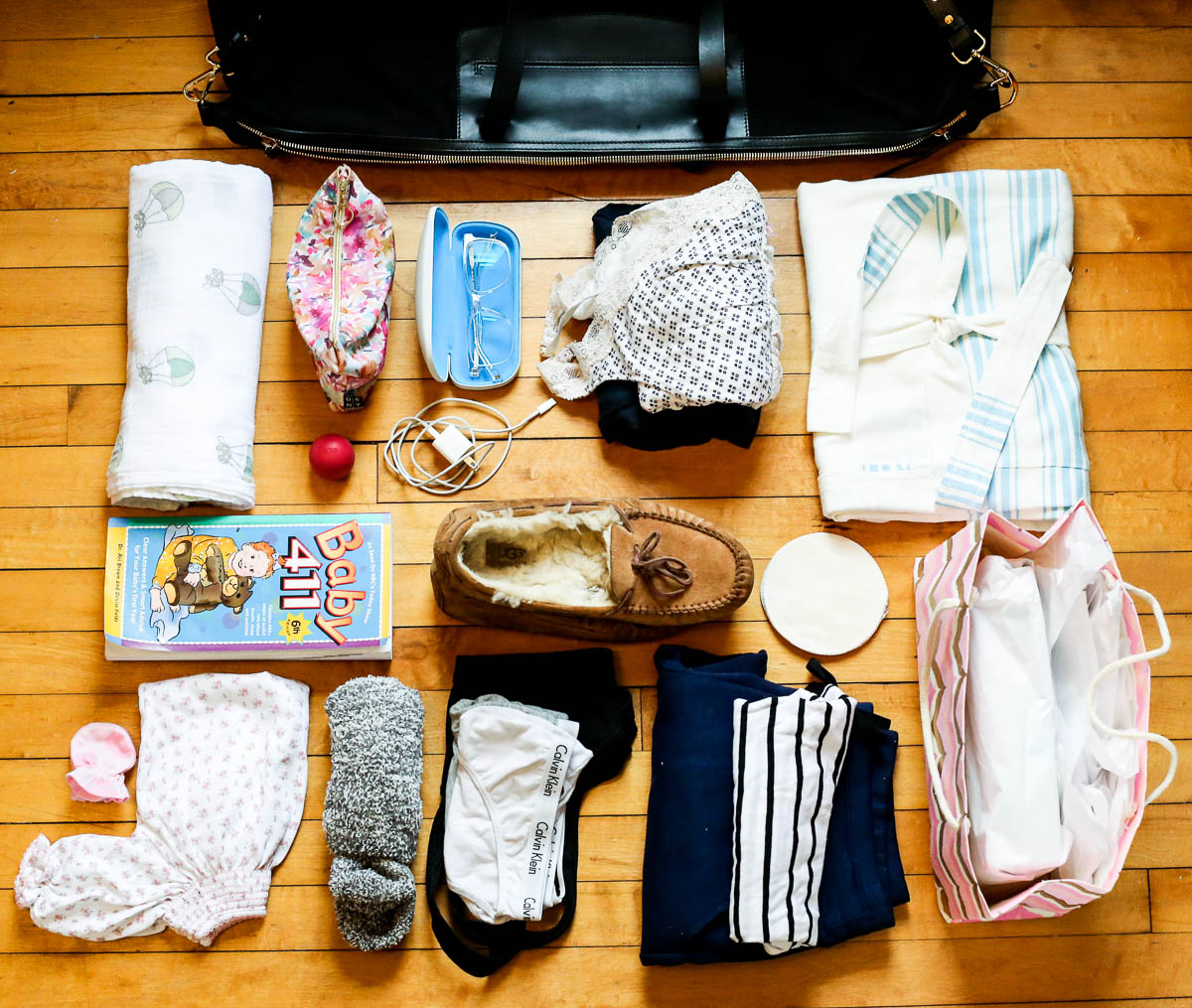 For you:
Chunky Socks – My feet are always cold!
Comfortable Shoes – Ugg slippers are my jam. I love that you can wear them with or without socks, inside or outside. They're perfect because they're great for all scenarios you'll encounter from walking the halls to having something comfortable to wear when you go home. Literally have had these for years and they're still my favorites. (Speaking of, I really should invest in a new pair, huh?!)
Underwear – Do not, under any circumstances, bring thongs. Get the most comfortable briefs you can find. Granny panties, even. Trust me.

Side note: When I was in the hospital with Grace I relied on the hysterical (yet effective) mesh underwear provided by the hospital, because it was easier with the ice packs they circulate after delivery. (Yea…you will need ice packs. I had stitches after delivering Grace, which I know is pretty common. Woof.) But, having briefs is helpful for when you are heading home, so be sure to bring some along so you're not stuck wobbling home with mesh underwear in tow!

Maternity Nightgowns – I'm packing two, since we'll likely be in the hospital for a few days. Nightgowns are essential over sweatpants or shorts because after you deliver you'll have plenty of nurses/doctors popping in and out of your room to check on things. Of course, this means making sure everything is starting to heal correctly, you know, down there. Nightgowns are significantly easier to navigate for them, and for you, when those checkups happen!
Bathrobe – This is so underrated. So, so underrated. A bathrobe is ideal for going to and from the bathroom, even though it's in your room. This is because it could be a bit chilly in there, or you may have visitors who you want to cover up for. They're also great for walking the halls if you need to, so you're not meandering around in just in your nightgown. The one I'm bringing is the softest turkish cotton robe from Cuyana. More details below!
Going Home Outfit – Make sure it's loose & comfy as you'll very much still be healing from delivery. I'm just rolling with sweatpants and a t-shirt. Not trying to impress anyone over here, and trust me, jeans will look like the devil to you for a few days/weeks after you deliver.
Accessories – Make sure to bring things like your phone charger, glasses if you wear them, toiletries, lip balm, etc.
Nursing Bra – …If you're planning on breast feeding, of course. This is more for when you head home, but if you'd like you can of course wear it in the hospital, too. I was very comfortable around our nurses, who honestly helped with learning to breast feed so much, so I just wore my nightgown while staying there. But both a nursing bra and pad inserts may be helpful as you navigate it all!
Flip Flops – (Not pictured above) I'm weird about going barefoot in showers that aren't in a home environment, so these are helpful so I don't need to be grossed out in the bathroom/shower!
For the baby:
Going Home Outfit – Baby #2 is going to be wearing the same outfit that we brought Grace home in. Swoon!
Light blanket or swaddle – Just in case the ride home is a bit chilly.
Baby 411 – This book was our BIBLE with Grace, and I have no doubt we'll reference it all the time with baby #2 also. I packed it in our hospital bag for when we have a few moments to read, or for if we have questions during the first few days.
Folder – There's actually a lot of paperwork that you will end up bringing home for you/the baby.
For Others:
Gift for Siblings – When Gracie comes to meet the new baby for the first time, we're planning on giving her a gift "from the baby". This was a piece of advice we received that apparently helps to ease the sibling transition period. I'll keep you updated with how it goes!
Gifts for the nurses – I've heard of people giving gifts to the nurses as well. I still have this on my to-do list but think it's the nicest gesture. The hospital staff are amazingly helpful and definitely deserve a little thank you!
Things You Won't Need:
I say the following with the caveat that everyone is different! What I perceive as non-essential may be totally essential for someone else. But with that said, there are a few things I've read to bring that really are unnecessary in my eyes.
A bathing suit – Apparently some people bring this for if their partner or nurses need to help you in the shower. The thought of a bathing suit after delivery makes me laugh, because they're far too constricting and that sounds so painful to put on with all that's going on down there. My vote is you shower naked. You just delivered a baby for crying out loud; don't make showering more complicated than it needs to be. Embrace it!
Jewelry – Totally unnecessary!
Diapers – The hospital will have plenty. Save yours for when you're home!
Breast Pump – Again, they'll have this at the hospital. Un-complicate your packing list and just use theirs.
…One more thing to dive into! The Cuyana turkish cotton robe I referred to earlier deserves its own call out. I got this for my hospital stay because it's so soft and lightweight, but I'm excited about wearing it beyond the hospital, too. It reminds of a spa robe and will be perfect for summertime pool trips, or even just wearing around the house! And, isn't the light blue detailing so pretty?
Have you been through labor and delivery, and have other things to add to the "Essentials" list? Do share! 
PS – Here's the story of Grace's delivery. I've been referring back to it to help me mentally prepare for baby #2! So happy that I got so detailed in here; honestly, I've forgotten some of the little things so it's been refreshing to read!