Happy 4th of July weekend! This is one of my favorite holidays, because it's usually spent on a lake with boating and bonfires in tow. We're in Michigan for the weekend at Doug's family cottage, celebrating our niece's baptism. We're the Godparents, so it's an extra special event!
Opposite to my typical over-packing nature, prepping took about two seconds. Why? "Easy" is the theme of laid back weekends like this, and fretting about fashion is far from anyone's radar. Just pack up the basics and let's go!
I've put together a roundup of weekender staples that bring just the right amount of style to casual getaways. Plus, there are tons of great 4th of July sales going on right now, so before you hit the beach, be sure to stock up first!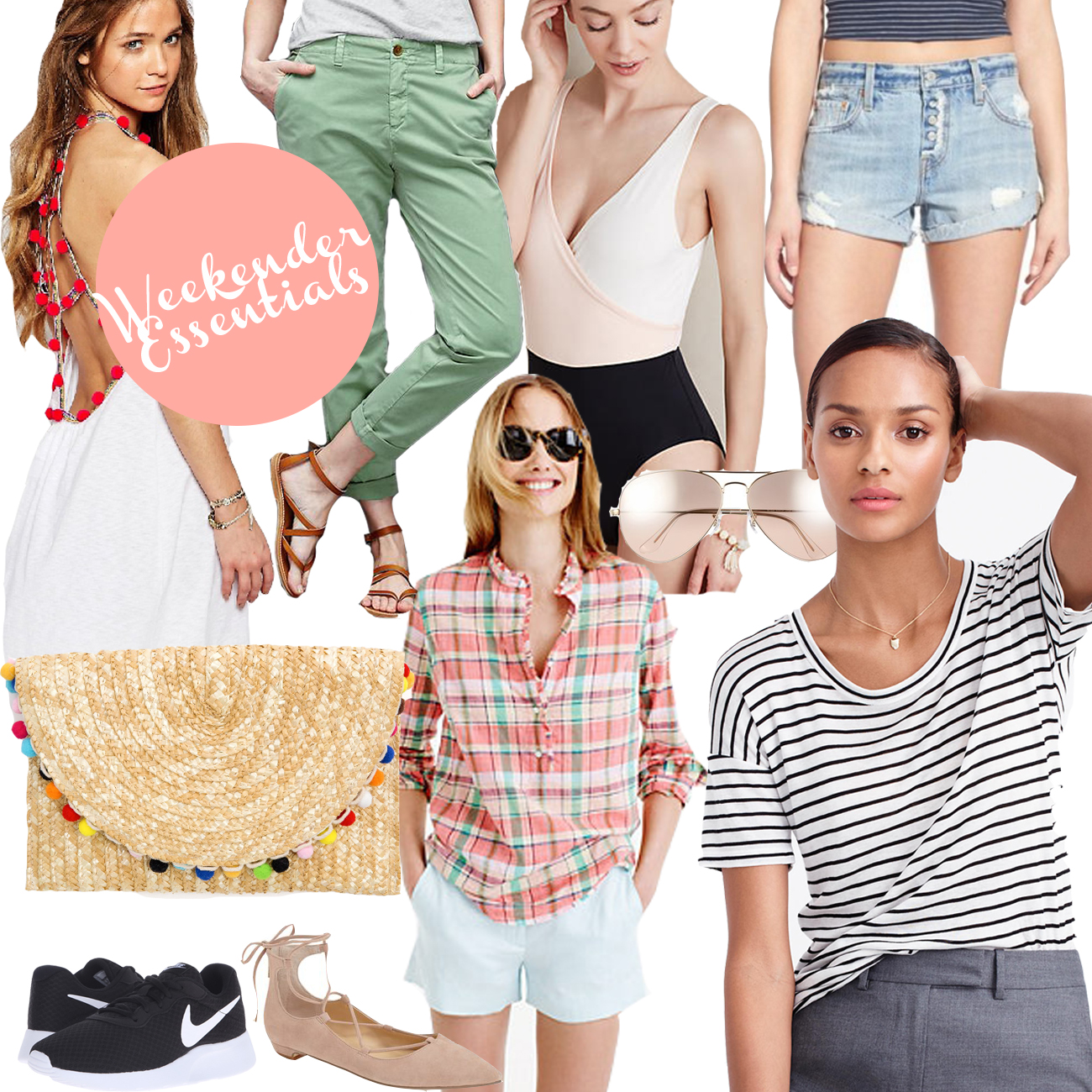 Weekender Staples (Clockwise from top:)
Pom Pom Beach Dress – The perfect pop of personality. | Chino Pants – Laid back prep, plus this color is everything for summer months. | Ballerina One-Piece – Classy yet sexy. | Cut-Off Jean Shorts – Will never go out of style. | Classic Striped T – Perfect anytime, anywhere, with pretty much anything | Gold Aviators – Shiny + bright | Easy Button Down – Throw it on and go | Pom Pom Clutch – Seriously obsessed | Nike Sneakers – A little activity is a great thing | Nude Wrap-Up Flats – From dresses to shorts, these complete any outfit.
4th of July Sales
Ann Taylor | 40% off Full-Priced Styles with code "July40" & 60% off Sale Styles | Ends 7/4
Anthropologie | Extra 30% off Sale Items with code "EVENBETTER"
Banana Republic | Extra 50% off Sale – discount applied at checkout | Ends 7/7
H & M | $4 deals (Yea, that's for real) Click here to shop women, Click here to shop men, Click here to shop kids & Click here to shop home | Ends 7/4
Henri Bendel | Extra 10% off Semi-annual 50% off sale | Ends 7/4
J.Crew | 40% off summer styles  & Extra 40% – 60% off sale styles with code "COOLSTYLES" | Ends 7/4
Kate Spade | Extra 30% off sale items with code "SUNSHINE"
ModCloth | Extra 20% off sale items with code "MORE4U"
Nasty Gal | Extra 40% off sale items | Ends 7/5
Rebecca Taylor | Extra 40% off sale items with code "FIREWORKS"
Sam Edelman | Up to 40% off select summer sale items
True Religion | 60% off summer sale items