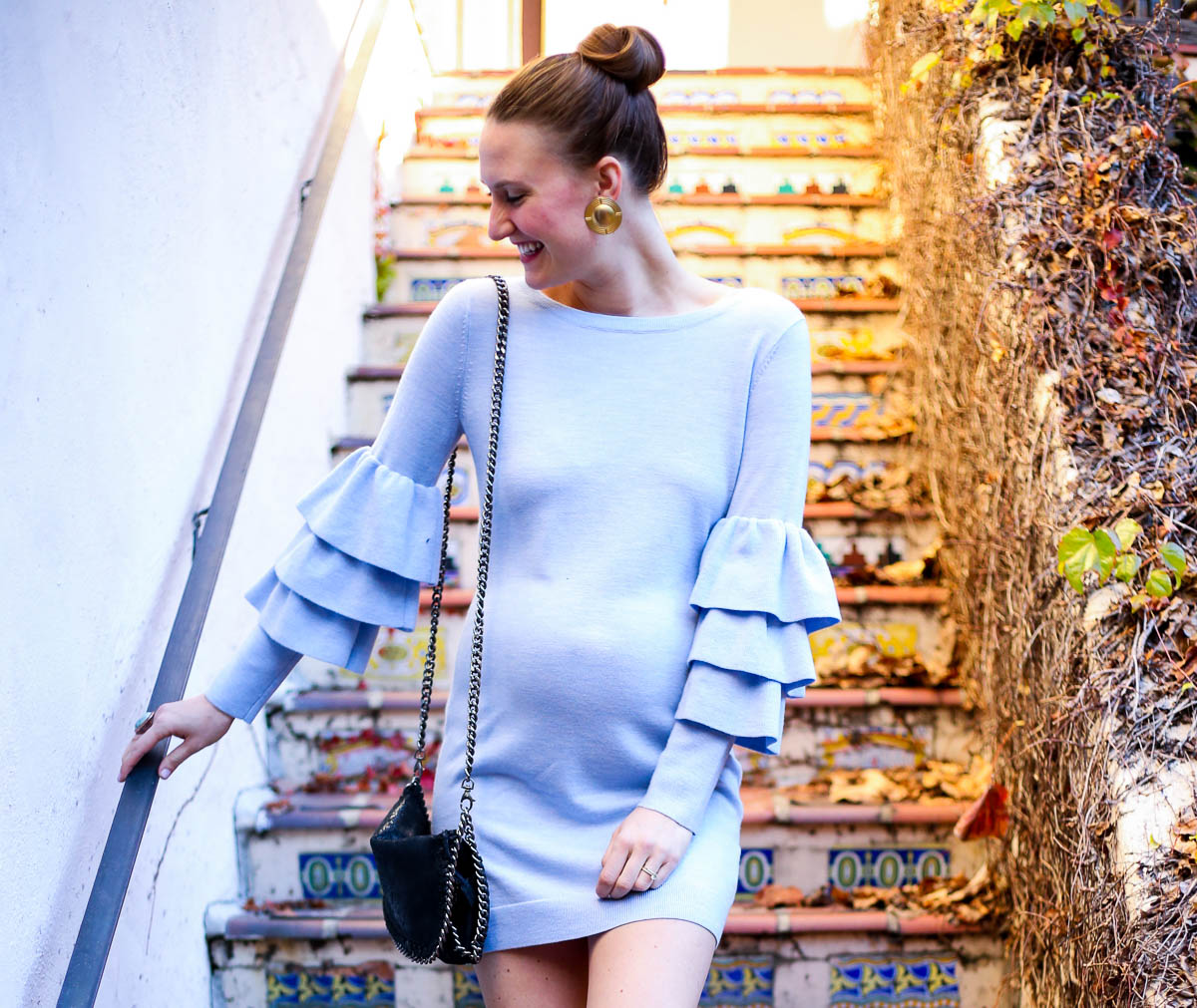 This pregnancy is going by so incredibly fast. Are you getting sick of hearing me saying that? I'm getting sick of myself saying that. But, it's true, so here I am repeating myself yet again. Sorry, guys, bear with me in my state of utter disbelief.
Disbelief that I'm 30 weeks today, meaning I'm only 10 weeks (10 WEEKS!!!) away from delivery. (And that's if I don't deliver early, which is actually fairly likely considering I delivered 4 days early with Gracie.) Disbelief that I'm going to be a mother of two in no time. Disbelief that Gracie is going to be a big sister. Disbelief over how, even since these pictures were taken last week, my belly seems to have tripled in size. Disbelief over the whole. dang. wonderful. thing.
And…well…I'm pretty much freaking out about it all. I could sugar coat things for you and tell you that I'm ready, feeling prepared, and this whole pregnancy thing has been a breeze. But I'm about being real here, and the truth is that I feel the opposite of prepared. In fact, I've been on a bit of an emotional roller coaster lately.
I just realized I'm rambling. Before I keep going, I'm going to kick off a little Q & A for you!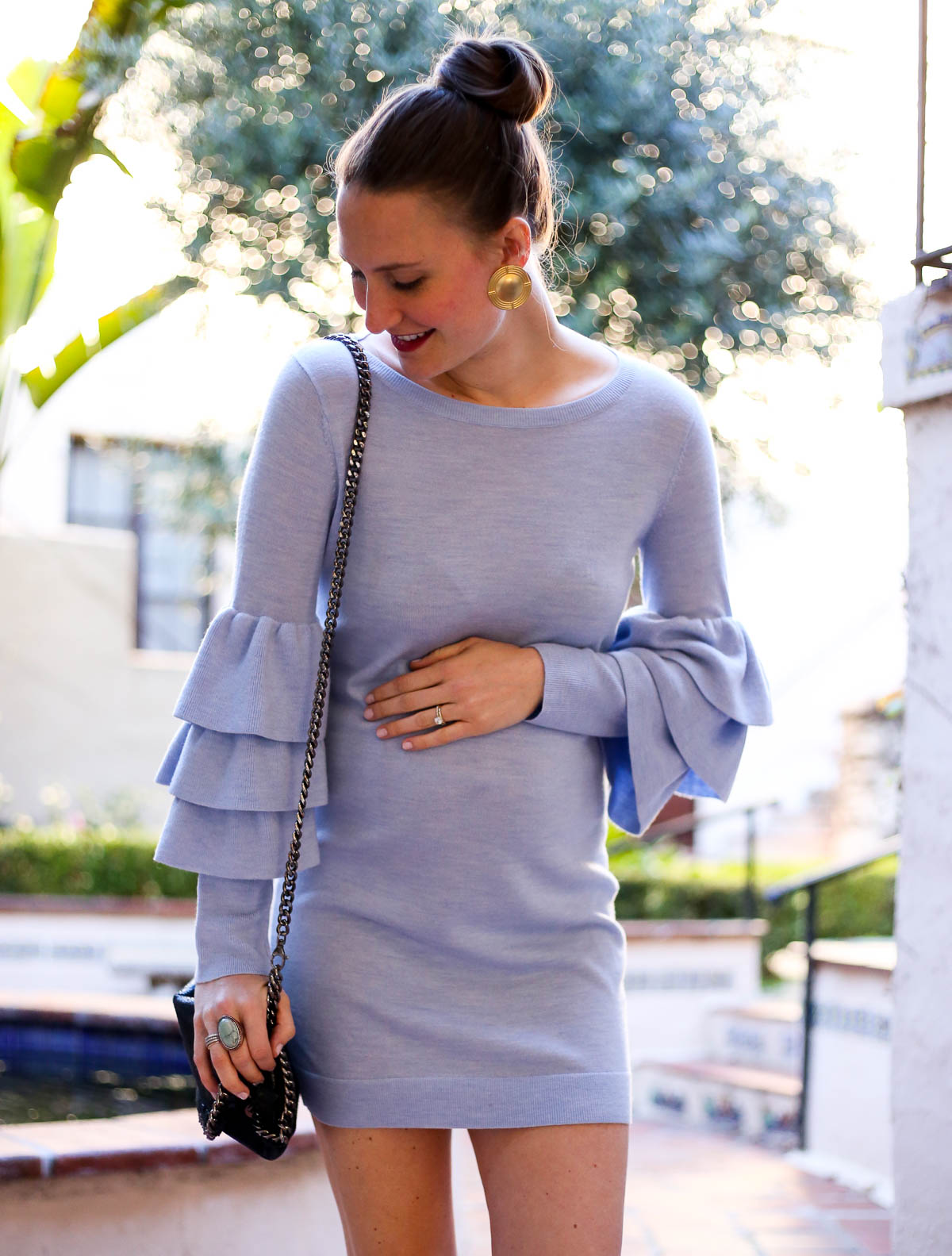 Quick stats. Go! 30 weeks today. Officially in my third trimester as of 2 weeks ago. Due date = April 20.
How are you feeling? 90% of the time, I feel 100%. Full of energy, belly isn't terribly uncomfortable yet, and genuinely so happy. The other 10% of the time, however…woof.
My feet start to hurt after standing for a few minutes. Holding Gracie can be hard because she now sits on my belly as if it's a shelf, which is so cute but the pressure can be tough to bear. Getting up from sitting is pretty much the worst. My bladder is full after what seems like a sip of water. Sometimes at the end of the day I'm so tired that I can barely keep my eyes open. (It's definitely a result of pregnancy, but I think it's also because life in general + work has been pretty demanding lately – not to mention we threw a weekend of travel in the mix –  so I've been struggling to find balance.) All totally manageable though, and I'm enjoying being pregnant!
What's your favorite part? Feeling the baby kick. It's positively the coolest, craziest experience to feel (and now watch!) the little thump-thump-thumps. They bring an automatic smile to my face and the baby and I have started to bond over them. She'll kick, I'll rub, and we've made somewhat of a game out of it.
Any cravings? My odd cottage cheese craving has subsided, and has been replaced by doughnuts. Old fashioned doughnuts, to be exact. Glazed on the outside, soft on the inside. I'm drooling right now. I've had one almost every morning for the past month or so. Oh! And water. Nothing can beat ice cold water right now.
What have you been wearing? You may have noticed that I've been wearing lots of non-maternity. The reason is I've been avoiding spending money on maternity clothes as much as possible. Luckily I still have great staples from my prior pregnancy to help me through – things like blue jeans, black pants, and tops that I continually rotate. Other than that, I've been wearing a lot of stretchy dresses and flowy items that still fit my belly! Which is nice because I love the comfort of those items, and I find peace of mind knowing I can still wear them after the baby arrives.
Has your belly button popped out? Yes! I am laughing at some of these photos because I didn't realize it was showing as much as it really is until I looked at them.
Have you started to have Braxton Hicks contractions? Uh huh. They're kind of scary, actually. I didn't have them very frequently during my pregnancy with Gracie, but they seem to be happening more and more lately. All of a sudden I'll get a sharp pain, gasp, and just as quickly as they've come they're gone again. Lying down and relaxing helps a ton when that happens, as does drinking lots of water.
Any other physical things to note? Nothing major! My growing belly is the biggest and most physically demanding part of it all. However, I will tell you that we had a scary instance right around week 24. We were home for the holidays and walking around downtown Detroit when all of a sudden I felt a rush of liquid. I called my doctor, explained the situation, and he sent me to the ER immediately, worried that it was my water breaking early. We were terrified. After a few hours in the hospital and lots of tests, the liquid turned out to be….pee. Thank goodness, but GAH. Embarrassing, right? Better to be safe than sorry, though!
What have you done to prepare? Er….don't judge me here….but not much. We really need to get in gear over the next few weeks. Luckily we already have the bulk of baby necessities from having Gracie, so we don't need much. We just need to take all the infant necessities out of storage, set up the nursery, and organize everything. I'm hoping it'll be fairly quick and easy. I'm currently in brainstorming mode on how to bring the nursery to life – we just bought a really cool bright red dresser (from Craig's List but it looks similar to this one), and I'm gravitating toward a moroccan-style rug to go with it. More details to come!
How is Gracie doing with it all? She's doing really well, but I'm still not sure if she fully knows what's about to happen. "Baby" is in her vocabulary while pointing at my belly, and it's so sweet. Of note, she's started to throw more tempter tantrums and be more demanding with play time with Doug and I. I think perhaps it could be her longing for more attention as we start to talk about the baby more. It'll be interesting to maneuver this transition, that's for sure. I have been doing lots of research on advice from other moms to make things smoother, and will share with you what I've found soon!
What about Doug? He's just a rockstar, as usual. So helpful, so consistent. If he's nervous (which he swears he's not), he doesn't show it, and when I have mini breakdowns he makes me feel better. We've been having fun among the madness, trying to go with the flow.
This crazy life is significantly better with you in it, Dougy. Love you.
You mentioned being an emotional roller coaster. How so? In general, I'm feeling underprepared. Mentally and even physically. I know I sound like a broken record, but things have been nutty lately, and with pregnancy in the mix, it's been an adjustment. I also feel like, while I've been more relaxed this time around about pregnancy in general, my external worries are now ten-fold.
On top of feeling like there's a million things to do, the baby is always on my mind. Will she be healthy? Happy? What kind of temperament will she have? Have I somehow majorly screwed her up by unknowingly eating something bad?
I'm worried about Gracie. How will she handle the transition? Will she still feel loved? I would just feel awful if she felt anything but loved. Will she like her sister?
And then there's Doug, and life in general. Will Doug and I be able to manage it all? How will our relationship change? Will I be able to juggle raising a family with two kids, work, and a blog?
It's all starting to bubble up the closer my due date gets. While I can certainly research ideas for second child transition management, I recognize there's a lot beyond my control. So, I'm just trying to focus on getting some strategies down-pat in preparation. I've been trying to keep the mindset of, "Everything will be okay" at top of mind, too! After all, it really will be all okay. More than anything, I feel so blessed and can't wait for the adventures to come!
—
I'm pretty much an open book, so if there are additional things you're wondering or curious about, please leave them in the comments below and I'll answer them. (Or, if you have advice, please also share!) Writing this post was actually somewhat therapeutic for me, so I'd like to say thank you for being the best readers, and understanding of the life moments I share here, big and small. Seriously.
PS – Details on my outfit are below. Nothing here is maternity and I'm absolutely obsessed with this sweater dress!
PPS – In case you missed it, here's my First Trimester Pregnancy Recap, and how we announced that Baby #2 Is On Her Way!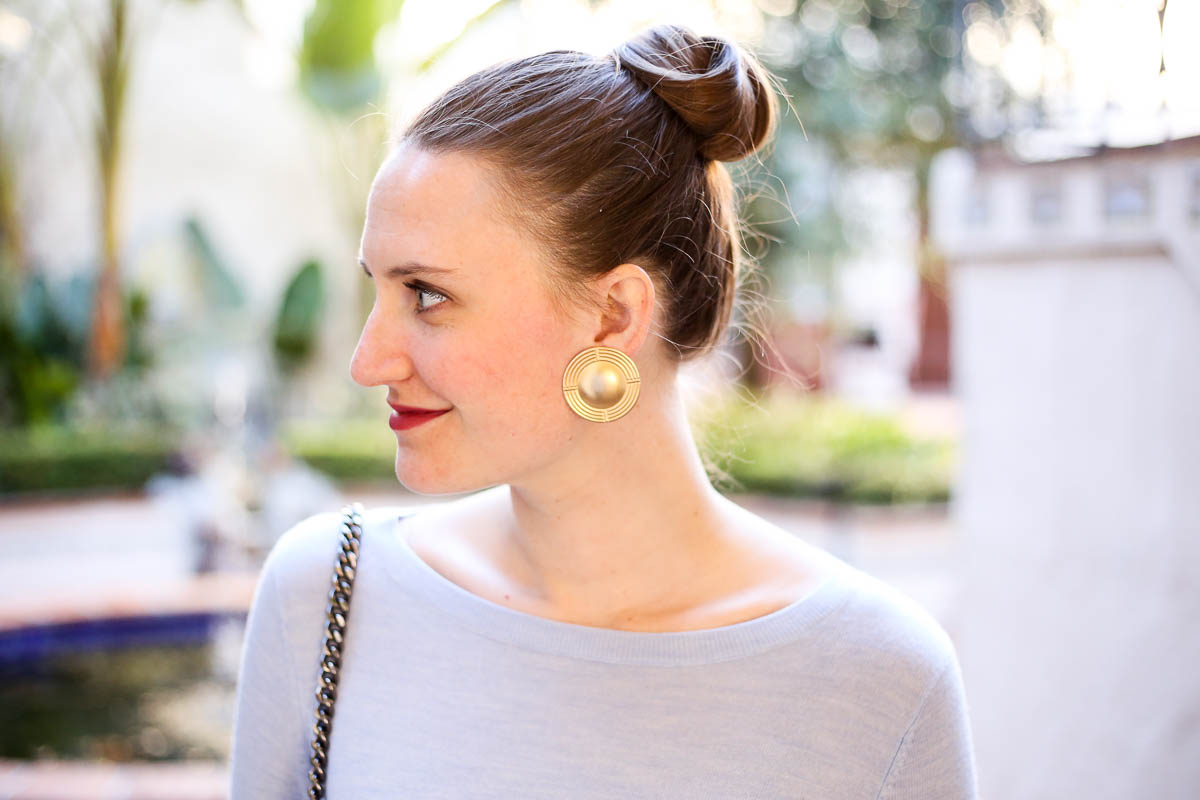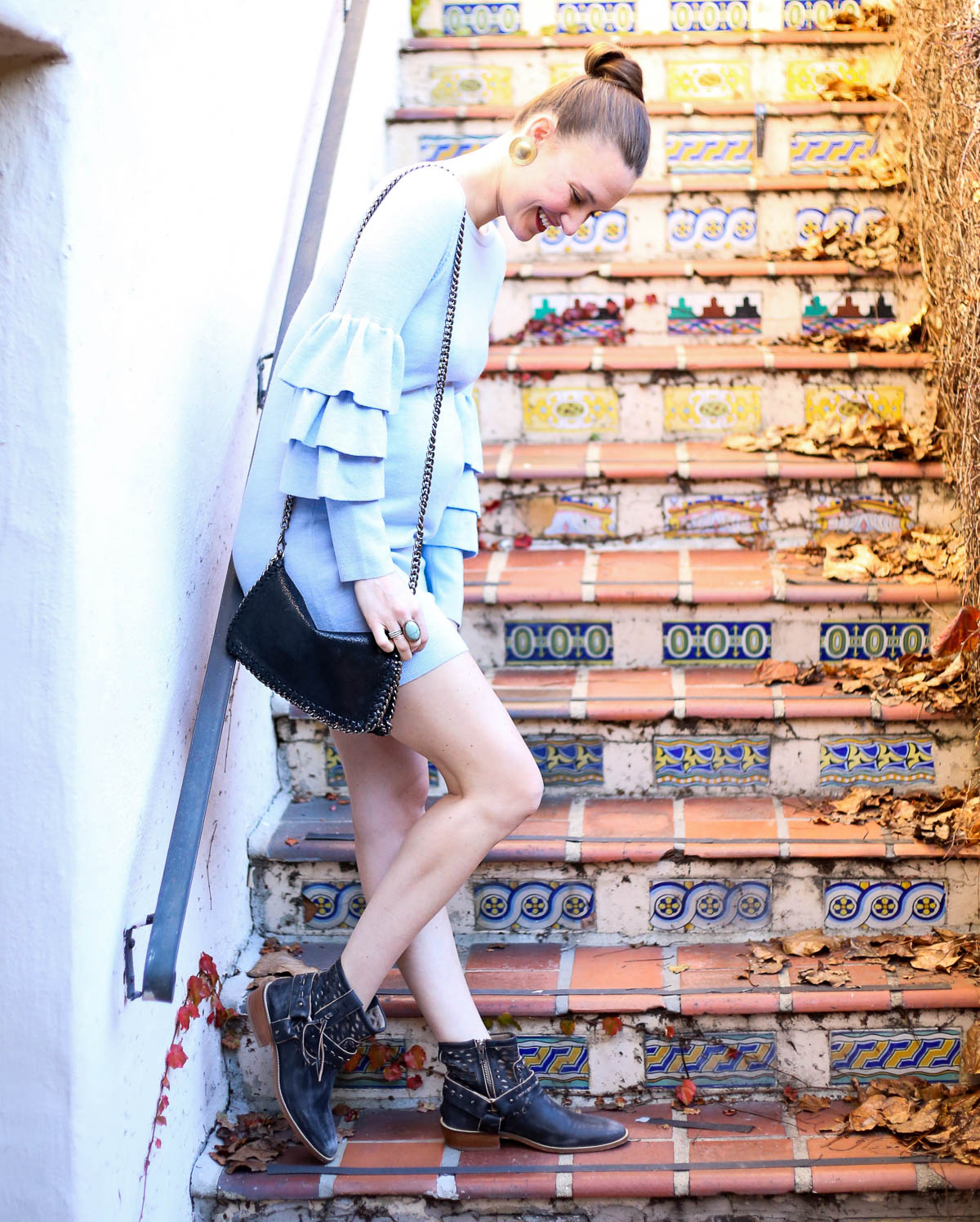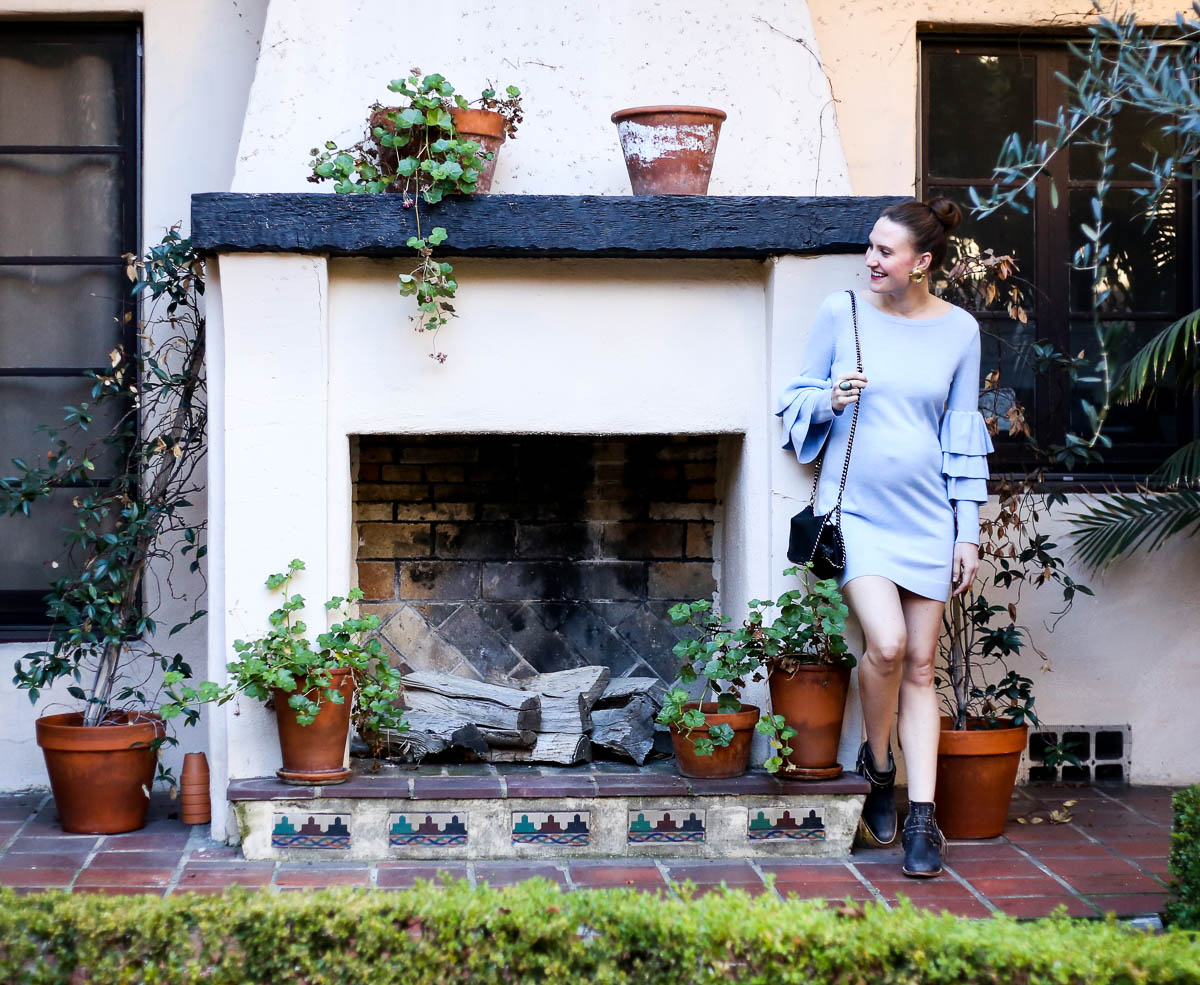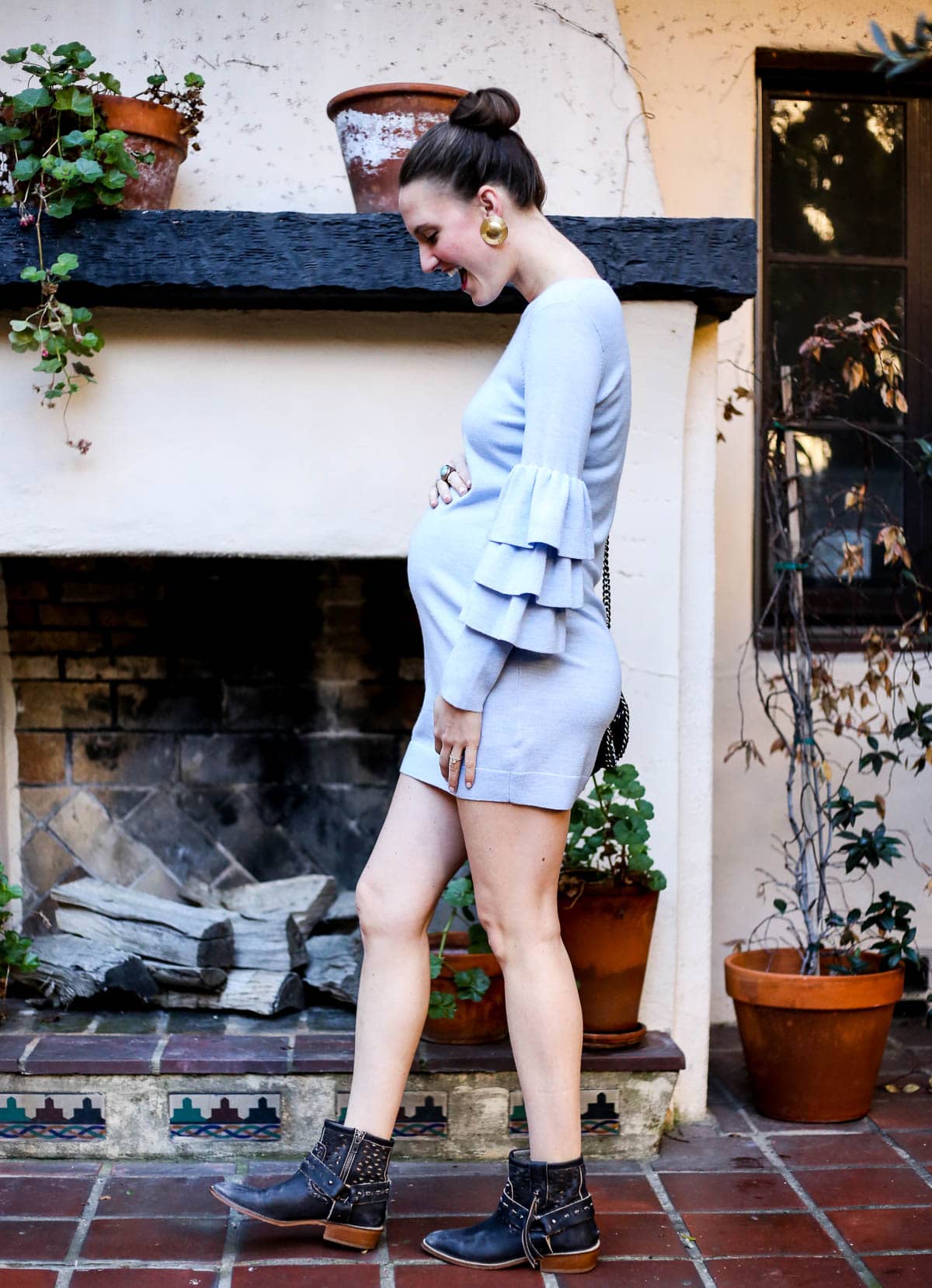 In this post, I'm wearing a Club Monaco sweater dress that has the coolest sleeves ever. I loved twirling around in it while in California! It's perfect for Spring – the color is so yes!