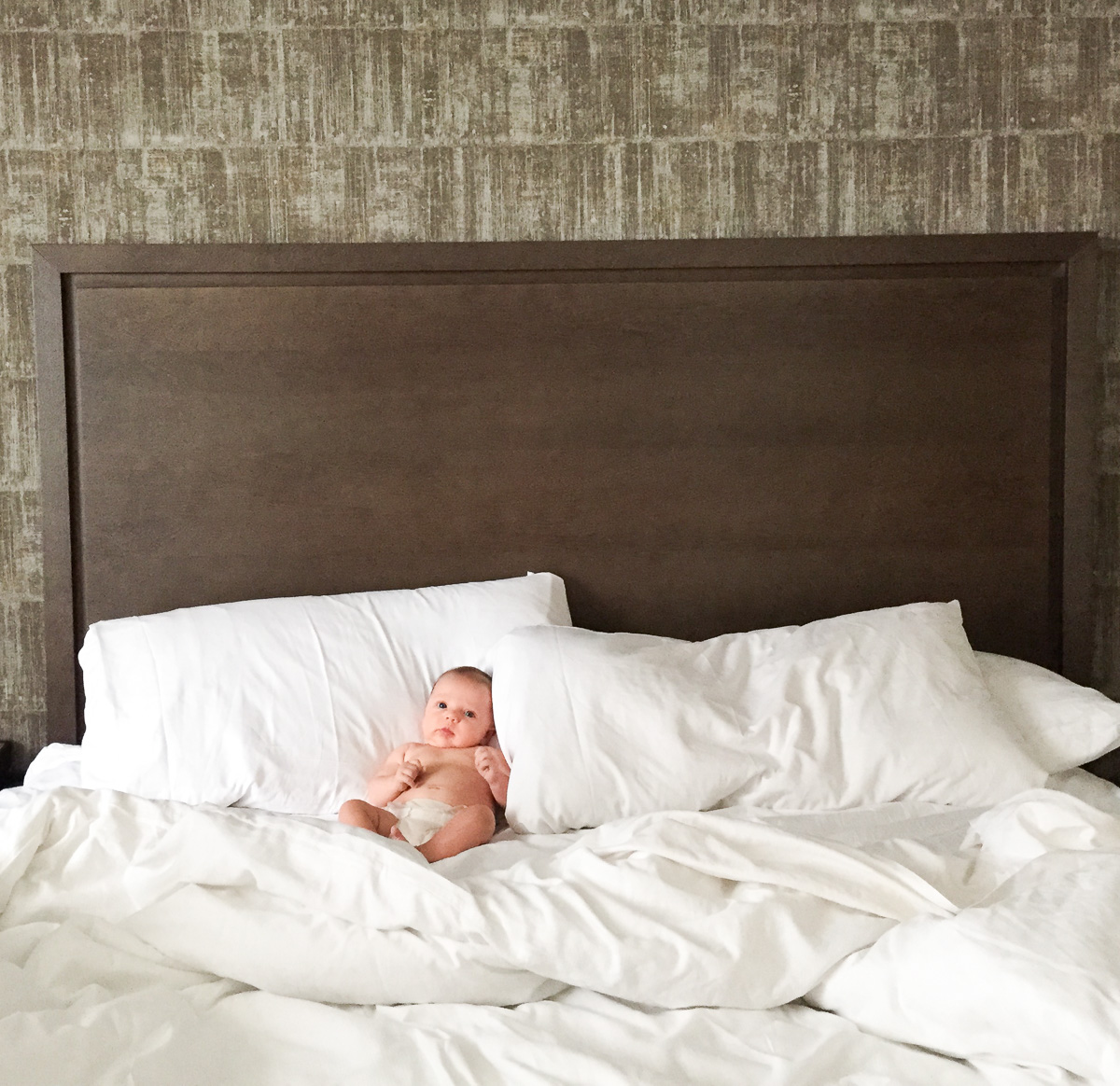 I've heard two schools of thought on the whole baby front. One is to not take them anywhere until they're at least 3 months to try and avoid potential exposure to germs. This is valid, no doubt, particularly when considering that as a new mom you're nervous about basically everything. (Confession: Grace's pediatrician and I talk at least once a week.)
The flip side, however, is to take the baby everywhere you'd normally go (within reason, obviously) in hopes that they — and you — will get quickly acclimated. This route is definitely more nerve-wracking. However, despite taking 3x as long to accomplish even the most basic tasks, it's a route that has its plus side as I've found that experiences are even more fun when a baby is involved. (Can you tell which route we've taken?)
Now, prior to Doug and I having Grace, we were what some would refer to as busy bodies. There was hardly a night without plans or an event that we didn't say "Yes" to. So when Grace came along, I'm not going to lie, it was quite an adjustment to be more home-bound. Not that I minded — in fact, I embraced it with open arms — but after weeks of adjusting to life with our baby, we were ready to get back to being active and teaching her about the world outside our front door.
Which is why, when the Marriott team reach out to us to treat us to our first family mini-vacation to St. Louis, we thought, "Sure, why not?!" You see, they're celebrating their grand hotel opening and wanted us to explore the new space first-hand. So, baby in tow, last weekend we packed our car to the brim (traveling with a baby requires enough materials to convince people you're moving in) and set out on our voyage.
Was I nervous? Of course. I had no idea how Grace would react to being in a new environment over night, riding in the car for longer than a city errand, or cruising around in her stroller as we explored the city. But you know what happened? We had a blast. 
With Grace as our sidekick, we hit all the essentials that St. Louis has to offer. We enjoyed cold beers at the Anheuser Busch brewery, went to the to the top of the Gateway Arch, visited the history museum in Forest Park, and even cheered on the Cardinals at a baseball game.
Don't get me wrong, there were a few hiccups. Let's just say that Grace went into the Arch wearing a onesie, and left sans-onesie and just a fresh diaper on. Use your imagination for more details.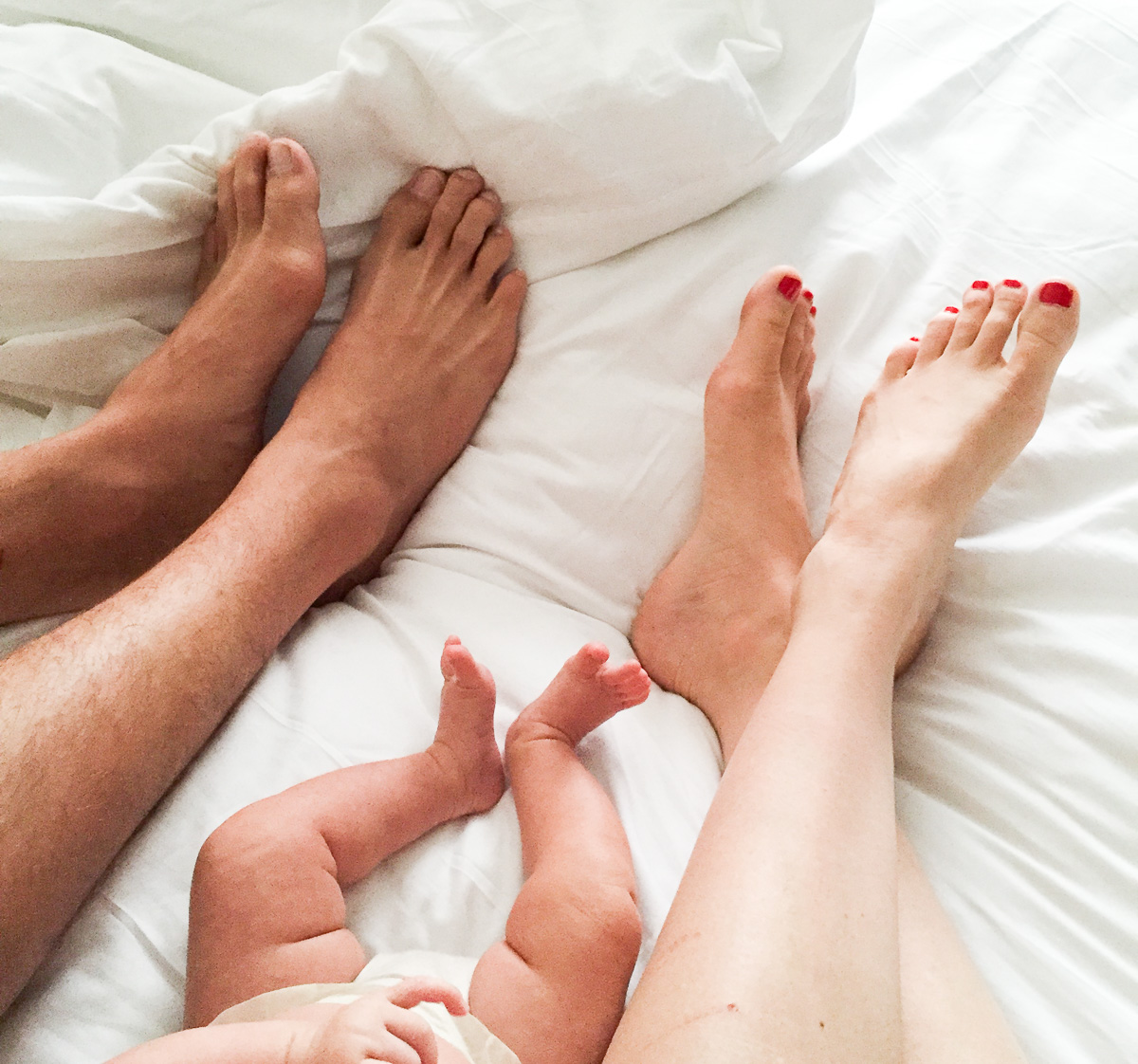 Action aside, we also did a good amount of relaxing at the hotel. Lounging in our room was a dream – is there anything more comfortable than a Marriott bed? Obviously the answer is no. I was excited because the televisions had this really awesome entertainment system with the ability to connect to Netflix, so I was able to keep going on my Friday Night Lights bing. (Doug is starting to like that show, though he won't admit it!) The rooms in general were so impressive – bright, comfortable and clean. How adorable is my hubby with Gracie during a quiet morning hour? Be still, my heart!
We also enjoyed some delicious meals from the hotel's Zenia Bar and Grille, which had some of the most delicious blueberry pancakes I've ever tasted. They also had a killer buffet that had everything from omelets to pastries, which I had the second morning. Anyone else with me in wishing life came with a buffet every morning?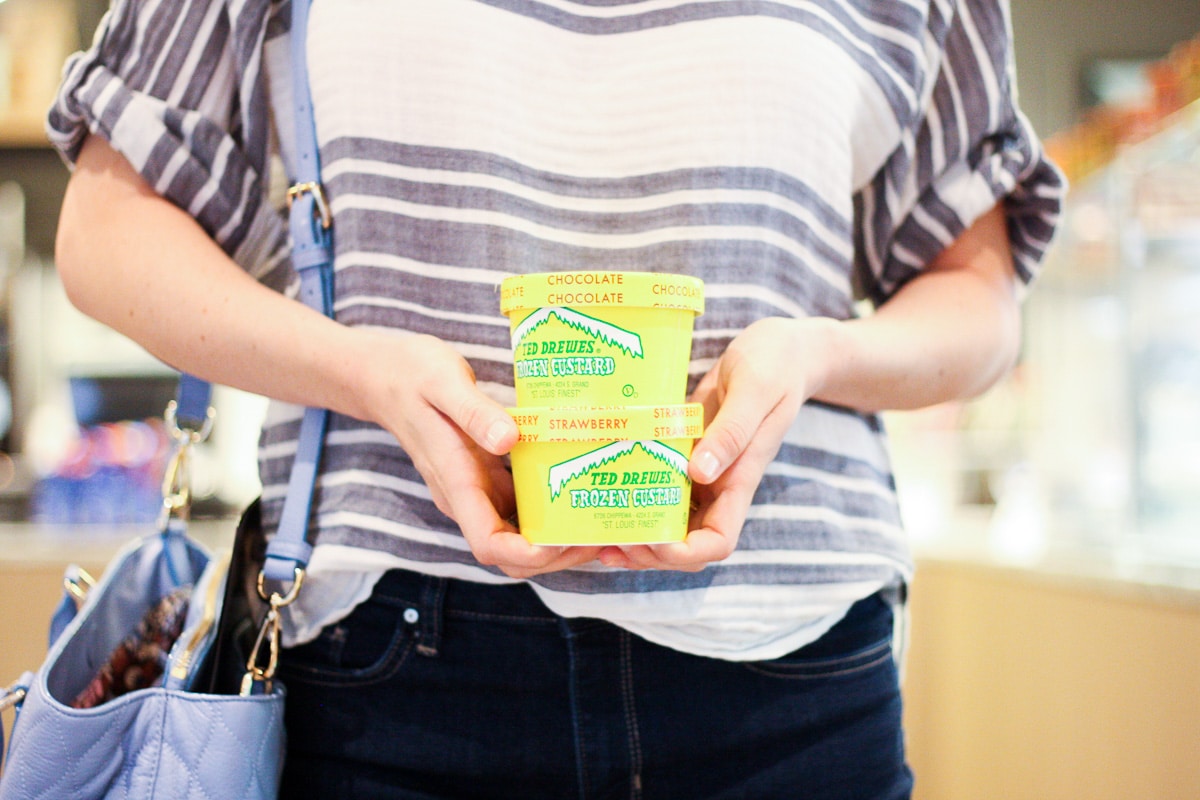 At night, when we were too busy to sit for a meal, we went to the hotel's 8th Street Pantry, which had lots of on the go St. Louis staples. It was the perfect pick-me-up pit stop. If you haven't tried Fitz's soda yet, you must!
There were definitely moments when we were a little tired and wanted to take a break from running around, so we relaxed a lot in the hotel Greatroom which was recently redone and the perfect place to enjoy some drinks. One thing I loved about this room is that there were charger outlets on almost every table, which saved me from back and forth trips up to the room multiple times. 
We also explored the hotel a bit and stumbled across some stunning rooms like the above ballroom. How gorgeous would this be for a wedding?! We couldn't help but play along.
All in all, our trip was a success. I think Grace would agree, especially since she started smiling even more on the trip and has kept it up since. A little adventure tends to do that to ya, even at a young age.
So, see? Even with a baby in tow, we were able to take a little vacation and enjoy a great mix of action and relaxation. Would we do it again? Absolutely. Because life goes on, my friends. And it's even more fabulous with a darling baby in it.
This post was sponsored by Marriott Hotels. A huge thanks to their team for treating us to such a wonderful weekend. Your new hotel is stunning and we will absolutely be back!