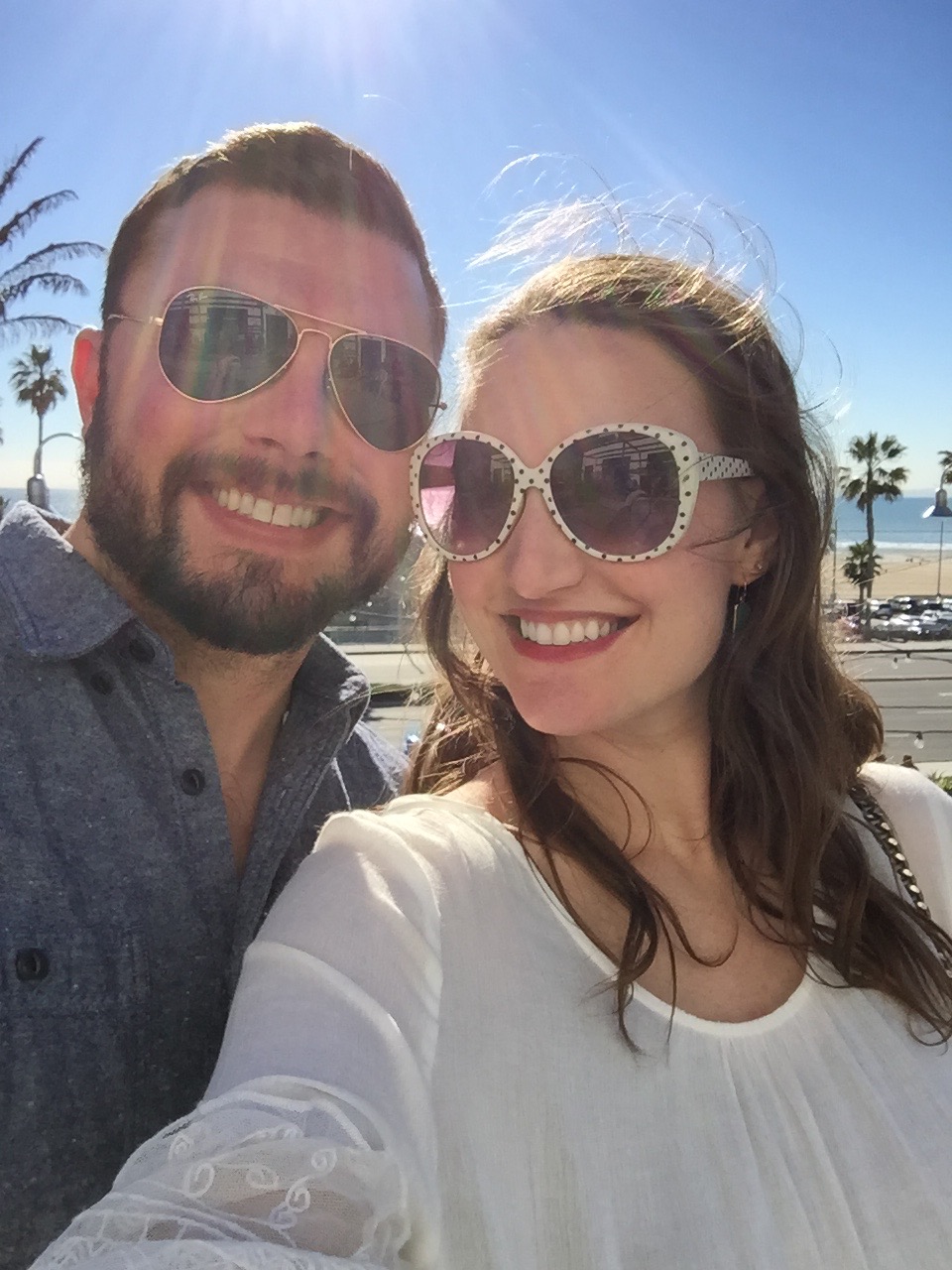 Here's a direct quote said by both my husband and I at the end of the day: "I'm exhausted." We can't help it – running around chasing after a toddler and caring for a baby has the tendency to really knock the wind out of you.
…Except when we're talking about a big glass of wine. In that case, we somehow muster up all the energy in the world. That's actually one of my pieces of advice for maintaining your relationship after a baby. Make time to sit down together for a few moments at the end of the day. Take a load off, ya know?
In today's motherhood post, Kelly and I are talking about ways that we've learned to maintain our relationships with our husbands after a baby. Or, in the case of Doug and I, two babies! (Yes, I still consider Gracie my baby.) 
With how much work kids are, and how crazy life can get, it can be very easy to forget to work on your relationship. While I'm by no means an expert, I do believe Doug and I have something good going. Of course, I'm biased. But, hear me out.
We work at it – really hard. We're very much still learning as we go, which is something that will surely never stop. But, with two kids in the mix, here are my top pieces of advice that have worked for us so far!
Prioritize One Another. When we got married, we were given the advice to always put your marriage first, even before kids. That seemed counter-intuitive to me at the time. I thought, "How could you possibly put anything before your kids?!" But, I see now that this advice was spot on. We've found that having a solid foundation has created a healthy and happy environment for everyone, including our kids.
Go On Dates. In the same vein as prioritizing one another, setting up regular date nights is a great way to get away, relax, and have fun. Doug and I have tried to go on a date at least once a month, which I know doesn't sound like a lot, but it's the nicest little break when it happens!
Have Some "Together" Time Every Day. Actually going on dates can be challenging (Plus, babysitters are crazy expensive), so we often find that a more realistic way of prioritizing one another is to set aside some time every day where we turn off our phones and just talk. It's usually over dinner, after the girls are in bed, and typically involves a glass of wine. In the summer, we also love to sit on our porch and watch the sun set.
Laugh. So, so important. Even after a long day, we try to keep things light and laugh as much as possible.
Help Carry The Load. Let's face it, kids can be stressful. One thing that I really appreciate about Doug is that he's always willing to help out. Whether it be rocking the baby at 3 am, or helping to cook dinner, I never feel like the weight of raising our kids is solely on my shoulders. In turn, I try to be helpful as well. This is important, because it not only helps to provide sanity for us both, but it helps us feel like we're in this together. Helping out makes our relationship stronger because we truly feel like a team.
Establish Rituals Together. Every night, as a family, we read books, sing, and say prayers together before Gracie goes to bed. (Even Josephine joins in!) I love this little ritual, because it's our time to be together and relax. I really believe these little rituals make our family unit stronger, which in turn makes our relationship stronger as well. It's a cyclical effect!
Say "I Love You". Every day. Throw in some cuddles, too.
In a happy coincidence, today is actually our anniversary! We're celebrating by going on a date night; we're cruising the Chicago river on a boat together. That's amore! 
Do you have more tips to share? I'd love to hear them! Be sure to swing by Kelly's blog to read her post, too. She and Mitch are the cutest together – definitely a couple we look up to – and I know she'll have some great advice!