Oh happy day! It's my birthday, and you know what that means. A fabulous dress.
Let's talk birthday wishes, shall we?
Every year the age-old question is asked. "How does it feel to be another year older?" Here's my honest answer: It feels really, really great.
It's so funny because I remember my college days like they were yesterday. Yet here I am at 31, occasionally reminding myself to adult. If you told me in my early 20's that at this point I'd be married to Doug and have two kids while living in Chicago, I like to think I'd say…"Cool!" Because you know what? When I look at the life we've built around us, and all that the years have brought, it is. More than cool. It's quite amazing. I'm very proud.
It's crazy, though. Every year has seemed to go by faster than the rest. A result of being busy? Who knows. I just have to keep reminding myself to soak it all in and enjoy every minute.
I don't believe I'm 31; I feel like I'm 21. Or, if this past Saturday night was any indication, maybe even 16? Some close girlfriends and I went to The Boy Band Night and I reveled in all songs circa 2004 and earlier. I still know every lyric to "Bye, Bye, Bye". And, guilty confession, every song from One Direction. Awww yea, Mama's still got it! Or, maybe the fact that I know lyrics to today's boy bands mean I don't? Are boy bands still cool? Literally have no idea. Grace thinks I'm cool so that's got to count for something.

So here I am, still fresh in my 30's, feeling really great about it all. Still young, still eager for the future, still feeling like I have so much I want to do with the years ahead. I'm excited. I'm energetic.
Side note: Check out this post from last year where I reflected on turning 30 and talked about my next 30 years. It's one of my favorite posts to date! This one, where I share 29 Life Lessons I Hope My Daughter Knows at 29, is another favorite.

What, then, do I wish for my 31st year? It's simple: Health, happiness and love. I say that wish with my loved ones in mind, not just myself.
Alright, and I wouldn't object to some adventurous travel thrown in the mix. My list of places to visit keeps growing!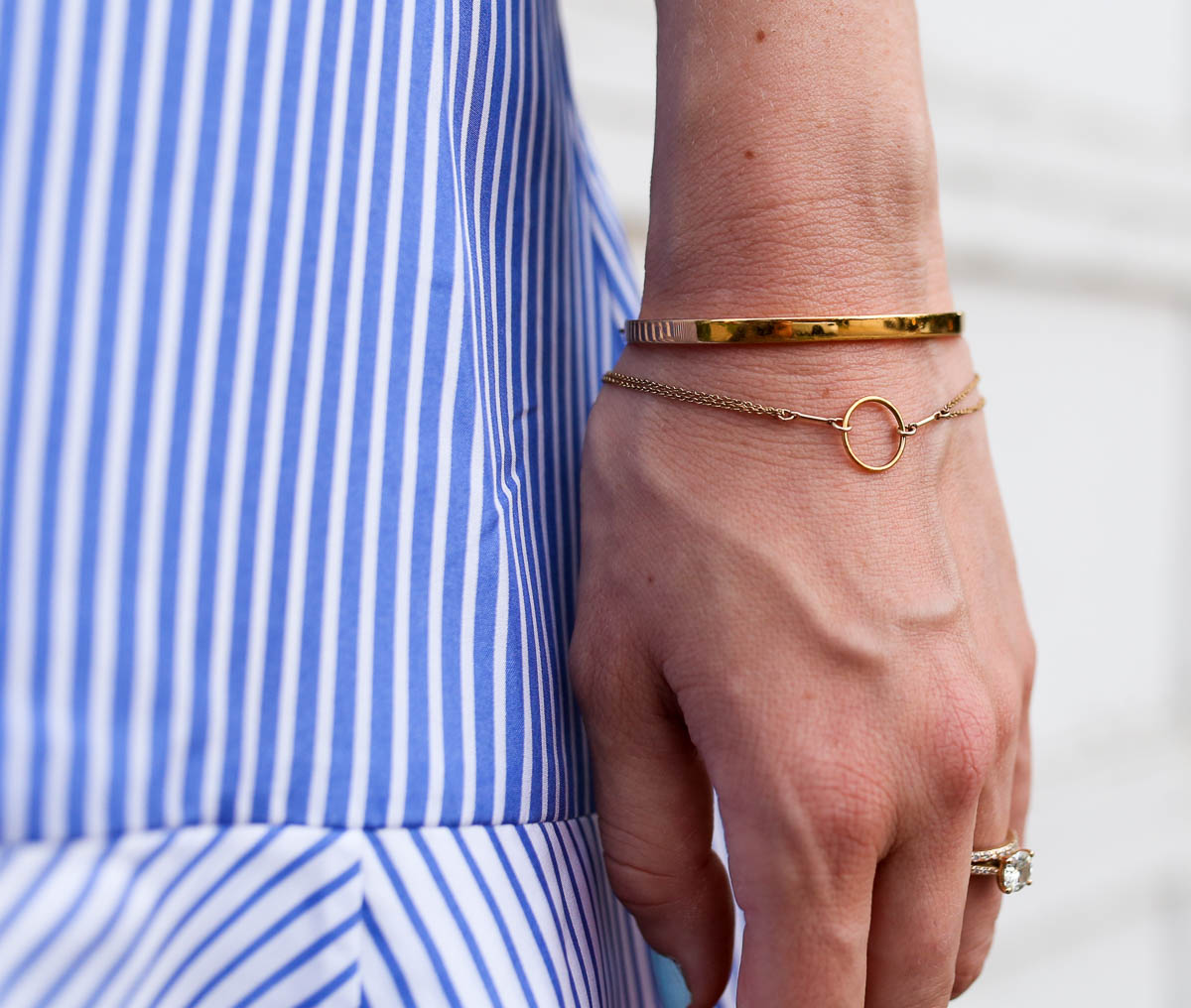 To celebrate today, we've kept it pretty low key. I went out this weekend for a girl's night, and last night Doug and I went on a dinner date. Other than that, I'm just planning doing a whole lot of relaxing! And drinking a biiiig glass of wine while savoring every sip.
So here I am, blowing out some metaphorical candles with you here on the blog. They say to never say your wishes out loud, but I think that's BS. I'm a believer that proclaiming your wishes puts them into the universe and it'll help them come true. Cheers to that!
Oh! Before I depart to enjoy the day, let's chat about this dress.
I wore it for my birthday dinner last night; it's the most lovely silk ruffle dress and it's very comfortable, too! The material and light stripes scream summer. It was love at first sight! I couldn't wait to wear it to celebrate my birthday, but I've got a few summer weddings that this may make an appearance at as well. Isn't it gorgeous?! 
I paired it with white heels, which are a must for summer. Bonus: these ones are 25% off right now! Colorful earrings, Monica Vinader bracelet, and a white Coach purse completed a look that was easy and bright.
:: Shop The Look ::