Oh boy, it's a girl!
Over the weekend, Doug and I had a gender reveal party with our nearest and dearest surrounding us, where we learned about the sex of our baby. Here's how the unveiling happened!
Earlier last week, we had our 20 week ultrasound, which is typically the appointment where they tell the gender. Doug and I hadn't seen the baby via ultrasound since our 12 week check in, and as usual we couldn't wait to see how much the baby had grown, but with the gender reveal in place we were beyond excited. My mom came in for it, so the three of us braved the Chicago cold and headed in with lots of butterflies in flutter.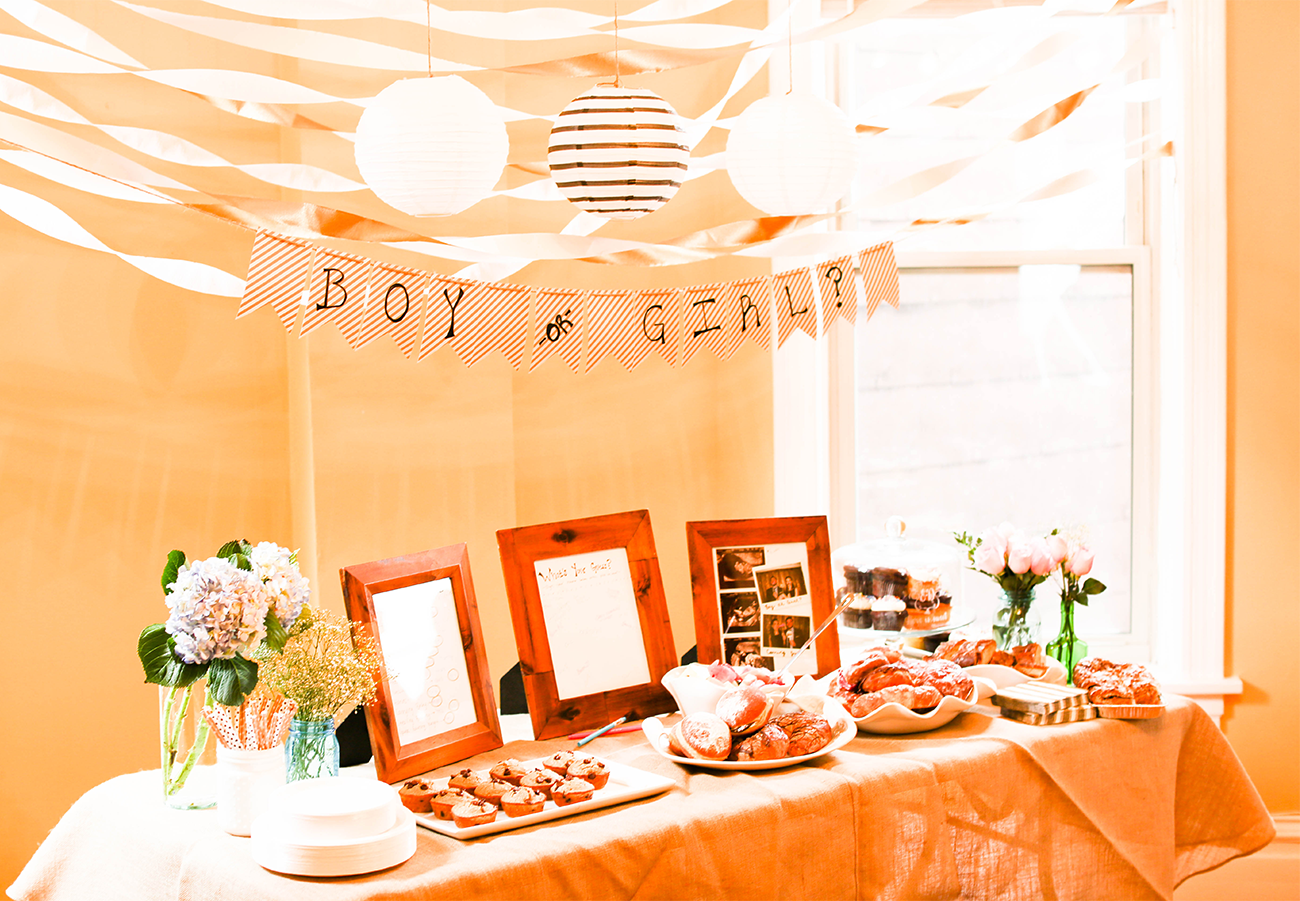 Here's the catch, though. Doug and I knew we wanted to do a gender reveal party, and we wanted to find out the sex at the reveal. So we turned our heads when the ultrasound technician revealed the gender, making my mom the only person to know all week until the reveal.
Her reaction: Happy tears. My reaction: Total impatience. I was dying to know the gender and had the hardest time waiting for the reveal party to find out. She did a stellar job at resisting my attempts at trying to Sherlock Holmes the truth out of her. (Good job, Mom!)
With all that impatience, am I happy that we waited for the reveal party? Absolutely. Though the anticipation was constantly on my mind, it was so special to find out the baby's sex surrounded by loved ones.
So, how'd we do it? Cupcakes. The ultrasound technician put the answer in a sealed enveloped, which we dropped off at the bakery with the direction for them to make cupcakes with pink or blue on the inside.
A funny side story: The bakery called a day before the reveal to confirm what type of envelope we'd dropped off the gender in, wanting to "make sure they had the right one for our order" because they had multiple that were dropped off. Mic. Drop. I about had a heart attack. Can you imagine if they made cupcakes with the wrong gender inside? It'd be equal parts hysterical and ridiculous. Thank goodness my mom knew the truth once and for all!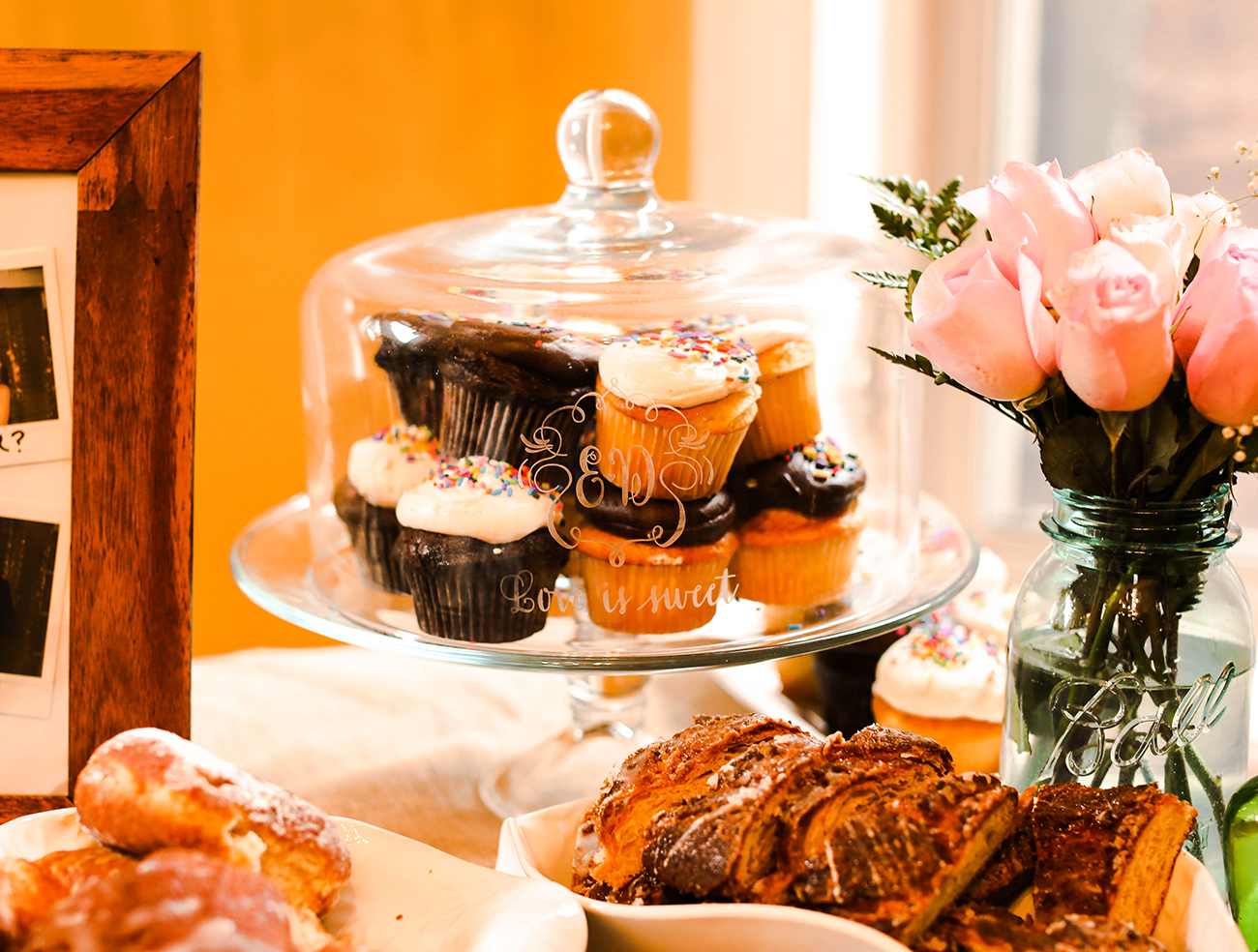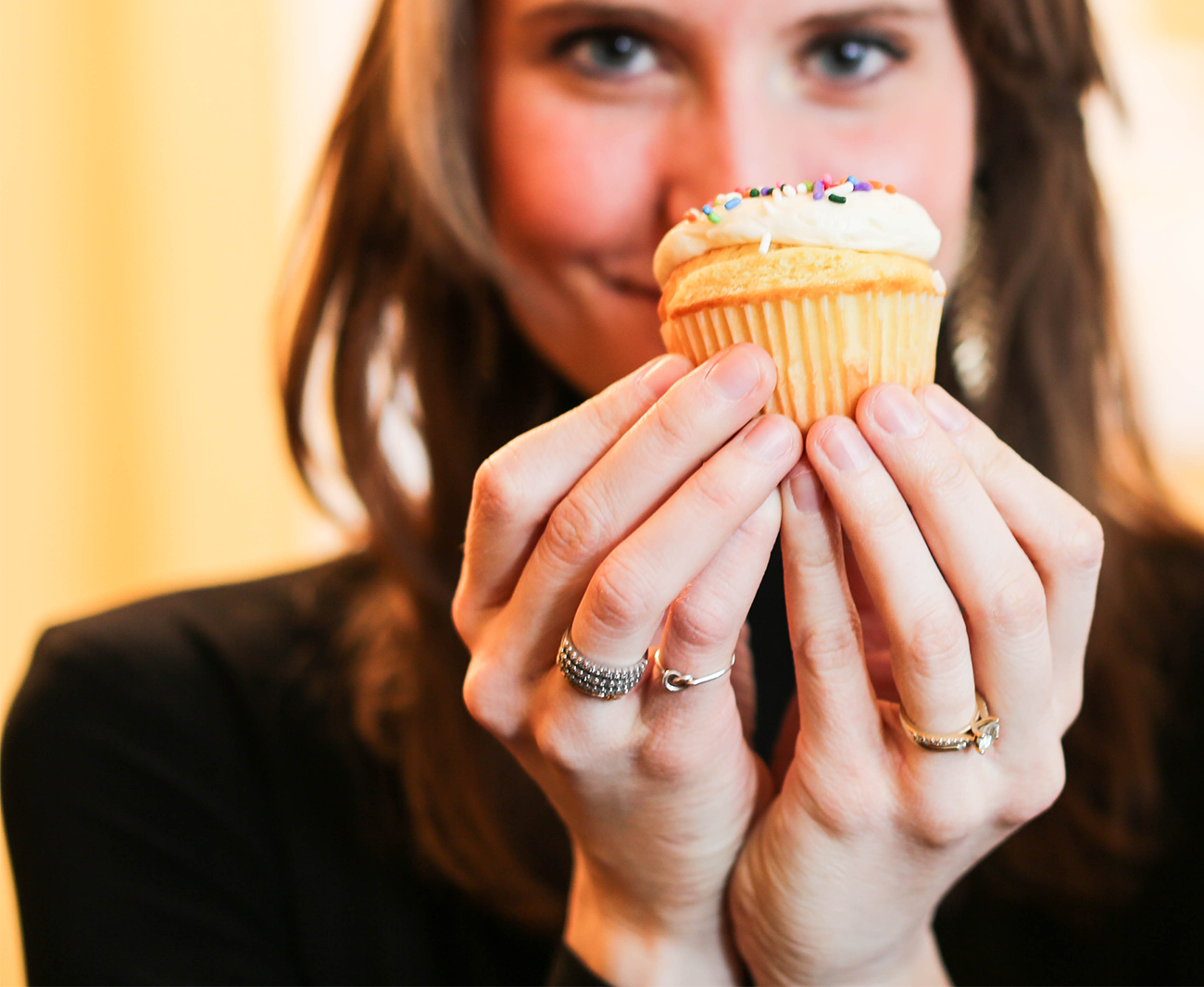 Now, for the decor! I wanted to keep things gender neutral, so I opted for simple decor and grabbed white & gold streamers, paper lanterns, a flag garland, and gold stripped napkins from Target.
In addition to the cupcakes, we had lots of pastries and treats, brunch food, mimosas and drinks for guests to enjoy. For florals, I used light blue hydrangeas, pink roses, and baby's breath, displayed in assorted vases and jars. In frames were "Old Wives Tales" with my answers circled, a piece of paper where guests signed their name with a pink or blue pen indicating their gender guess, and ultrasound pictures of our little one.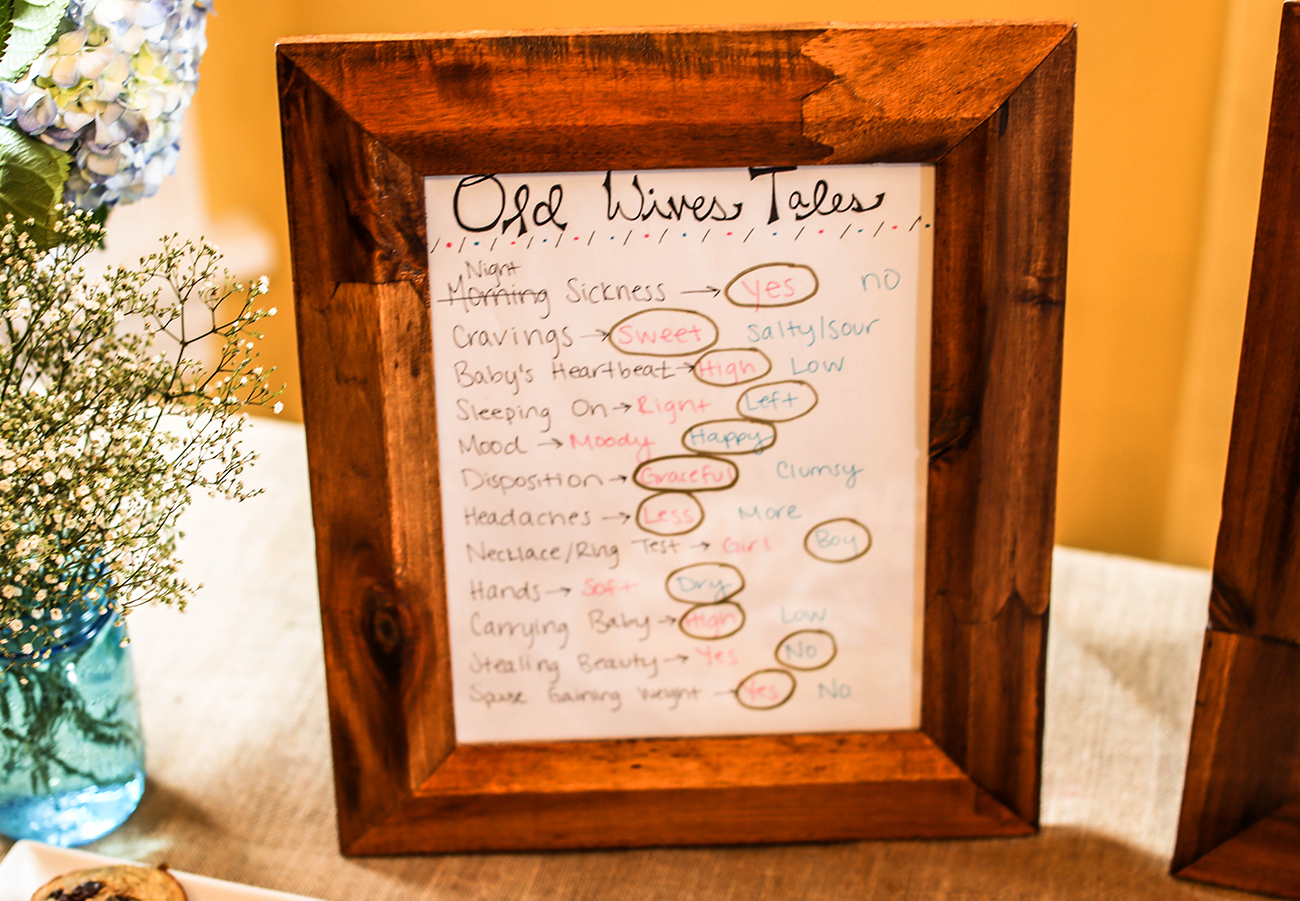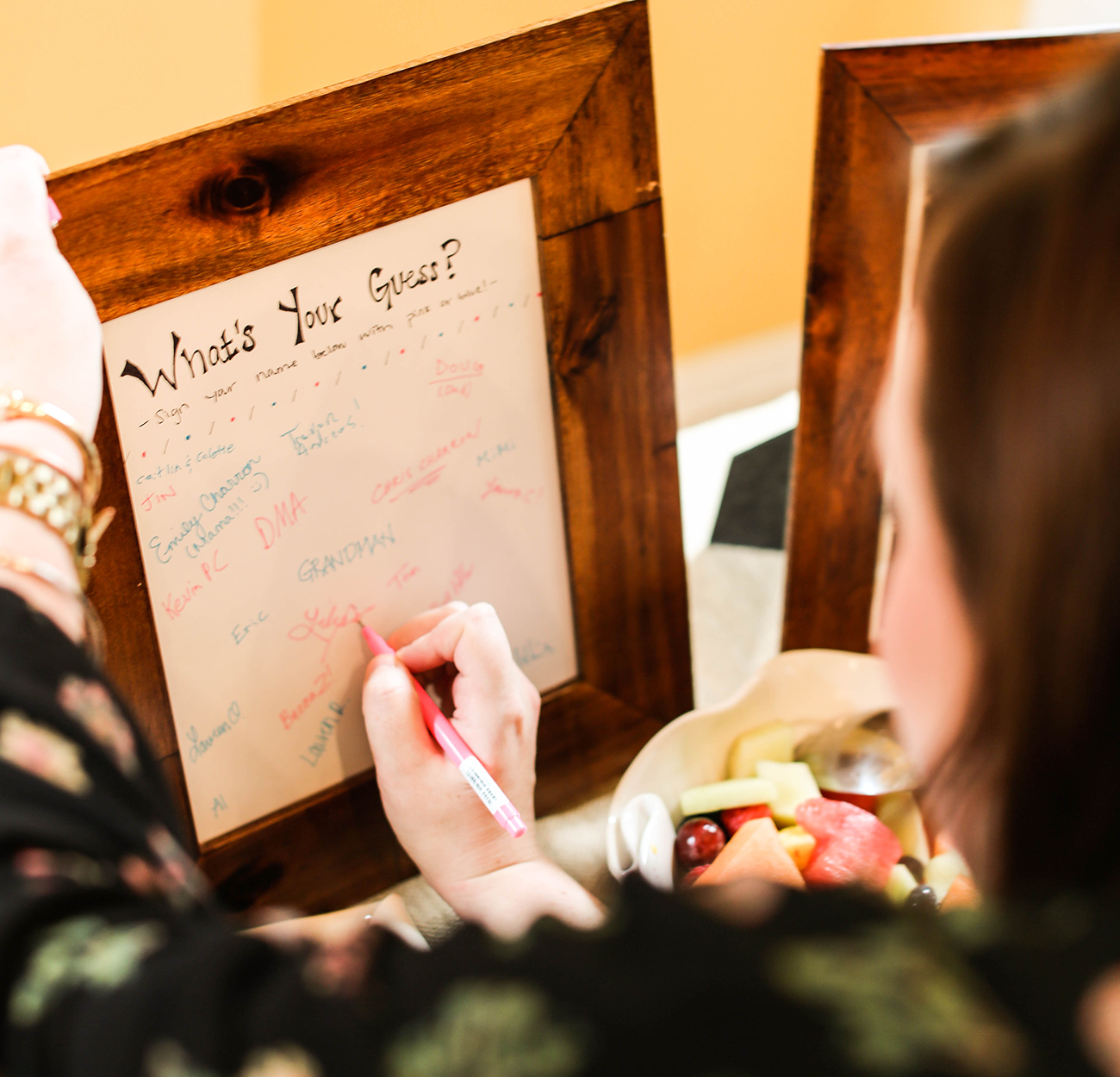 Now, for the unveiling. Let me preface the below by saying that I was absolutely convinced that we were having a boy. Convinced as in I was brewing over boy's names constantly. Convinced as in I already had nursery paint colors in my mind. Convinced as in I told everyone that, "It's 100% a boy, there's no doubt." I didn't have a reason why – it was purely "intuition." I'm now strongly second guessing my abilities.
Doug's bet this whole time has been on the baby being a girl. (I think half of it was because I was so convinced it was a boy.) I was secretly giggling to myself and rivaling in the fact that I could say, "Told you! Mama knows best!" after the unveil. So, when we bit into the cupcake and saw bright pink waiting there, I was shocked. Shocked.
….It took a second to settle in. I think no matter what the tears would have flown, just because of how emotional it is finding out the gender of your baby, and so there they were. A shocked few seconds to let the news settle in and a few tears later, we erupted into a happy dance for our little peanut. (Side note: I totally want to frame the below photo, even though it's not the best quality. How hysterical is Doug?!)
The rest of the day was spent lounging with our family and friends, enjoying the company, and chatting about the arrival of our little girl. It was so much fun and the best way to celebrate being half way through our pregnancy. Knowing the sex definitely makes it feel more tangible and real.
One thing is certain – we can't wait to meet our little lady! I'm already patting my belly calling her my bestie, so it's safe to say that she and I will be two peas in a pod. <3