Last month, I had the honor of throwing my friend Kristina a bridal shower. She's one of my dearest friends, and as one of the bridesmaids in her upcoming August wedding, I didn't want to disappoint. As I brainstormed on what was something different that I could do, that was also equal parts relaxed and fun, the perfect answer came to mind: A tea party!
Ah-ha! Yes, it would be the perfect way to throw her shower. I just had one problem…I'd never thrown one before. I mean, sure, I'd had buddies over for coffee, tea and light bites. But hosting close to 20 women for an all-out adult tea party?! No dice.
And, truth be told, I really had no idea what I was doing. I blame Starbucks. And, perhaps my lack of china to drink from. I'm usually a grab-and-go type of girl, you see, and to even attempt to set a table setting correctly requires multiple Pinterest and Google searches on my behalf.
Enter: Kith and Kin Tea Events. You guys. I can't even begin to tell you how much I recommend this service. I found them via the Hummingbird Studios site, which was where I wanted to host the event because of it's open space and relaxed vibe. (Also highly recommended if you're looking for a meeting or event location!) After a quick phone call with the Kith and Kin owner, Romy, she brought my vision of a "Modern day Anthro" tea party to life in the most lovely way.
We're talking china at every table setting, handmade bites to pass such as cucumber sandwiches and macaroons, and helped to run every aspect of the show (i.e. pour the tea, help with set up, etc.) while I was hosting our guests. She made it all so easy!
Through hosting Kristina's bridal shower tea party with Kith and Kin and Hummingbird Studios, I picked up on a few key elements that I think really helped to make it an A+ event. Below are 5 key tips, if you're looking to host a tea party of your own!
Provide an assortment of drinks. Of course, there should be tea. But we also made sure to have champagne, juice to mix mimosas (I had orange, grapefruit and lemonade), and La Croix. People like options, you know? Plus, what's a get together with your girlfriends without a little champagne?! 😉
Make sure you're hosting at a location that can sit everyone. I knew I wanted a venue because our tiny Chicago apartment wouldn't be able to seat all my guests. It sounds like a small nuance, but it's important: Everyone should be able to be seated at a tea party.
Ensure there are pretty, light bites. A tea party isn't meant to be a full-on sit down meal but rather an event paired with an assortment of food that's light and easy to pass! Also, the Instagram-lover in me wants to note that the prettier the food, the better.
Play music. This is my advice for any gathering, ever. Hands down, music makes events more fun.
Decorate with lots and lots of florals. Another staple of mine for entertaining. Florals on the table, among beautiful bites and china, makes for the perfect pairing!
I'm sharing some of my favorite photos from the event below, if you'd like to see! If you're in the Chicago area and are interested in hosting a tea party of your own, definitely check out Kith and Kin Tea Events and Hummingbird Studios!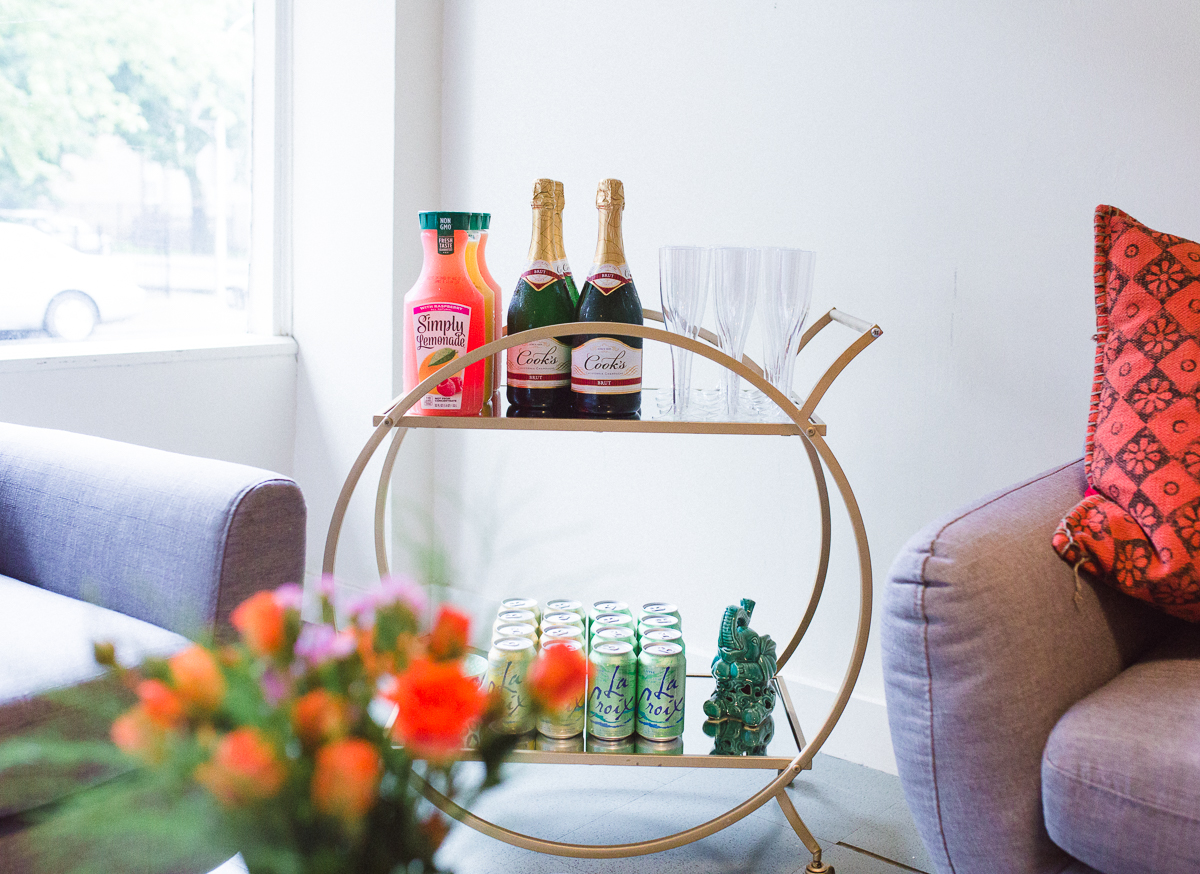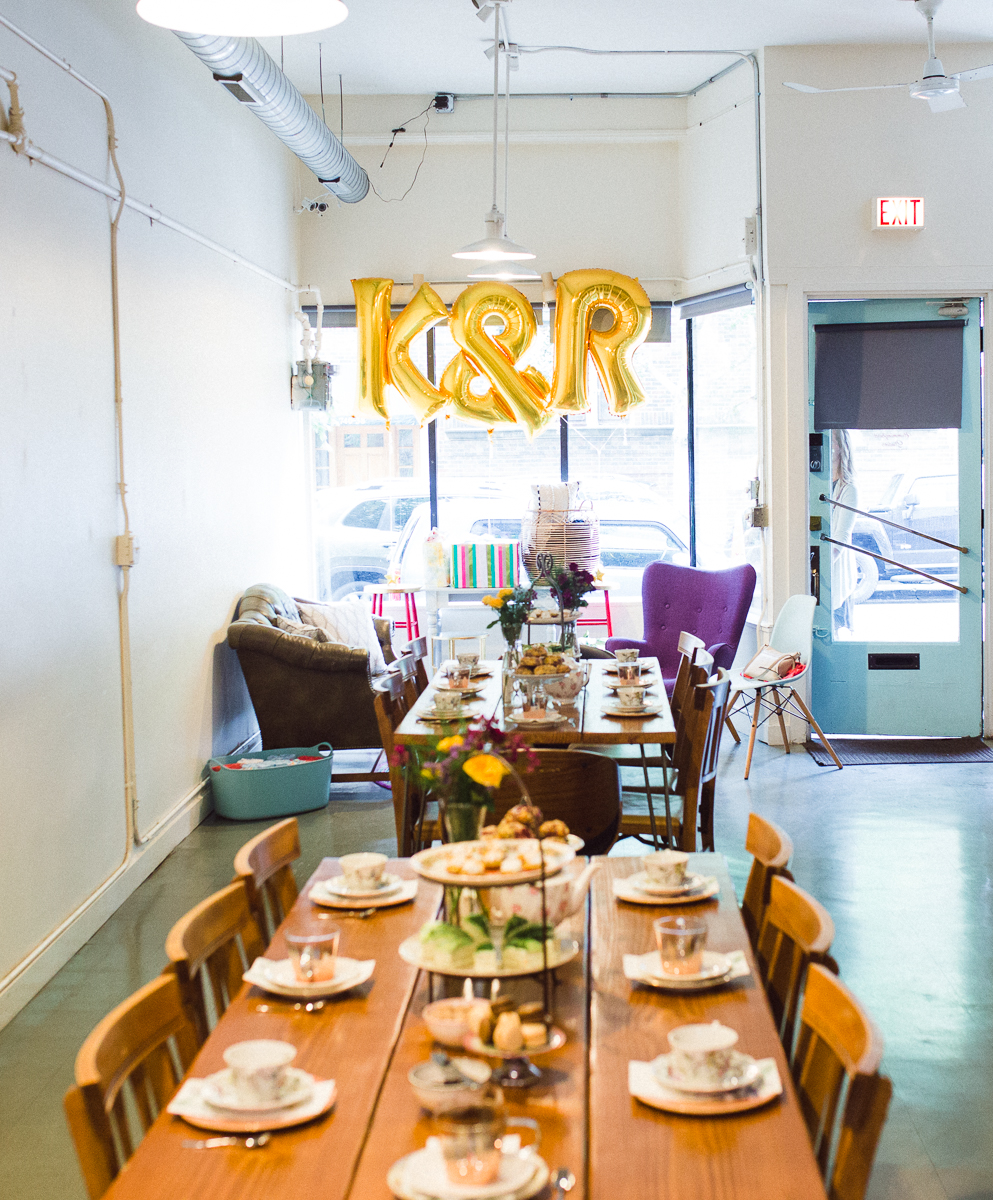 Do you have other pieces of advice on hosting a tea party? Leave your suggestions in the comments below!
PS – 10 Easy Ways To Go Green + 30 Facts You Didn't Know About Me