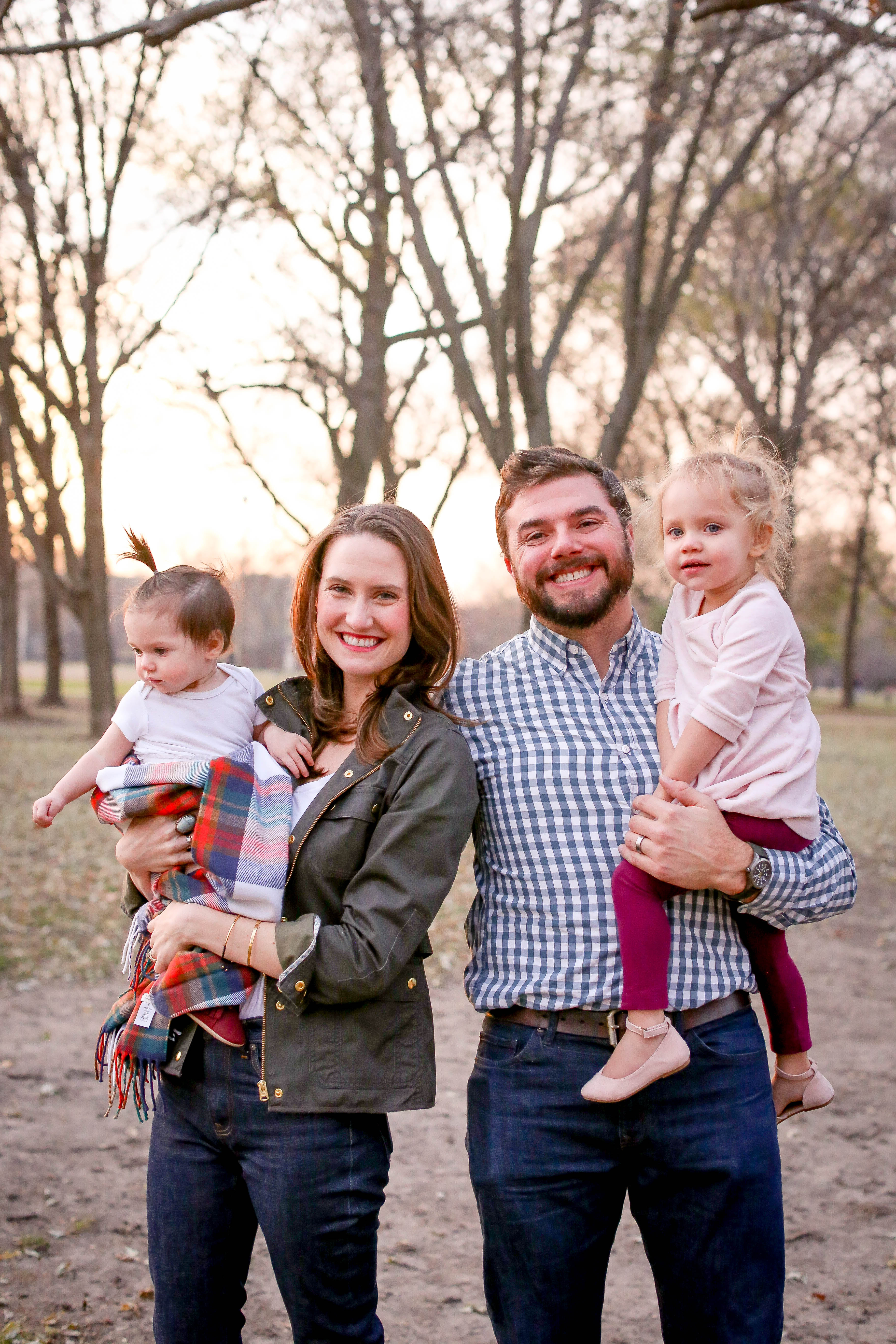 As we all know (and perhaps even sing on the regular during the month of December), it's the most wonderful time of the year! The holiday season is so special for countless reasons. Mornings waking up to a quiet snow fall, cozy nights cuddled up by a fire, or cooking dinner while listening to holiday music, to name a few. You know, the types of wintery things that give you all the warm fuzzies. 
With two young kiddos in tow, this time of year has become even more special. Not just because all those things I noted before take on new life and meaning, but because I'm now responsible for creating the magic of the season for my girls. Talk about pressuuuuure. But, like, in a really good and fun way.
When it comes down to it, this time of life is crazy special with little kids. There are only so many years they believe in Santa, will entertain the thought of searching for Rudolph in the night sky, ask you to read "The Night Before Christmas" just one more time before bed (you've only read it 3 times that evening, after all), or literally jump up and down when it's time to open presents. I want to bottle up those moments to relive over and over, but since I can't, I am trying to hold tight to the notion that every second is special and to just soak them all in while we're in the thick of them.
From their first Christmas (Josephine), to their first one really grasping what the heck is going on with all these presents (Gracie), I want the holiday season to be one where my girls look back on later in life and think, "Gosh, we had it good." I want them to smile and think of all things cheerful when they see December on the calendar. For Christmas Day to be magical. To have fond memories and stories to tell when people ask, "What are your family's holiday traditions?"
So, what are they? The holiday traditions that our family practices that make the season unique to us? Here's a little list of the things we currently do, and some that we're starting this year in efforts to continue doing, during this time of year.
Before you check out the below, be sure to swing by Kelly and Shaheen's posts to read about what their holiday traditions are, too! This post is a part of our ongoing motherhood series — I love tackling different topics with them, and getting to read a variety of perspectives. These ladies are the best. (And, don't forget to swing by the comment section to tell me what your holiday traditions are, too!)
Holiday Season Traditions
Family Photos – Our family's "yearbook photo", if you will. The photos in this post are from this year's photoshoot, which was done last weekend when it was 60 degrees in December. (What?!) I can't wait to look back on each year's photos when we're old and grey! It's amazing to see how our family has changed year over year, even in a short time period. Just think — in 2014, Doug and I had just gotten married, 2015 was Grace's first Christmas, 2016 I was pregnant with Josephine, and 2017 we have both girls! (Side note: Thank you to Maya, who took these photos for us!)
Lincoln Park Zoo Lights – We grab a big cup of hot spiced wine to warm us up while we're walking around.
Picking Out & Decorating The Christmas Tree – This is always one of my favorites! We make it an event — we bundle up, search for the perfect tree, load it up for the drive home, and then spend lots of time decorating it. Our tree is filled with random ornaments — it's not a perfect, themed one — but we love it for its personality. (And I love when an ornament emerges that is associated with a memory!)
Gingerbread houses – This is a new one for us, and one that Gracie has gone ga-ga over. We've made about 3 so far this season, which means we've had 3 epic meltdowns because we've only let her eat some of the candy/gingerbread cookies in one sitting. Ha!
Christmas Movies – We have a "no tv during the week" policy that we *try* to stick to (yet often fail at), which makes our Saturday morning tradition of pancakes and a movie extra special. (The rest of the weekend is fair game for movie time too!) This season, those selections have been all Christmas movies – Grace's current favorite is "How The Grinch Stole Christmas".
Meeting Santa – Another one where a few meltdowns have emerged. So far the excitement over Santa has been minimal as he's still in the "Who the F is this creepy fat dude?!" category for both Grace and Jo. We'll get there. 😉
Christmas Eve/Day Traditions
Christmas Eve Mass – Growing up, my family always went to midnight mass, which were always complete with a choir singing hymns. I loved it because it's a special time to reflect and really appreciate the meaning behind the holiday. This year, we obviously can't go to midnight mass with our girls, so we're planning on going to a more family friendly service during the day. But one day when they're old enough, I plan on taking them to midnight mass and enjoying the same tradition with them that I grew up with!
Caroling & Looking At Lights – On Christmas Eve, my family always piled in a car, turned up the Christmas music, and drove around to find the house with the best lights. I'm totally making Doug and the girls do that this year!
Giving Back As A Present – This is a tradition Doug and I started last year. We essentially replace a present with a donation in the other person's name. You can read more about it in this post! 
More Santa – Growing up, this was of course THE moment of Christmas. I'd wake up my brother, and we'd run down together to see what Santa got us. For Gracie and Jo, I'm excited to see their excitement this year! (More Gracie than Jo, but still. Jo will love the wrapping paper – ha!)
Family Gatherings – There's usually one on Christmas Eve, and one or two on Christmas Day. No matter where the gathering is, it's always complete with lots of apple pie!
What are your family's holiday traditions? We're always on the lookout for great new ones to adopt, so would love to hear what makes the holiday special for you in the comment section below! And, be sure to swing by Kelly and Shaheen's posts to read about their traditions, too!
Psst – Big thanks to Maya of Charmingly Styled for taking our yearly family photos for us!
Psst – Looking for more great motherhood series reads? Here are some favorites: Where do you want to raise kids? What have you learned from your kids? How many kids do you hope to have? How did you know you were ready to have kids? Tips for traveling with kids. How did you choose your children's names?