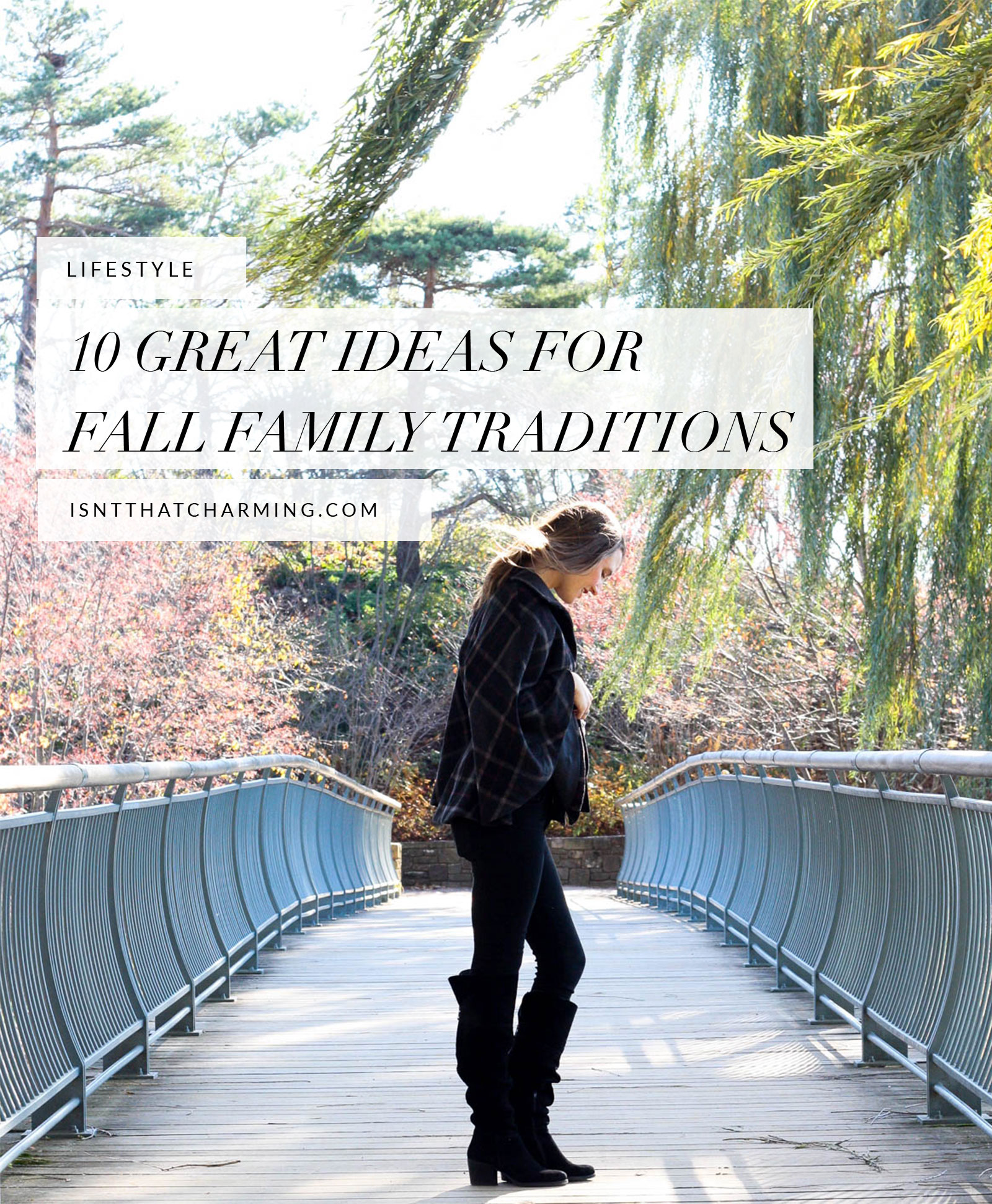 With a toddler in tow and another baby on the way, Doug and I have been thinking a lot lately about what types of fall family traditions we want to start making consistent. Of course, we've been thinking of establishing traditions in the broader sense as well, but fall is the start of the holiday season and that time of year when making memories together feels more important than ever.
Last year, when Grace was just a few months old, we went on an impromptu trip to the Chicago Botanic Garden and had the best day walking around in the sunshine, just being together as a family. We decided to do it again on a recent Sunday that was free of plans, and headed out to spend the day at this newfound happy oasis. (Where these outfit photos were taken!) While there, we talked about how great it would be to make this a yearly thing; not necessarily this specific garden (although we'll certainly be returning time and time again!) but more the idea of taking a day together to visit a park or destination to spend time outdoors, all in the name of enjoying the season.
Without even really trying, we had established a new fall family tradition. It was something that organically happened, felt natural, and was one that we're excited about putting aside time for. All qualities of the best types of traditions. 
We started to brainstorm about what other things would make for great family traditions, year after year, during the fall. Below is a list of my 10 favorite!
Visit an apple orchard (We checked this one off in October!)
Bake a pie from apples picked during your orchard visit
Go on a hayride
Indulge in cider donuts from your favorite local mill
Take a walk along the prettiest tree-lined street in your neighborhood
Spend a day tailgating and watching football together
Make a fort and tell ghost stories (Perhaps reserved for when the kids get older!)
Run a race together (5K…10K…whatever you feel would work!)
Rake leaves, make a big pile, and jump in them
Attend a fall festival
Do you have other ideas to share? I'd love to hear about them in the comments!

For those who are interested, this fall-inspired outfit was ideal to spend a day outdoors in. I paired black jeans with comfortable knee-high boots, a plaid cape and a blouse underneath. I adore how this cape looks while layered; it's perfect for any chilly day to keep you warm. This & this are great options, and you can shop similar items to what's featured in this post below or at the links provided!