There's nothing like becoming a mother to make you realize just how much you appreciate your mother. I'm excited to partner with Lands' End in their #DearMom campaign to talk all about my mom and how I honor her this Mother's Day.
The more I love Gracie and the more she grows, the more my understanding of just how much my mom loves and has done for me is strengthened.
It's not that I didn't appreciate my mom before, it's just that I didn't realize the full extent of motherhood until I was in that position myself. I find when I reflect, that it's the small things bring out my appreciation the most. Things like being woken up by a gummy-smiled Gracie at 4:30 am and being exhausted but not upset in the slightest. Rearranging work meetings so that I can get home on time to feed/play with/bathe/cuddle her before she goes to bed. Being so worried when she's sick or something is wrong that I can't think about anything else. Sundays that used to be spent on my computer grinding out to-do's now spent playing peek-a-boo and taking long walks.
The good, hard, and at-times challenging moments of motherhood have made me look at my mom through new eyes. And I've really only just scratched the surface of all that it entails.
I think about her little moments and all that she went through. Yes, there were the usual motherhood highs and lows, but she had some unique situations where her strength really had to pull through. Her mom, who was her best friend, died when I was just one years old. She and my dad went through a divorce and had to learn how to raise two kids individually. (Psst – you are both amazing!) She held strong during the difficult teenage years where let's just say I was a pleasure less than sweet to be around. (Err…sorry, Mom. I owe you many glasses of wine forever!)
I probably will never know the details of all that she went through personally throughout all those times. But, I can definitely say in hindsight that I look at her with the utmost appreciation for the grace she showed throughout it all. 
She continues to amaze me, especially in this past year as my attention toward those little–acts-of-mom-kindness becomes more focused.
The moment my contractions started with Gracie, she was in the car on her way to Chicago. When Gracie was born, she of course was in awe of her, but I noticed that she was primarily looking at me to make sure I was okay. (By the way, I am now crying while writing this.) She'll come in for the weekend and leave with my house cleaned and laundry done. She has set up an auto-deduction from her paycheck so that she can contribute to Grace's college fund every 2 weeks. She transformed our entire basement at home into a mini apartment, complete with a crib, diapers, sound machine, and toys, so that when we come home we don't have to bring anything besides ourselves. The list literally goes on and on.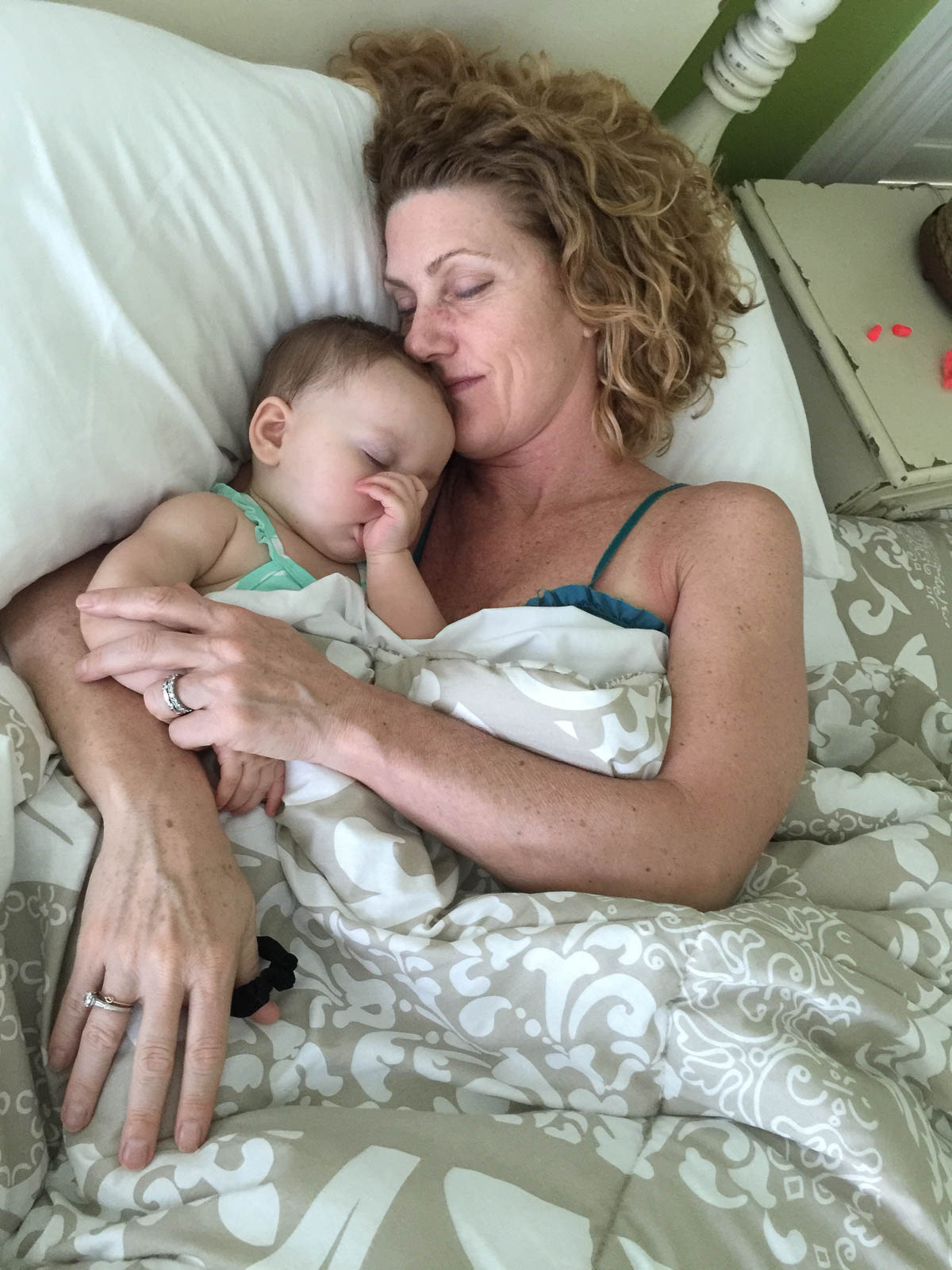 As Mother's Day draws near, I am reminded to take the time to stop and thank my mom for all that she does and has done. I realize through raising Gracie that motherhood is the best job in the world, but it's also one in which your every day actions and selflessness goes unnoticed. You don't expect or even want thanks, but let's face it, sometimes it's just nice to hear.
So, Mom, thank you. From the bottom of my heart, thank you for always being there, for loving me, for being such an amazing person and friend. I feel so lucky to have you.
I sadly won't be able to be with my mom this Mother's Day because we have a wedding in Chicago this weekend. If I were in Detroit, we'd be brunching and spending the day with the family. In her honor, Dougy and I will be doing the same with Gracie in Chicago. To me, however, the greatest gift is the simplest: Tell your mom how much you love her. It's the only thing I'd want from Gracie, and I have a sneaky feeling it's the biggest thing my mom wants from me too.
Now, readers, it's your turn! I was so excited to share my appreciation for my mom with you today, and Lands' End is hosting an awesome (and easy to participate in) giveaway that is encouraging you to do the same on behalf of your mom.
Show mom how much you care – 

 Now through May 6th 

share your Mother's Day message, photo or video on Instagram and/or Twitter using #dearmom, #contest and #mylandsend for a daily chance to win a $100 Lands' End Gift Card.

Each day, @LandsEndPR will post a unique prompt or question asking for a specific message, or photo, or video to be posted for a chance to win. So head on over and follow @LandsEnd and @LandsEndPR.

Spend quality time with mom – Enter for a chance to win a five-day, trip for you and your mom, to the luxurious 

Sonesta Fort Lauderdale Beach

 hotel. Simply fill out the form at 

landsend.com/dearmom

 through May 4th.
Sending lots of love to moms everywhere, especially my own! xx