Hello from sunny Las Vegas! The Signature at MGM Grand has been the best little haven from the heat since it has a massive lazy river that our family has basically parked in the shade by for days.
Can you blame us? With temperatures at a sweltering 110+ degrees, you walk outside and are hit by a cloud of heavy, hot air. Not that I'm complaining. Despite what my pale skin may tell you (er…I really should hit up the self tanner), I love warm weather and am happiest in the sunshine. Apparently the apple doesn't fall far from the tree, because though it took her a bit to warm up (ha – unintentional pun) to the water, Grace has been loving floating along the river and splashing in the water.

In case you missed it, we're on a 10 day family vacation out west. My cousin Steph and I are the maids of honor in our cousin Kristin's wedding at Zion National Park this upcoming weekend, and our family decided to make a big vacation out of it. We've been in Vegas for a few days, are leaving on a road trip today for Zion, and after the wedding are spending some time in Salt Lake City.
Are we crazy for traveling with a toddler and infant in tow? Yes. Did we pack enough for a small army? Yes. Have I had some wine during the day to cope? Yes.
But the most important question is: Are we enjoying ourselves? You bet. And I'm not just saying that because we're currently surrounded by gambling.

Back to Vegas.
You may think that being in the "City of Sin" means that we've done a ton of gambling and are indulging in all things naughty by nature, but Vegas has another side to it. A more family-oriented side, where you go to bed by 9 pm and can't walk the strip without accidentally running into tourists heels with your stroller. In our defense, they're walking way too slow.
Sure, we've played a few odds at the slot machines and craps tables, but really the most gambling we've participated in has been not packing an extra onesie for Josephine's first plane ride, to which we learned quickly that one must always pack two onesies when going anywhere with a two month old. (New rule: Pack a onesie per month? I think so.) A diaper explosion and vomit led to a very interesting trip here complete with Josephine leaving the plane wrapped only in a blanket and her diaper. #ParentingFail
Nothing like rolling with the punches. You gotta laugh at life's crazy moments, my friends. 
The crazy moments make relaxing by the pool all too welcomed. Plus, all the poolside activity has been refreshing since Chicago's weather has been so all over the place lately. Though it's hot, it's consistent, and reliability is nice. Especially when you have a fabulous new Panama hat and maxi cover up, both from Cuyana, to show off.
You've seen Cuyana on this blog before when I talked about their brand philosophy and shared what to pack for labor, and for good reason. Their clothing is some of my favorite since everything is stylish yet classic, and extremely well made. They're the type of items that you're proud to have in your closet – the ones where you may invest a bit in the initial purchase but you'll have the items for ages.
This Panama hat, for example, is designed by local Ecuadorian artisans and is authentically light weight and hand woven. I love that it can be paired with everything from pool gear to a casual dress. It's one of those pieces that really completes a look! Side note: Pictured here is the black ribbon option but it also comes in navy.
The white maxi cover up I'm wearing is a new favorite. I've never been one to really focus on a cover up for the pool – I've typically thrown on shorts and a tank – but after wearing this…I get the hype. So much so that I'll officially consider this cover up an essential from this point forward. I felt so pulled together and chic in this combination; it's airy, so even in extreme heat it's not too hot, and the design is crazy flattering with the split sides. I wore it over my navy one piece, which is from last year but you can find similar options here.
:: Shop The Look ::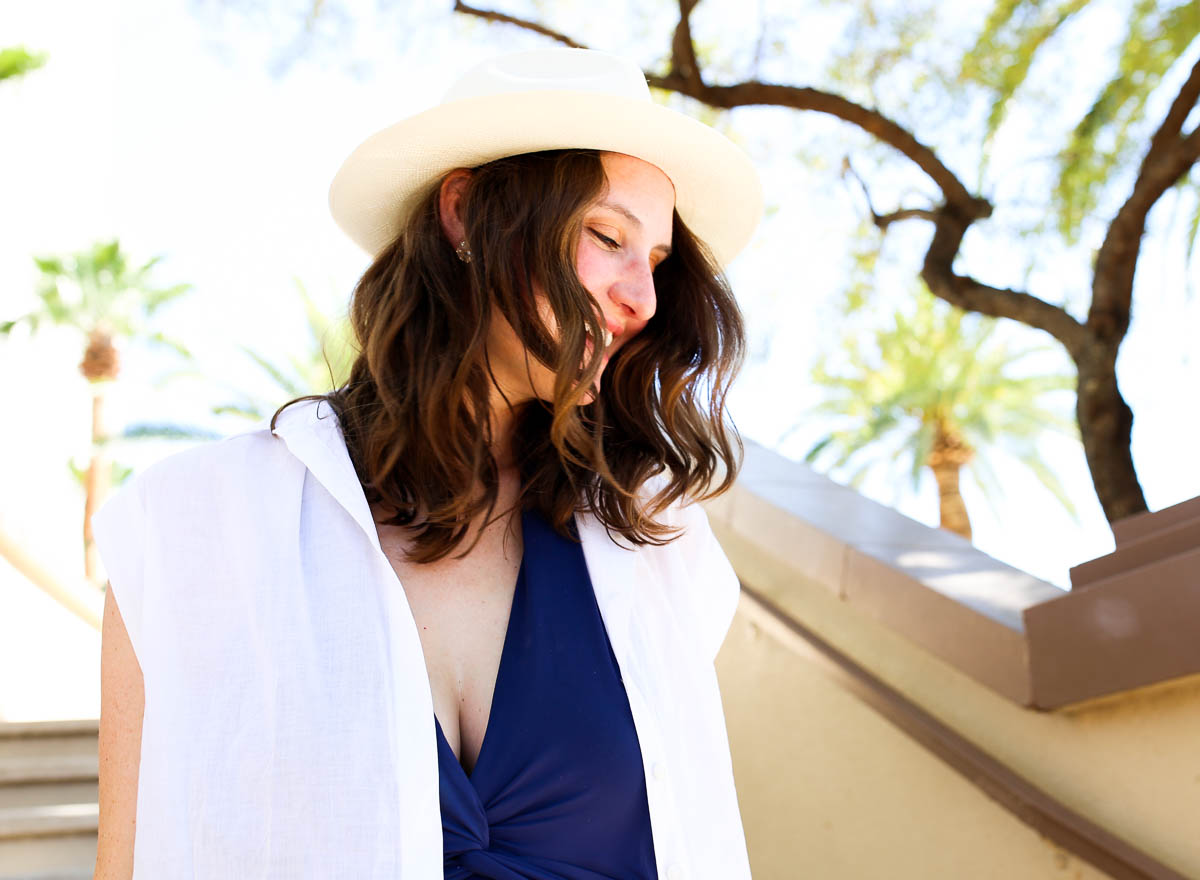 Next stop: Zion National Park. Be sure to keep checking in this week for more travel updates!