Happy first day of Spring! Being in the midwest, this day always feels somewhat anticlimactic because it's typically paired with gray skies and the need for coats. But, it also marks the beginning of so much opportunity with warmer, and longer, days on the horizon. I love this time of year for that reason; winter's nearing its end, and when you're treated with a warm day, you can't help but let it elevate your mood.
In the meantime, with gray skies galore, I'm creating my own sunshine. Blush items are all the craze lately, and I found the most perfect way to rock the hue with this long cardigan that's perfect for layering. It's so soft, has roomy pockets, and looks way more expensive than the mere $17 that I paid for it. (Yeah for real!)
I've been loving blush with black for this time of year, because the juxtaposition really lets the color pop, so I paired my cardigan with black pants, knee-high boots, and black Henri Bendel tote, which is one of my timeless favorites and so worth the investment. I mixed up the black with a camel-colored trench coat and time-traveled back to the 80s with an adorable blush scrunchie that has a cute little bow on it to complete the look. (This one is no longer available, but how cute is this floral blush option, and this watercolor one?!)
In other news, this weekend flew, as usual. These pictures were taken as we browsed our new favorite spot to be outside; the 606. After a long walk, we grabbed pizza and enjoyed a day together as a family. Later, we swung by Maya's house, who treated us to dinner (Thanks, boo!). Then, on Sunday we started started the crazy necessary feat of re-organizing/purging clutter from our apartment, did more work on the nursery, and then watched our beloved Spartans lose in March Madness (boo) at our friends Kristen and Chris's house (love you!). We still have so much left to do before the baby comes, but we're getting there!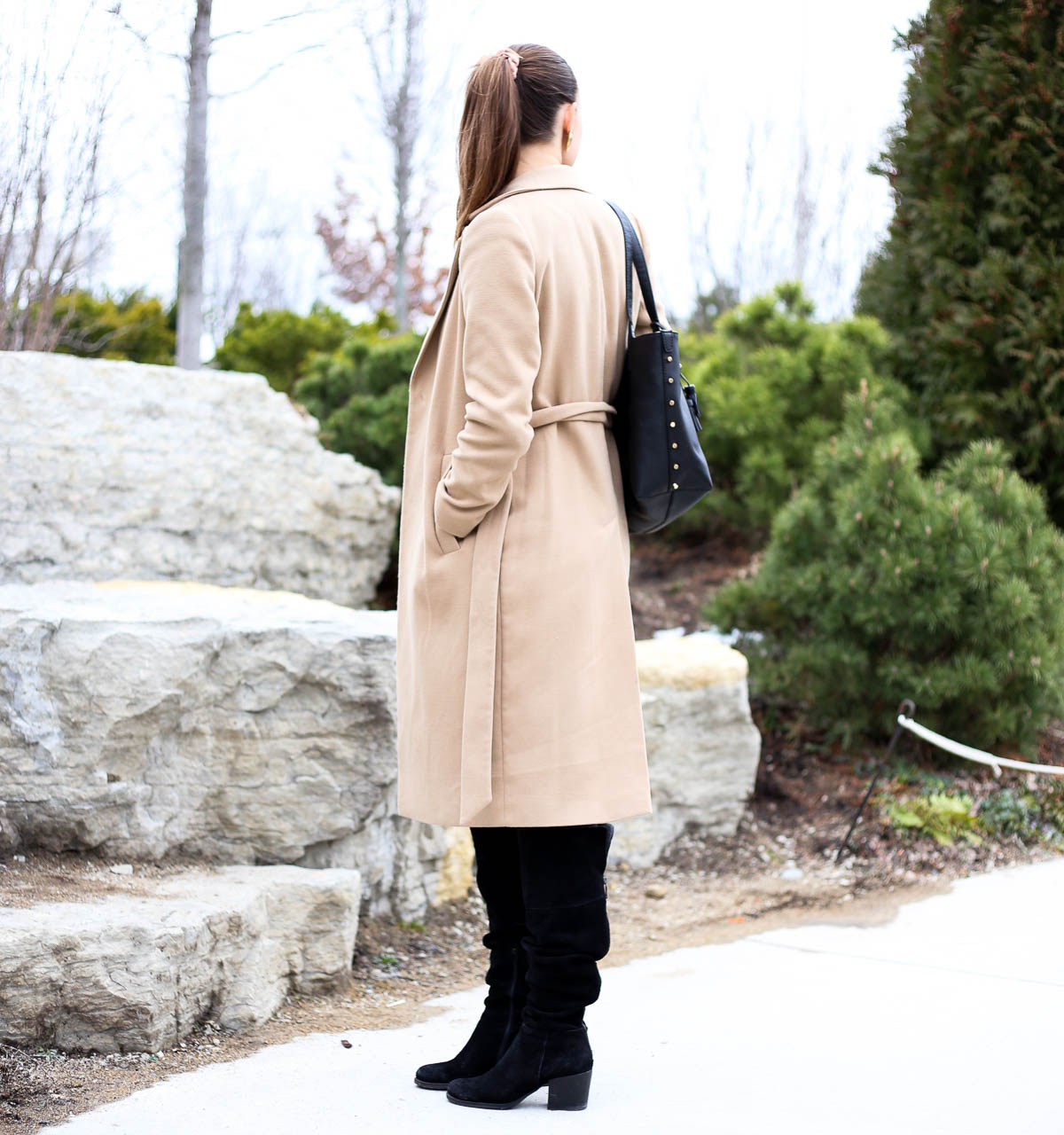 :: Shop The Post ::