I had the pleasure of taking a quick trip to LA for my Walmart video shoot this fall, and though it was the quickest trip I think I've ever taken (literally 28 hours total), had a blast throughout it all.  The crazy part? I almost didn't go. Here's why.
I'm going to level with you here. Traveling was one of the last things I wanted to do at this point in time. I'd just had Gracie 2 months prior and was very much still getting adjusted to life with a little one. A trip, particularly when it was alone, sounded downright stressful and not worth it.
Very motherly thoughts kept running through my mind. I'm going to miss her! What if she misses me? (What if she doesn't? Sad!) Will Doug be okay with her alone? Will she have enough milk? (Wait, but, seriously.)
I almost cancelled.
I know it sounds like a no brainer, and in hindsight it was, but I just wasn't ready to leave her even for a minute, much less a day. (Recognize those thoughts from this post on returning to work? It's tough, guys!)
Ultimately, I knew I had to go. Because, really, shooting beauty videos for Walmart is a once in a lifetime thing. And even though I knew I'd miss my baby immensely, I like to think the older Gracie 10 years out will be proud of me for going. So, I packed my bags and headed out to LA.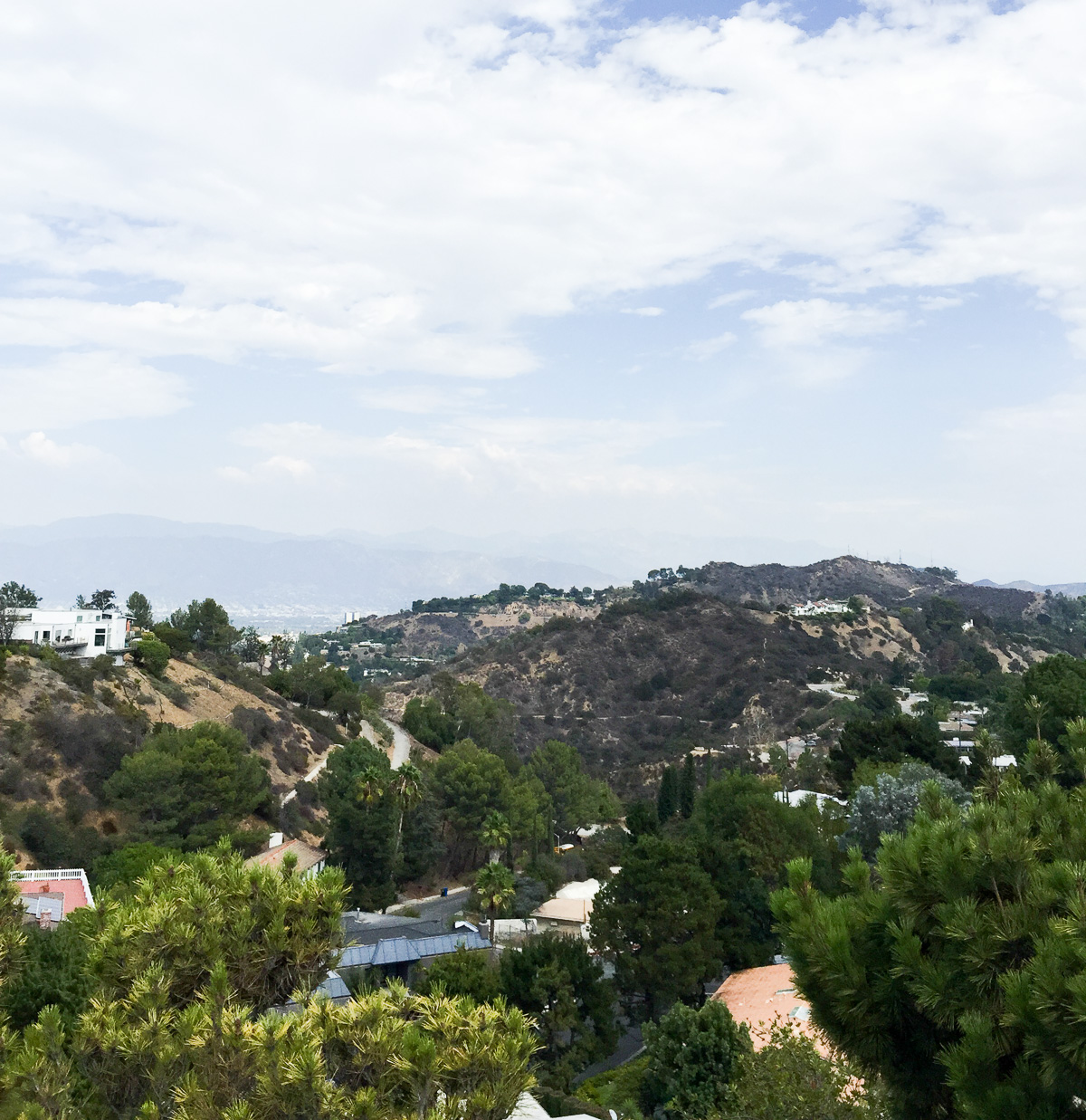 …And I'm so happy that I did. The entire experience was surreal.
I landed late at night, got a little rest, and woke up bright and early to start the shoot. The location was at a modern house overlooking the hills of Los Angeles (view is pictured above). I walked into the house, which was fairly unassuming from the outside, and into a flurry of activity.
People were everywhere. Makeup artists, a stylist, a camera crew, the works. I was brought to a half-decorated bedroom with cameras lining the side not decorated, in which the producer said they'd "Researched my style to make a room that looked like me." How flattering is that?! They totally nailed it – it was adorable.  (Check out all the videos here!)
Things happened like lightening. I actually started with no makeup in the first video, so the prep was easy. As soon as I arrived the stylist helped pick out my clothes and we got to filming. I was fortunate that the style of the videos was one that made for easy editing, so I didn't have to memorize every little line. I was able to ad lib a lot of things and repeat lines until they sounded good. (Which I'm sure was a directive the crew wishes they could take back. Some of the lines I did 10 times – sorry, guys!)
I wish I had more pictures to share, but it all went by so fast. All of a sudden it was 7 hours later and we had filmed 3 whole videos as I wondered what the heck just happened. I did manage to grab one of my view as they were setting up to start filming, and a quick selfie after filming had wrapped up. 
One of my favorite moments was completing the audio tracks outside, on a porch overlooking the hills. I started recording lines into the microphone, which was straight out of a studio, and had big Dre-style headphones on my head to compliment it all. I was thisclose to singing into the mic, Beyonce style, just because. But, alas, everyone in LA is way cooler than I am, and I decided any attempt at taking my giddiness a step further would totally give my inner geek away. 
After the audio recording, I jetted straight to the airport and boarded the plane to head home. The entire way, I kept thinking how happy I was that I decided to just do it. It was all the perfect example of something that seems like a feat in the beginning, but once you dive in, it's so worth it.
On a side note, thanks so much for all your sweet comments on the completed videos! It was so much fun to share with you and I truly appreciate all the love from readers. xx