Are you a celebrator or a critic? Be honest!
I was reading 10 Learnings from 10 Years of Brain Pickings the other day, which is a really moving article for when you have a few minutes to spare. All the learnings were thought-provoking, but the following excerpt really resonated with me: "Be generous with your time and your resources and with giving credit and, especially, with your words. It's so much easier to be a critic than a celebrator…To understand and be understood, those are among life's greatest gifts, and every interaction is an opportunity to exchange them."
Read that one more time, just for good measure.
…Now, let's proceed. Let's face it, unless you're Mother Theresa, you probably fall into the camp of being both a celebrator and a critic. Depending on the scenario, and level of emotion involved in the situation, I know I can be both. We're all only human, right?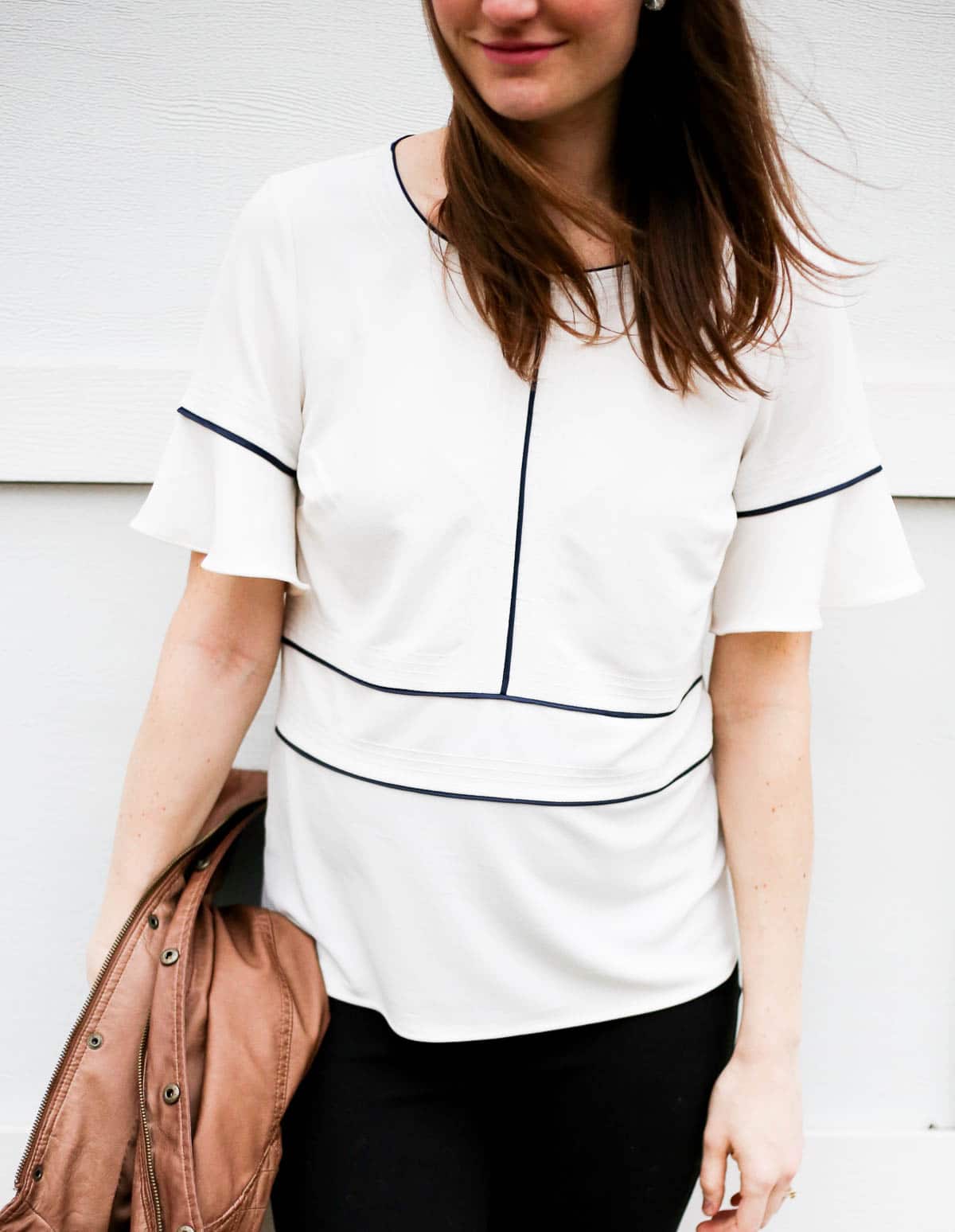 But with that in mind, I do think it's important to remember to keep criticism in check. I absolutely hate feeling judged, disapproved, or misunderstood, especially if there's another point of view that someone hasn't taken the opportunity to consider. Likewise, when I'm the one being critical, I often look back and hate how I sound, even if it's just internally. What's funny is that I often find there's an underlying reason for my criticism that says more about myself than the person or thing I'm being critical of; jealousy or being ill-informed are common culprits here.
I'm a pretty optimistic person by nature, but as humans we all can get caught up in negativity. Especially since having Gracie and becoming a mother, I've tried to be kinder in my interactions across the board, because I try to emulate how I want her to act and be treated.
Plus, life is simply too short. Being happy means thinking happy thoughts, and often that means keeping your own criticism at bay. 
The question then becomes, how do you keep it in check? While I'm certainly no expert, I've developed a few ways to help myself practice being more positive. After all, people are worth celebrating.
Focus on the positive. This is the biggest input into being a celebrator. If you focus only on the downfalls of a situation or person, then it's hard to see what they do do that's positive. Everyone has positive things to offer. Let the negative roll off your shoulders a bit more and focus on what's good.
Say It. Have you ever received a compliment out of the blue, and it made your day? I have. It really sticks in your mind, is motivating, and has the power to inspire you to do the same. The problem is that far too often, even though we think something positive, we don't always say it. Lately I've been trying to practice being more vocal with positive things I'm thinking, even if it's just reaching out to someone I'm thinking of and saying "Hi". I've immediately seen and felt a better connection with those around me.
Give yourself a little time. Sometimes, especially in heated situations, you need to take a step back and really digest how you feel. If you find yourself being critical and can't get out of a rut, allow yourself a little time to sort through those feelings, then go from there. Often critical thoughts are simply heat-of-the-moment driven, and things aren't as bad as they may have initially seemed.
Put yourself in the other person's shoes. It really does help to look at things from a different perspective. If you're in a fight or upset, think to yourself, "What would the opposing point of view be?" Perhaps what you'll find is that while you may have a reason to be upset or critical, they may also have some fair points worth considering. This can be a humbling realization.
Realize no one's perfect. …Including you. Think about what you're being critical over, and then ask yourself, "Am I being fair?"
Think about solutions. If what you're being critical over is something that is focused on a fight or something that could be solved, why not think of how to solve it instead of dwelling on the negative? Sometimes, the best way to move forward is to genuinely move forward, which usually means finding a solution to whatever the issue may be.
Obviously I'm not an expert here, but I definitely have found that keeping the above in mind has helped me to be more celebratory across the board. What works for you when you are trying to keep positivity top of mind?
With all the madness going on in the world today, we can all use more positivity in our lives. We're all worth celebrating – even the smallest of accomplishments or moments. It starts with thinking better thoughts, then acting on them. I truly believe that,little by little we can all do our part to make someone's day even just a bit brighter, which really will help to make our world even a bit happier.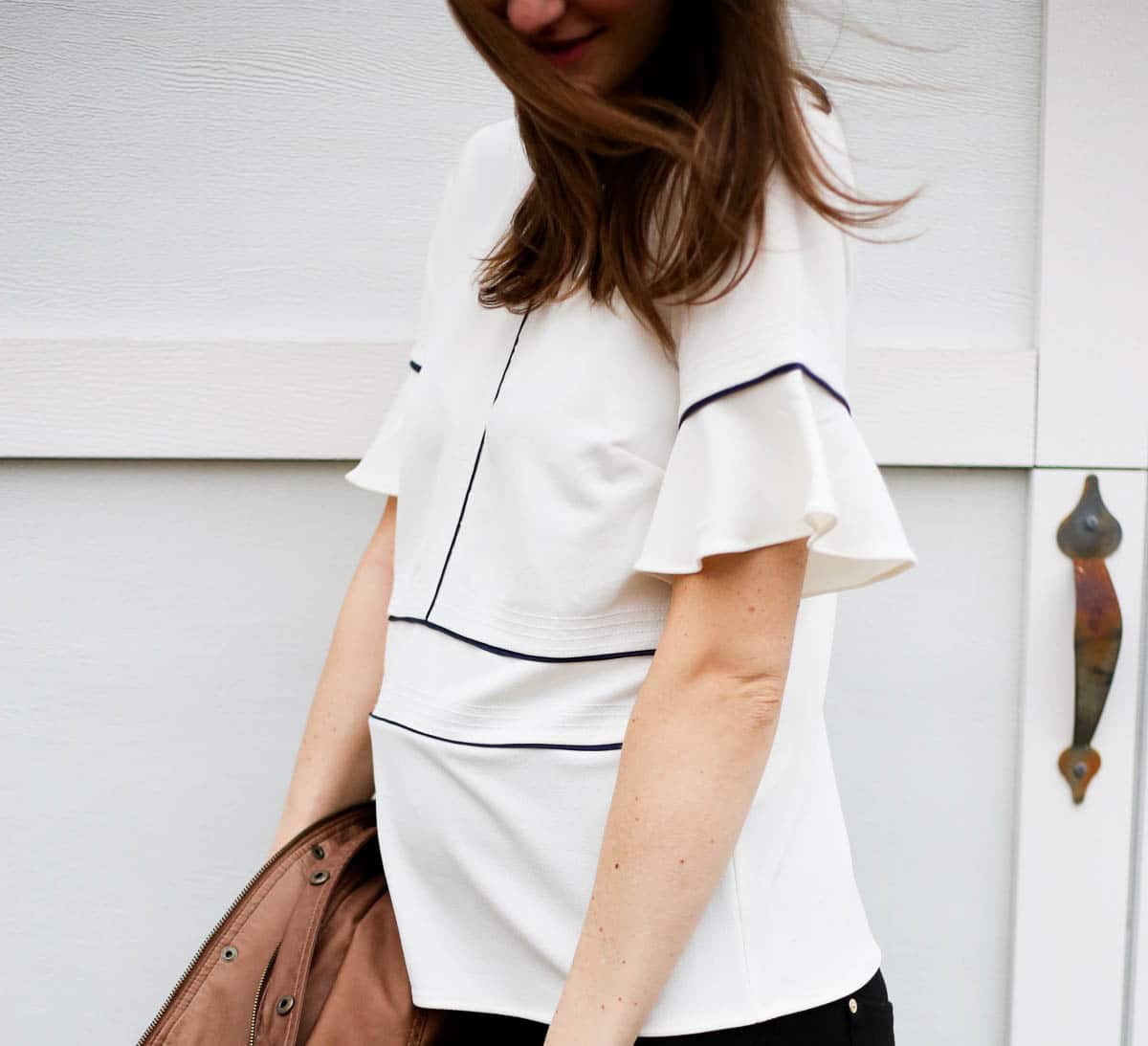 …And speaking of happy! This blouse makes me smile. (Non-maternity!) I love that it has the perfect pop of flounce ruffle that's so popular right now. If I didn't have my pregnant belly to consider, I likely would have paired it with a pleated midi skirt or something equally as feminine, but I love that I could simply wear this on its own and it still looked great.
With it, I wore my oxfords and leather jacket, two things I've been loving with pretty much everything lately. For accessories, I kept it classic with large diamond studs and a tortoise headband. My pants were the only thing maternity that I wore; I'm officially out of all normal pants and am having to get pretty creative with clothing options lately since I have only a few pants that I've been rotating. (Trying not to go overboard with buying maternity!)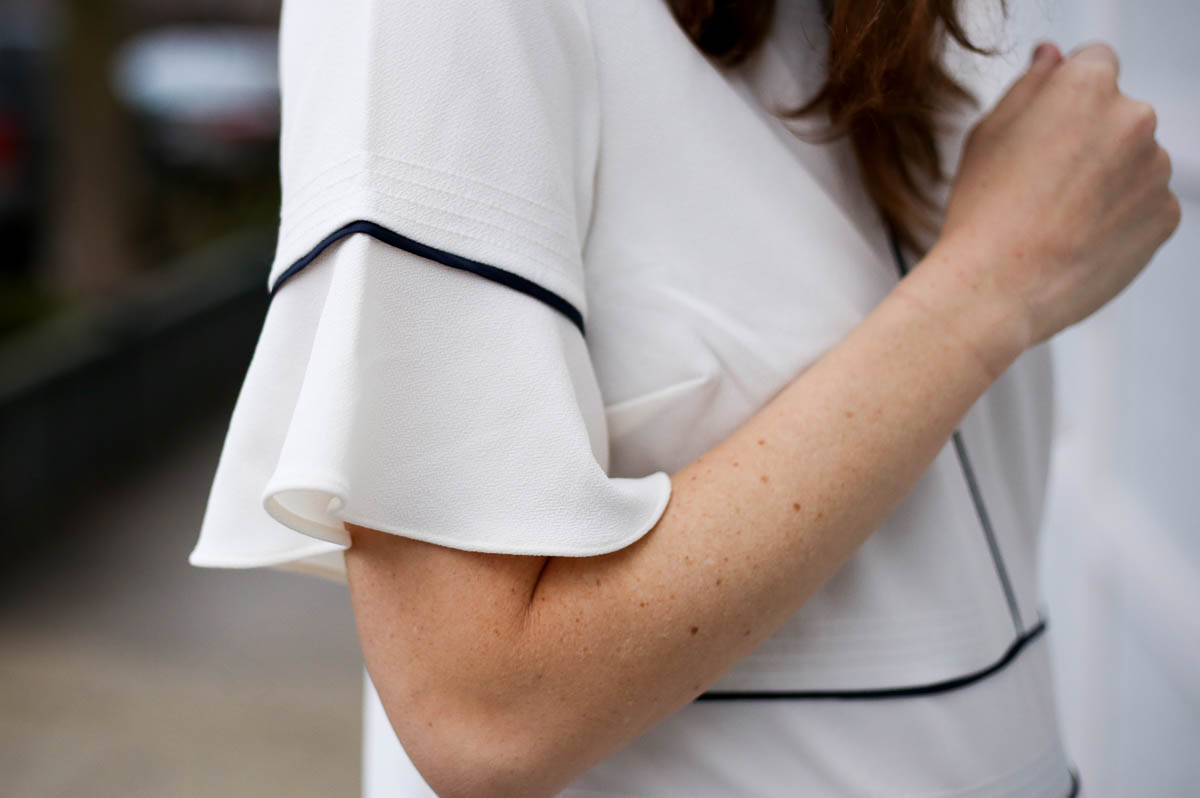 :: Shop The Look :: (I added in really cute options for oxfords & brown leather jackets – two things every girl needs right now!)