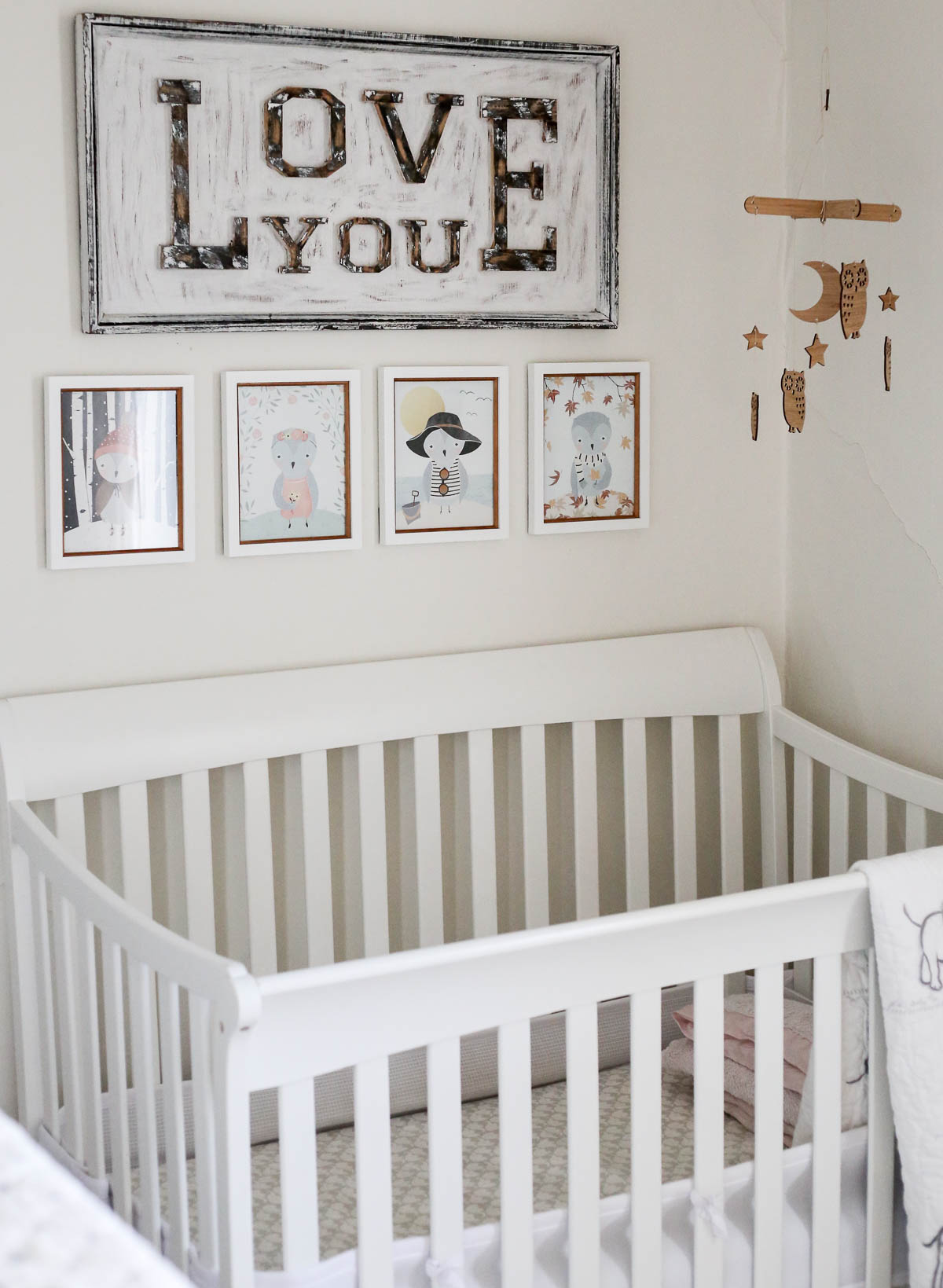 Owls, elephants and bears, oh my!
"Baby animals" was the clear theme winner of Gracie's nursery from the beginning. How could you pass up the cute, cuddly little creatures? I, for one, could not. And judging from the fact that Gracie started saying "Rawr" and "Moo" on behalf of loving animals and their noises before she could say even a few words, it was a pretty good choice. Here's a quick tour of her bright corner of our apartment!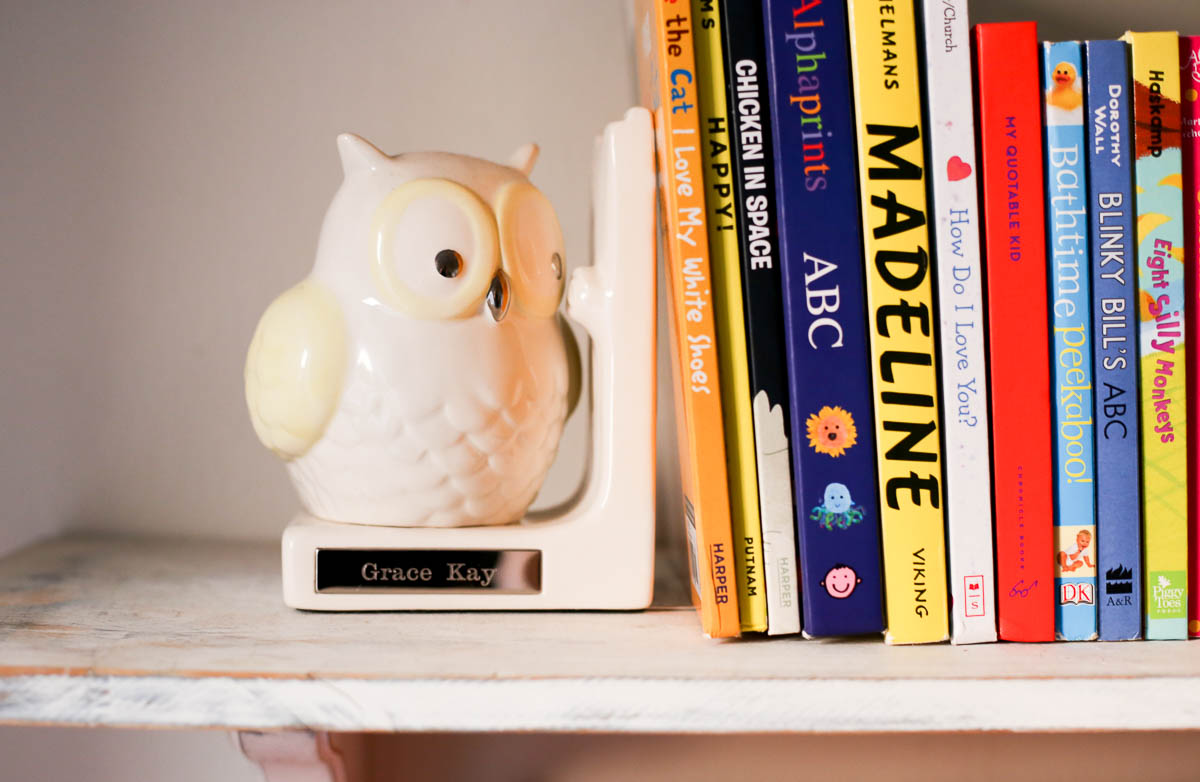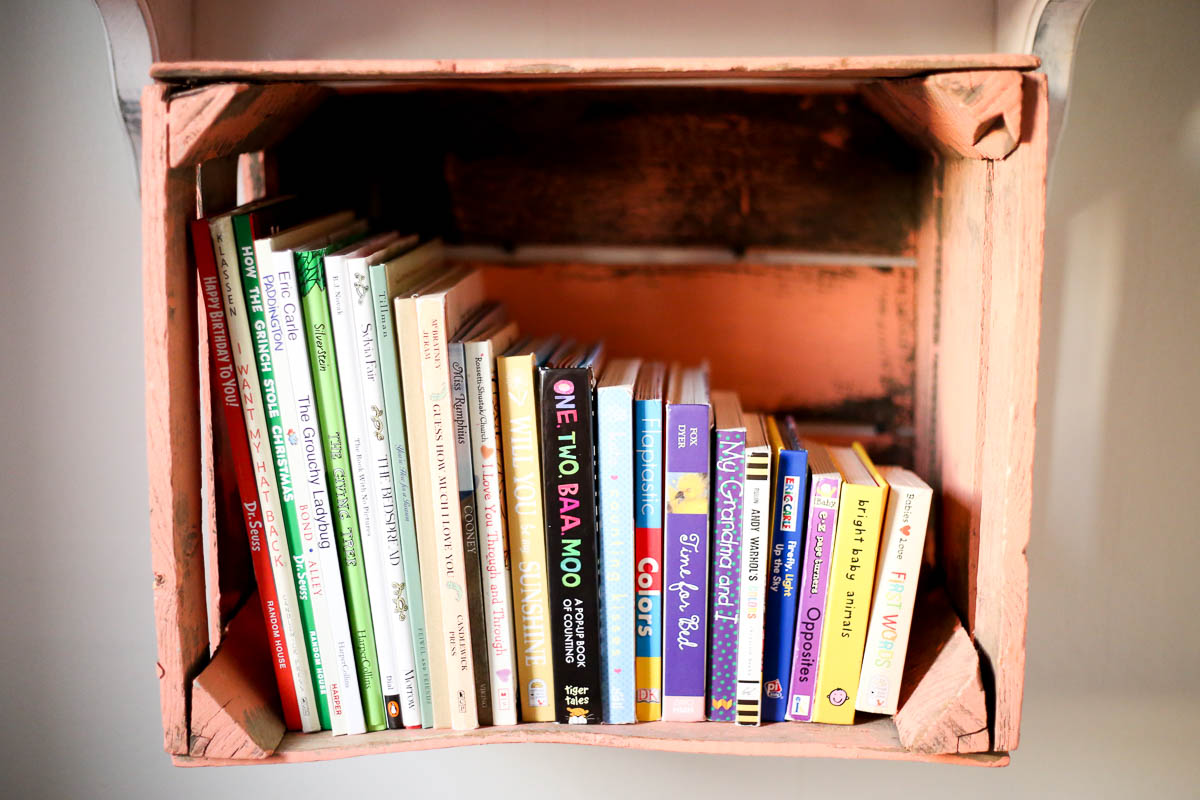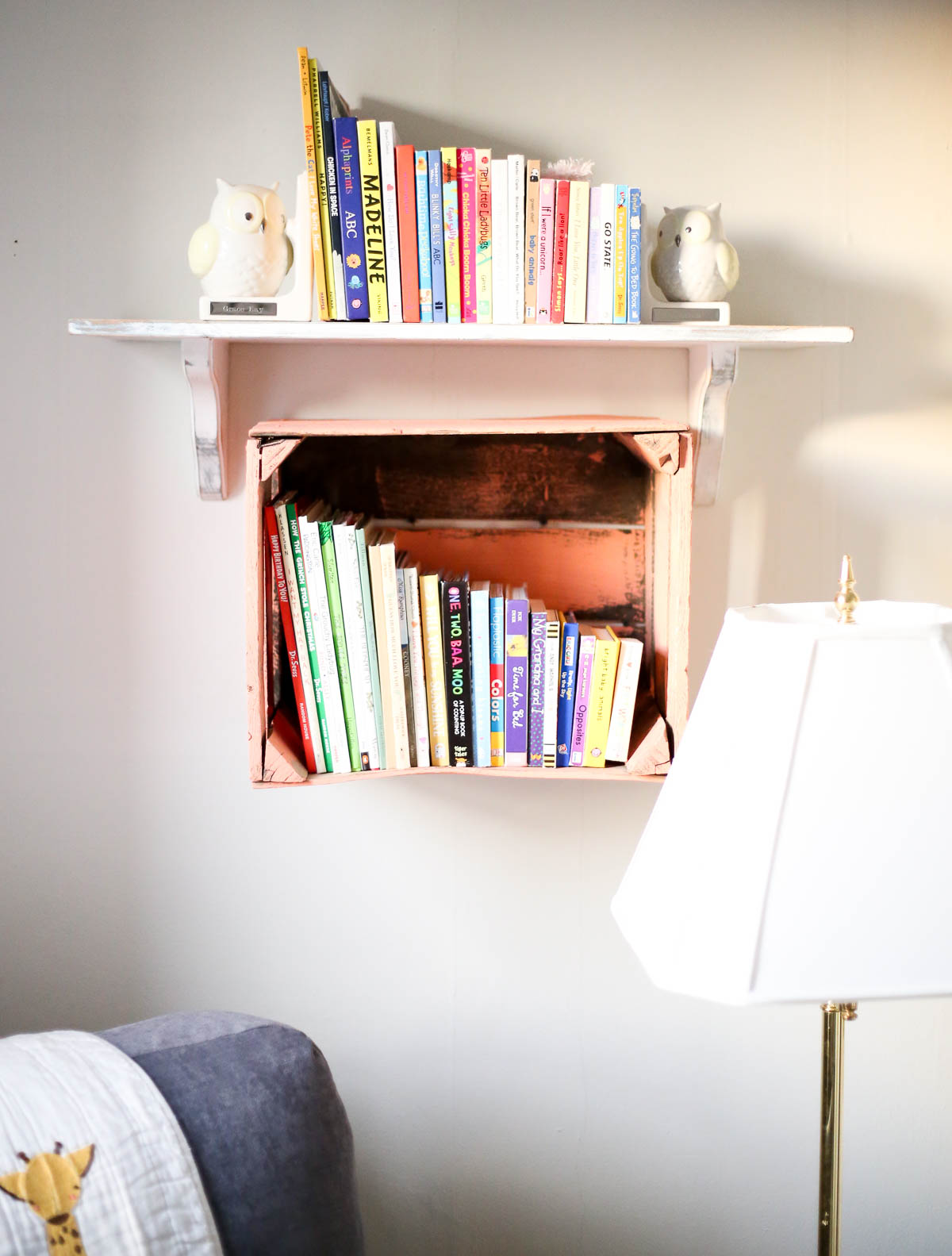 First, her bookshelves. We got creative with this one, because her room is fairly small, so not a lot can fit, and we wanted to keep floor space as open as possible as she learned to roll, crawl, then walk. So, we used a painted old milk crate that we found at a flea market and paired it with a shelf that Doug handmade for me years back.
Holding the books on the shelf are two bookends that we received as presents from our family. They're little owls that say "Grace Kay" on them, and are the cutest touch! If you're looking for similar items, these elephant bookends and these giraffe ones would look so stylish yet adorable.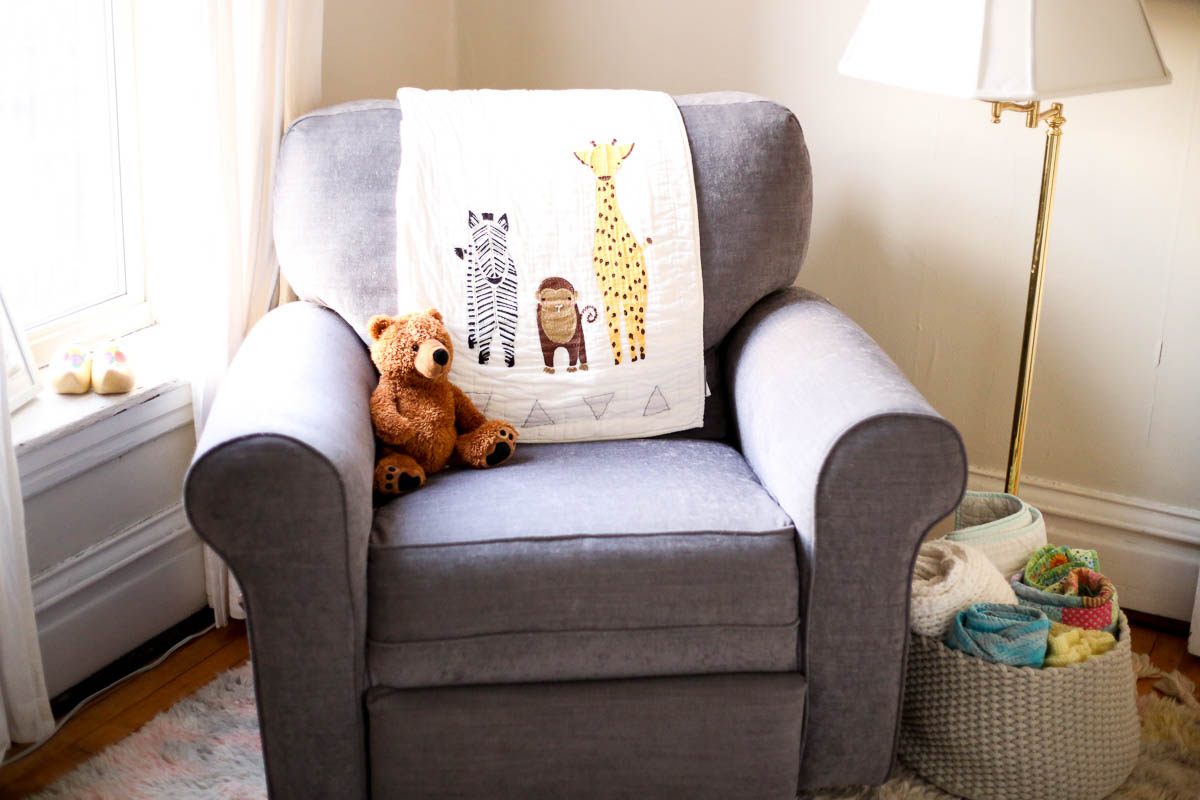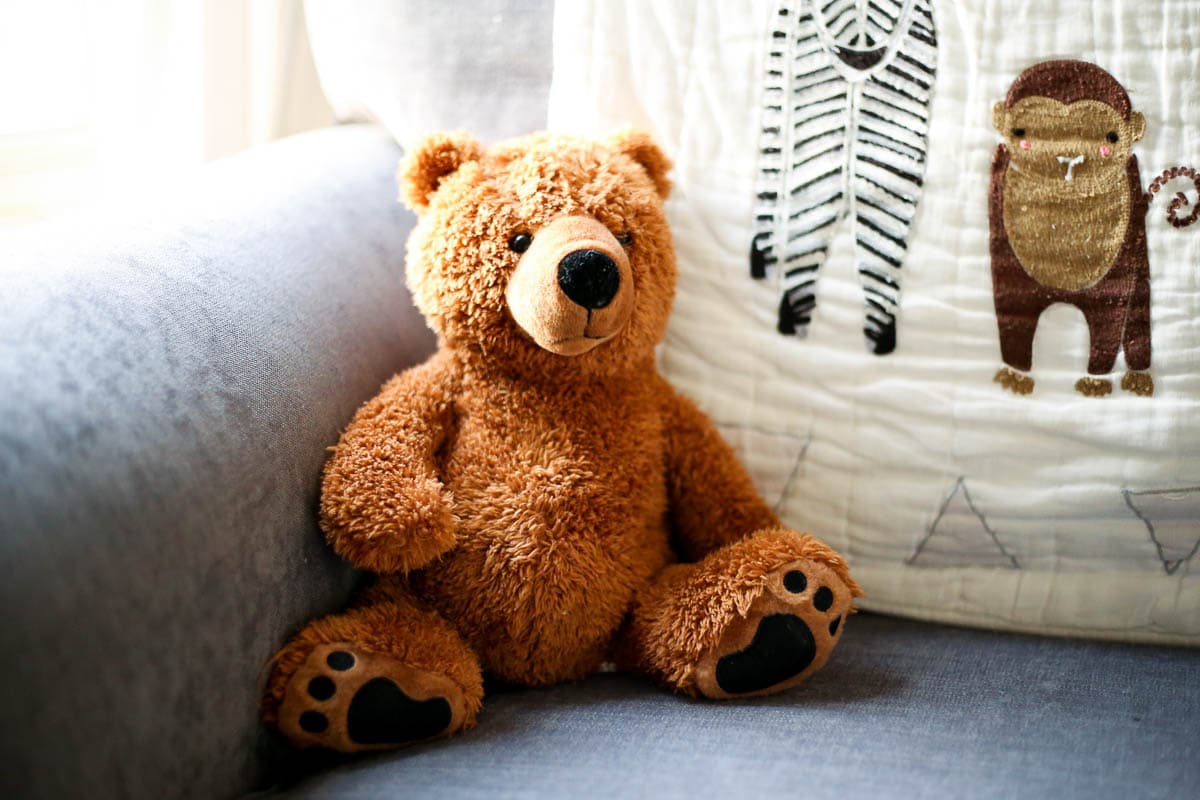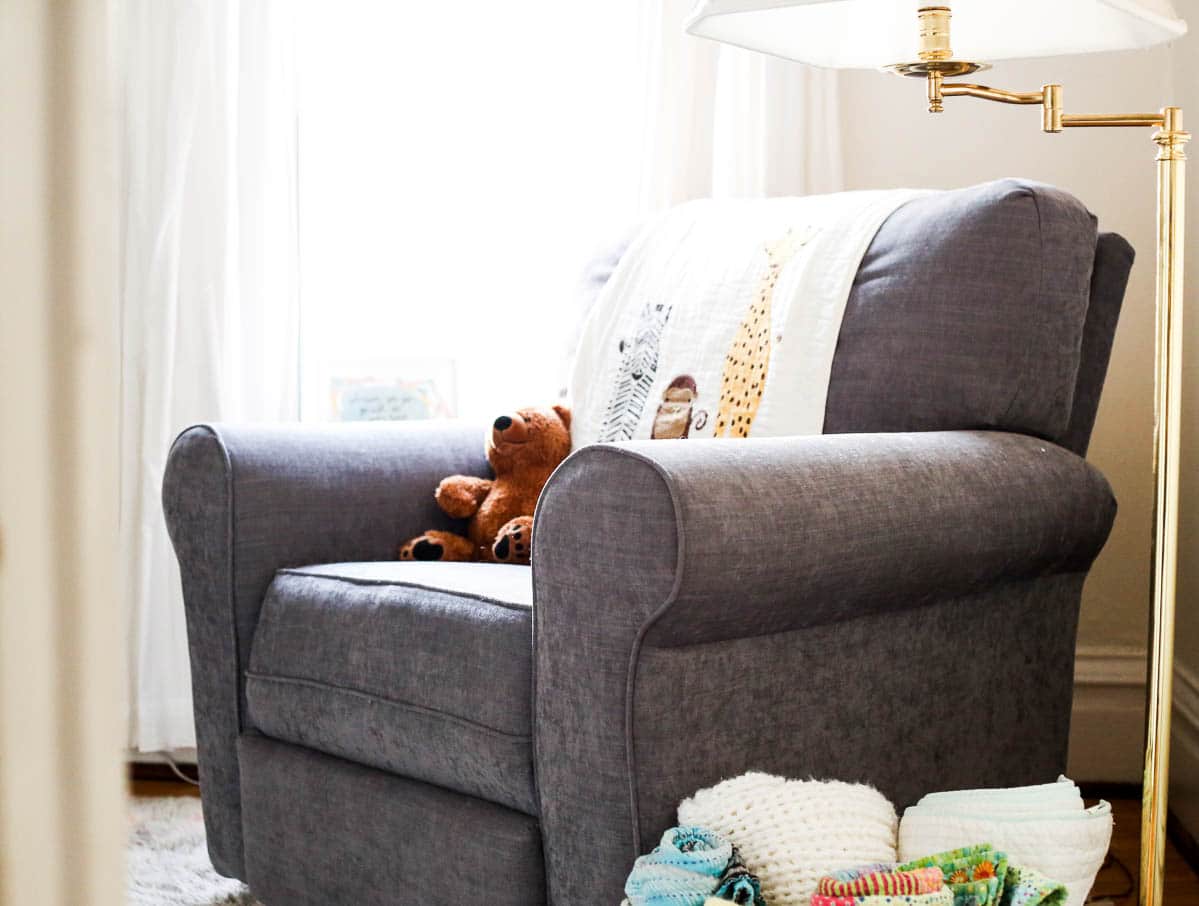 Our rocking chair is a glider, which was the best purchase. This chair (not available online but you can find a similar one here) and I quickly bonded when Gracie was an infant and I spent hours rocking, singing to, or nursing her in this corner. It's comfortable, reclines, swivels, and I love the grey/blue color. (We purposefully got it to be a color that we could use in other rooms in the future.)
All her blankets are rolled and stored in a light grey knit bin (Similar here and here) and there's a savanna baby quilt that hangs on the back of the chair, accenting it. Believe it or not, the lamp we have in Gracie's room is a hand-me-down from my parents; they had it in their first house over 30 years ago!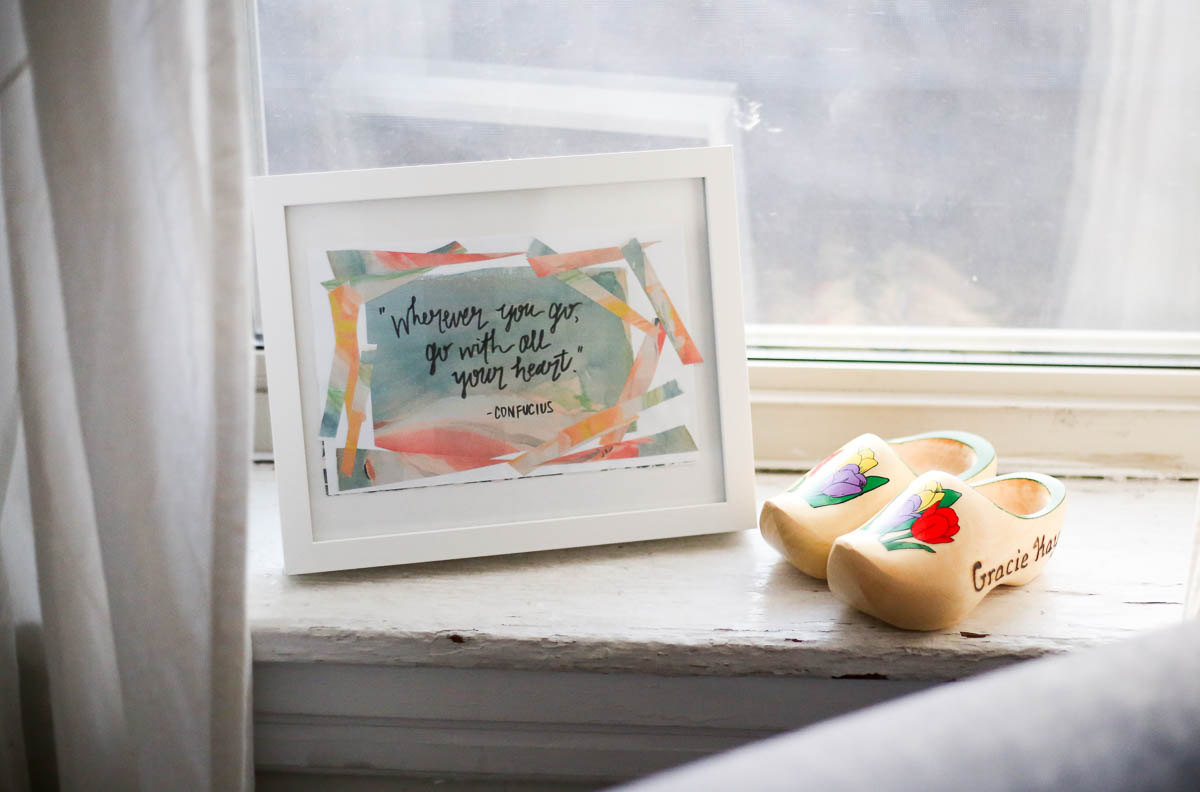 I love this picture frame, which has the quote "Wherever you go, go with all your heart." My step-sister Mandy, and Gracie's bestie, made it for her for Christmas. The wooden shoes are a nod to our dutch heritage, and were given to Gracie by her godfather, my brother Dave.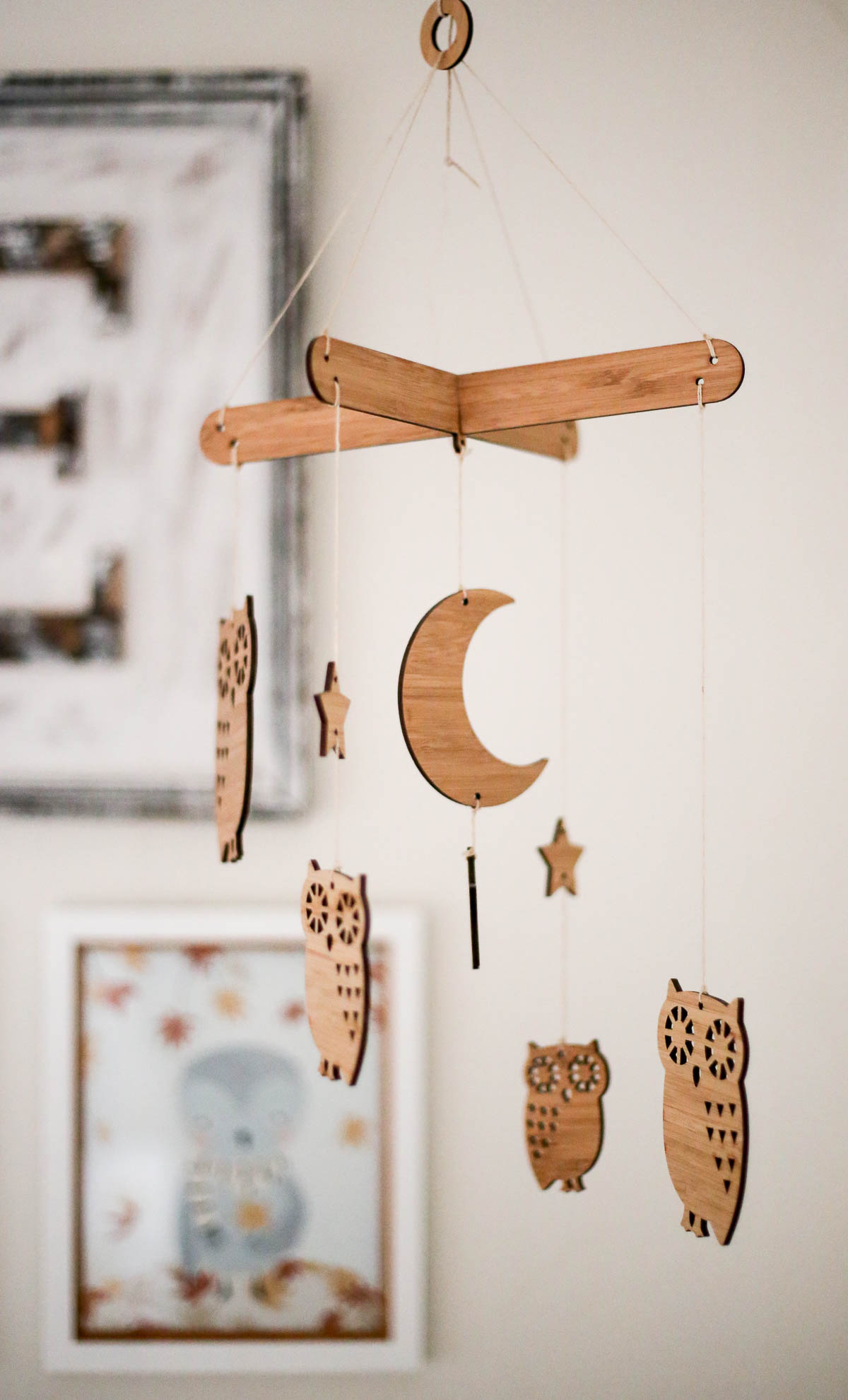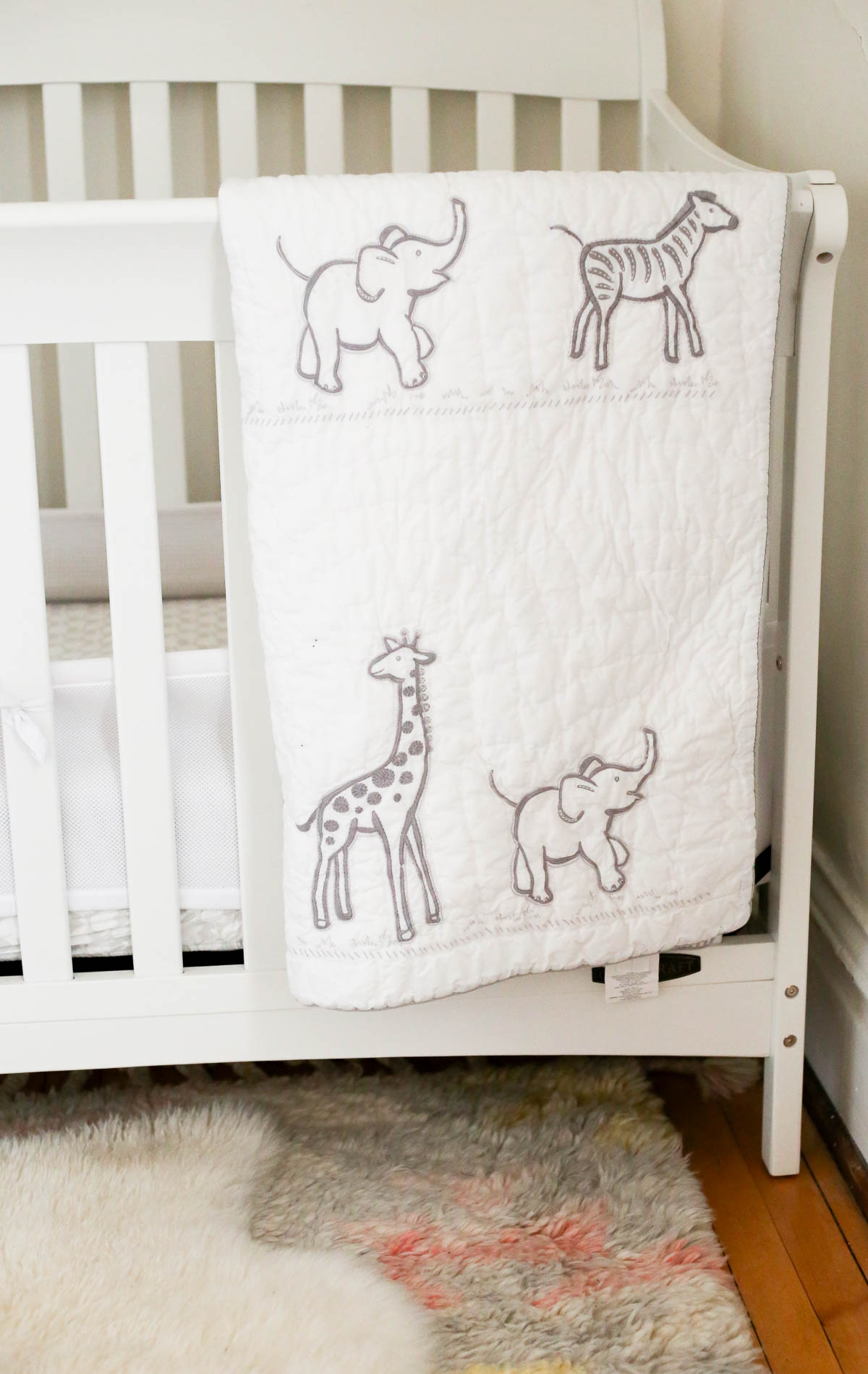 Gracie's crib area is my favorite of the room. On the wall is a big sign that says, "Love You," which was a gift from my mom years back. Under that sign is a series of baby owl wall art that showcases the four seasons. (Only fall season is available currently, but you can purchase it here, and there are SO many cute options here!) Her mobile is filled with wooden with stars and baby owls (similar here), and her sheets obviously rotate but are usually filled with elephants or other animals.
Another item I'm obsessed with in Gracie's room is her rug. (Exact rug here – and it's on sale!) It's the prettiest mixture of light grey, white, pink and yellow. I layered a small white sheepskin rug on top to create some additional depth.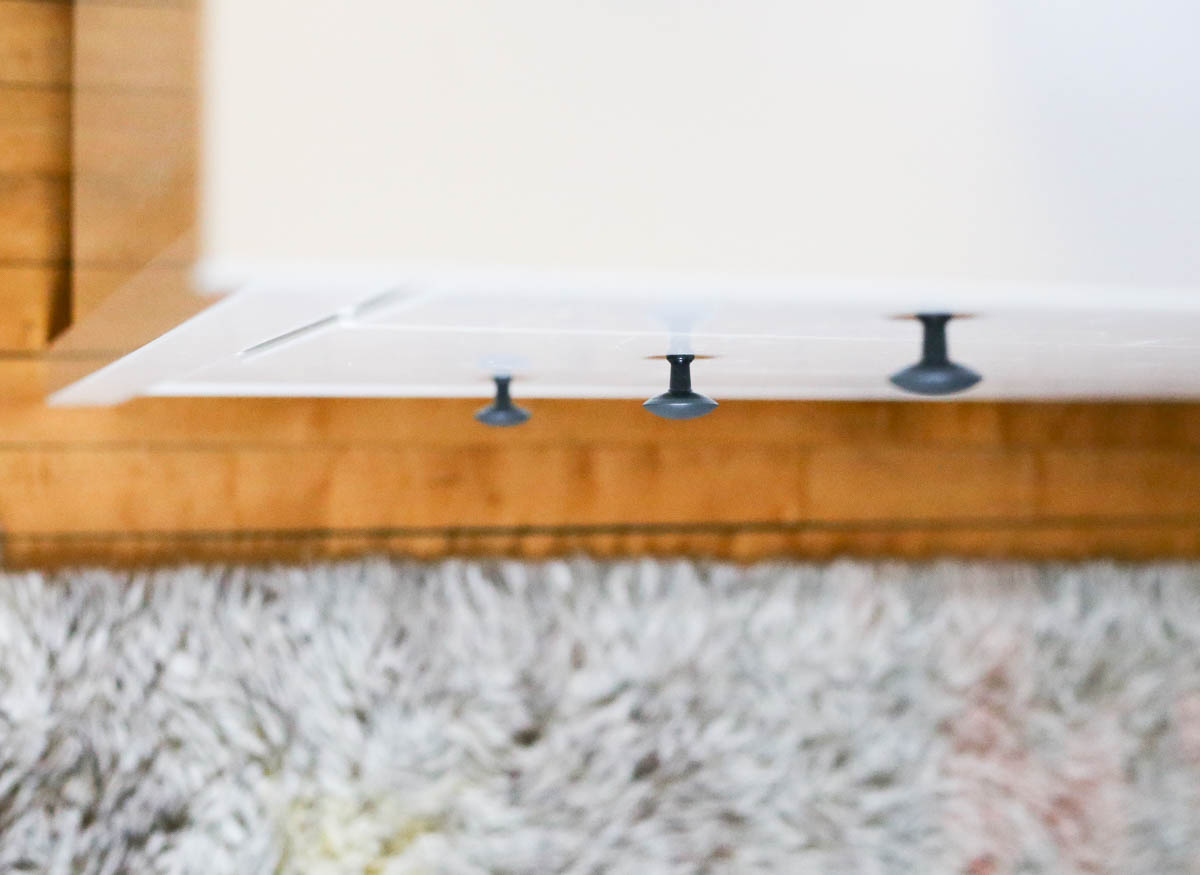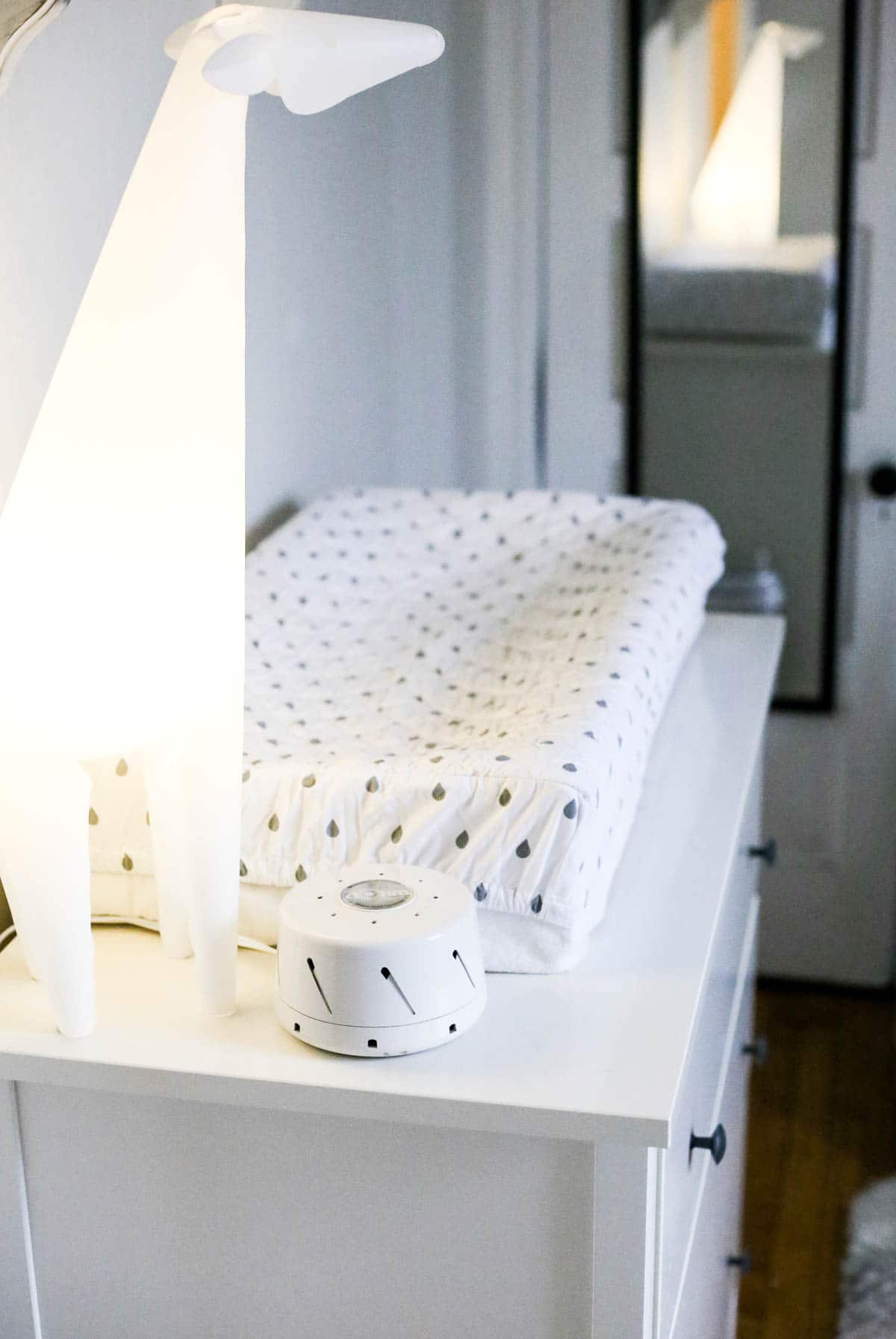 Last, her dresser area is also her changing station, which makes changing and dressing her super easy because everything is in one place. Her giraffe night light is a savor during late night check-in's with our sleeping girl! (Oh – and in case you don't have it – get a white noise sound machine. Seriously the best invention ever.)
…And there you have it! Gracie's baby animal-inspired nursery. This post was fun to shoot and was very timely, because with the new baby arriving we're going to be changing Gracie's room a bit. I'll share those updates with you soon, but as a hint, it includes a really fun reading teepee!
:: Shop Gracie's Nursery ::