What. A. Week. What a month. What a year, so far! Does anyone else feel like things go so fast that you feel like you're in a constant whirlwind? Monday arrives, all of a sudden it's Thursday, then the weekend, and – boom – a whole new week begins again. Time, slooooow down, please!
While I seem to always wish for more hours in the day, I've also realized that being busy is actually a really good thing for me. I'm not sure if it's where I'm at in pregnancy, or just that a groove of sorts has been found, but feeling motivated has been a really prominent emotion on my mind lately.
There's just so much to do! So much to see! Ideas to explore! When I think of all those things that tumble around in my mind, I'm excited and eager. I've noticed I've oddly gotten accustomed to saying "Ug I'm so busy" like it's a bad thing. It's a default response of sorts. I'm annoyed of myself for doing that, because when I really think about it, I think busy is a pretty good thing, if managed correctly.
The upside of being busy is that, well, you're active. You're alive. You're physically and mentally stimulated. These are all so important. And quite frankly I need to start embracing that a little more. 
So, there you have it. I'm feeling optimistic today. And with that I've also got to tell you that this dress is pretty fantastic – it's perfect for a busy lady running around town!
You know those dresses where you feel invincible in? Those ready-to-tackle-anything dresses; the ones that are equally as comfortable as they are stylish. This is one of them. Truth be told, as I was browsing aisles for a new spring find, it was the fabric itself that made me do a double take. It's just so soft, has the perfect amount of stretch (great for rocking the belly!), and I could tell immediately it was one of those dresses that would become a favorite. It comes in 4 colors including black and wine. This olive dress is by the same designer and has a similar fabric make up – seriously the epitome of comfort.
I wore it with a cardigan for warmth (similar finds here, here and here) and favorite ankle booties that never fail. I love these booties for their color, style, and their heel height – they give length without being too high. (I can never understand how some women can walk in heels higher than 3 inches. Seriously, major kuddos to you. Not only am I super awkward in them, but straight up tip right over.)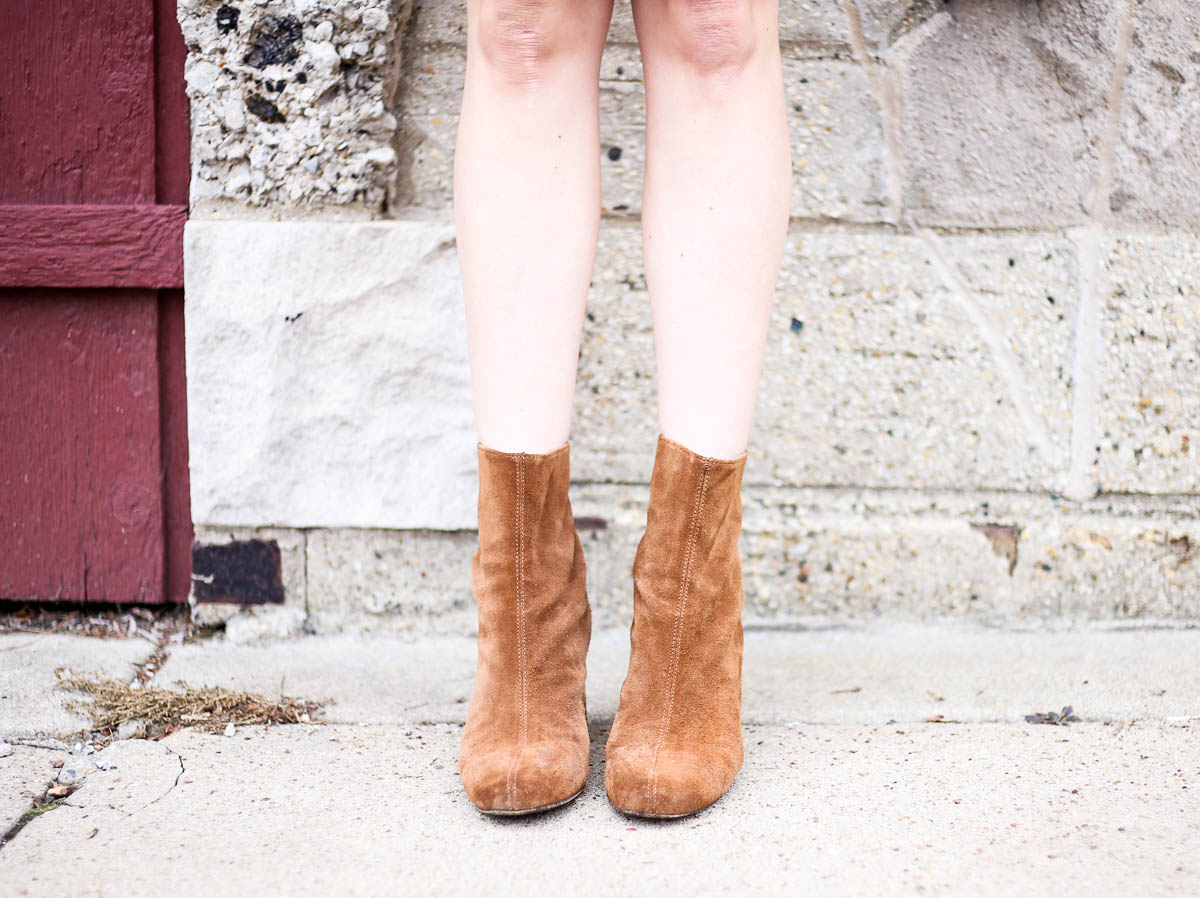 :: Shop the Post ::