Jumpsuit: Claremont Jumpsuit. So flattering and comfortable, and the pattern is so lovely! Currently on major sale, too. Looks adorable paired with a jean jacket, if you like a little more cover! | Heels: Past season. Adorable nude pump options here, here and here.  Also, these are out of my price range currently, but I'm dreaming of owning them.| Earrings: Boutique find that is unavail online, however this pair is similar, and I love this turquoise style too!
—
A common question I've received over the past week has been, "How has the adjustment back to Detroit been?!" To answer this, I'll offer up some photos. From Chicago. Shot a few weeks back.
Catch my drift? 😉
It's been a bit of a whirlwind over here. We have all our belongings sitting in the basement of our new house, waiting for the rest of it to be completed so we can fully move in. They anticipate mid-July. (Sooo…in construction time…we should plan on early August, right?)
Until then, we're living out of suitcases, hopping around to our parent's houses. I've started working from home, and the girls have started their new daycare, so things are settling into a nice groove. Though, I will tell you that I feel like I'm back in high school – working in the same spots that I used to study for my exams ages ago. It's kind of hysterical.
With the week of the 4th behind us, I think we chose both the best and worst time to move across state lines. The best, because it seems like everyone was on vacation mode and island time. The worst, for the same reasons. We have lots of work left to do on the house, and yet the fire has been more of a kindle to get it done. But, we're having fun being with our families, and even got to spend the 4th of July on the lake. So really, what's there to complain about?
Not a whole lot, my friends. As I said in this post, we're just trying to be laid back about it all and not get caught up in stress. But, I will tell you that once we're fully moved in and settled, I'll do a little jump for joy.
Which brings me to this amazing jumpsuit. (Not sure if that was the best bridge to go from moving updates to outfit details, but it's all that my brain can muster up at this moment, so let's go with it!) I've been on a romper/jumpsuit kick this summer, mainly because they're so easy to wear while still looking stylish and pulled together. (Read about the romper that made me a believer here! As you can tell, Anthropologie style is totally my thing.) I love this particular option's fabric — it's super soft and comfortable — and the pattern is so perfectly summer. I paired it with a jean jacket and wore it to work on this particular day, however it'd be so cute for an event or dinner!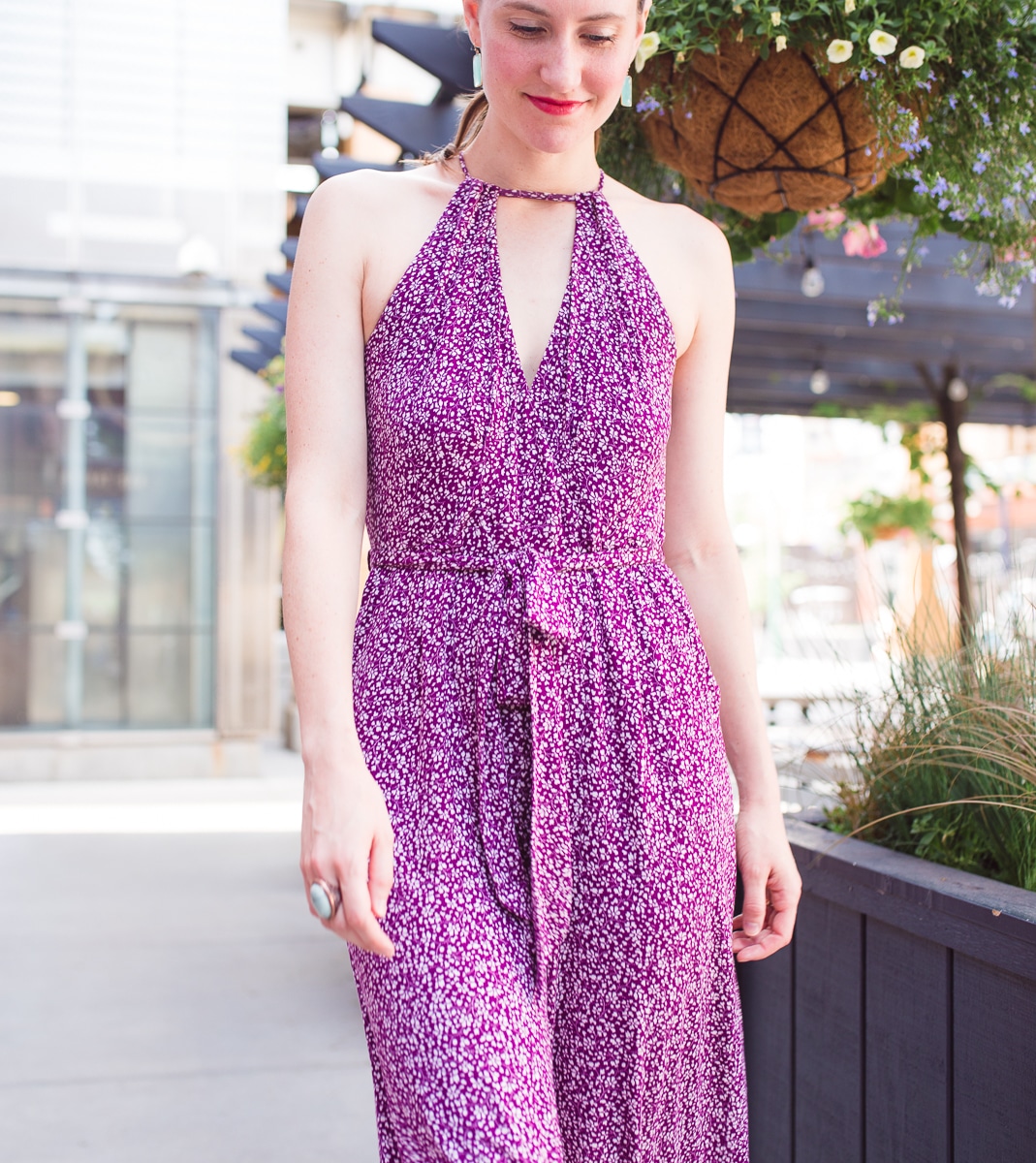 More to come this week, including behind the scenes photos from a gorgeous tea party + a new favorite dress!
PS – What to do when life hands you lemons + Thoughts on turning 32 + A fun new tradition with my girlfriends