Well, friends, it's arrived. My last outfit post while being pregnant with this little lady. I chose this adorable maxi dress as the last hurrah, which I highly recommend for spring and summer as it's perfectly bohemian, comfortable, and yes, is non-maternity! Plus, how pretty is the red stitching?
Sure, I'm not technically due until next week, but at this point I'm doing all I can to get labor in motion, so I'm hoping that any day now I'll have her in my arms. So, no more shooting looks for me as I count down the days. Not that you'd want to see what I'm sporting anyways, as I'm fairly unimpressive at this point. Rotating stretchy pants and maternity tops only goes so far, you see. Plus, my stomach feels like it's growing twice the size every day, and to be frank, I'm kind of over dressing the bump. I can't wait for clothes to fit even somewhat normally again. And wine. I really can't wait for a big glass of red wine.
But, more than anything, I can't wait to meet her. As we normally do on nice-weather weekends, we went to the lakefront for a long walk recently, and I couldn't help but get emotional over the fact that our second baby will be here so soon. Our lives with Gracie changed the moment she was born, and I know the same thing will happen with her sister, too. I kept looking around at Gracie, and Doug, and my bump, and thanking my lucky stars for our growing little family who I love so much that words can't begin to describe.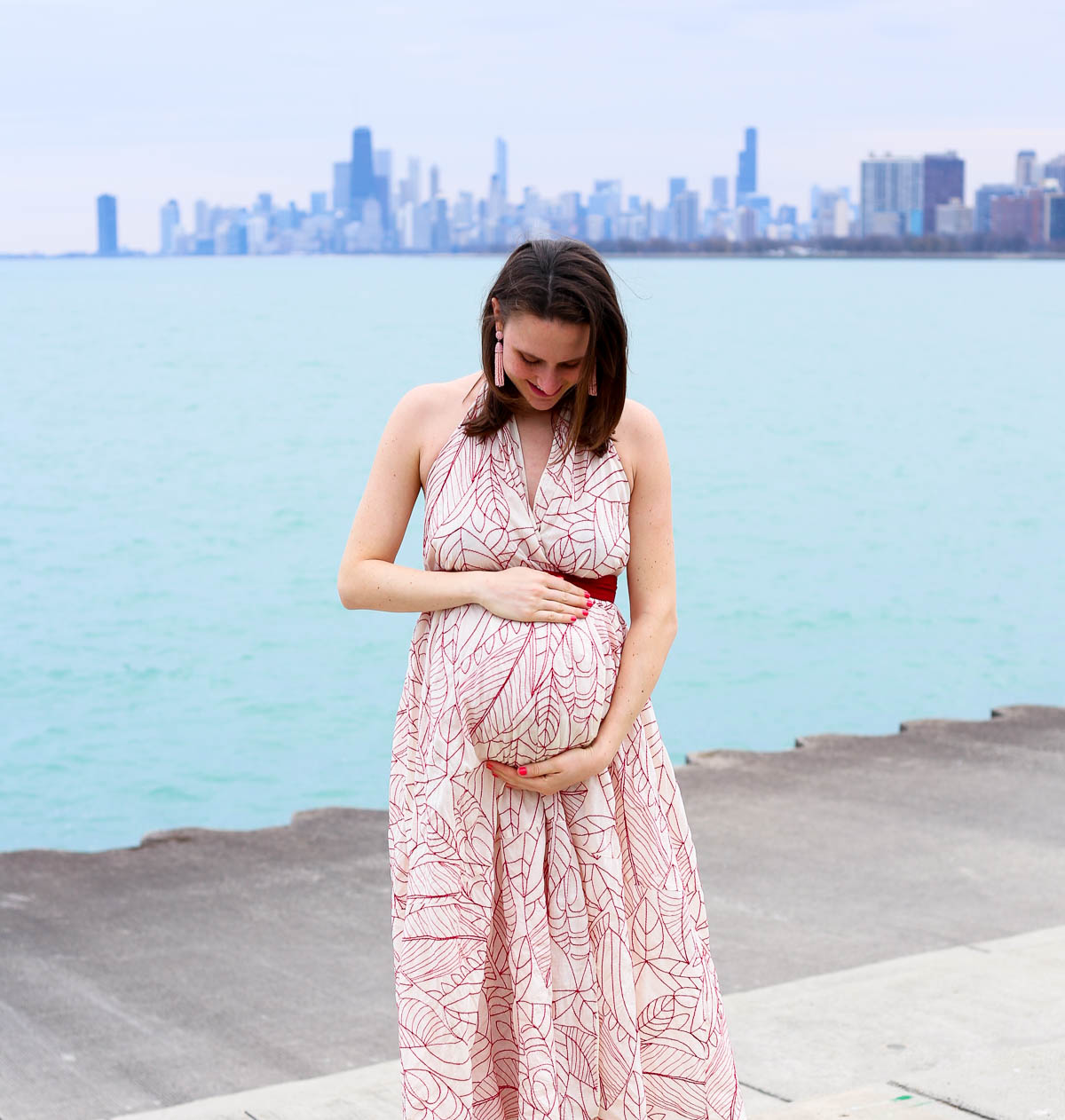 As I move into being a mother of two, I wanted to extend a heartfelt thank you for following along with my pregnancy. Sharing the many thoughts, feelings, and updates with you has been really fun, not just to connect to readers, but also to document it all. Many of you have kept up with our family since before we were even pregnant with Gracie, which is so amazing, and I'm looking forward to continuing to share the next chapter of our journey with you.
Over the next few weeks, I've got some pre-scheduled content going live, so be sure to keep checking back in! It's my full intent to keep blogging throughout maternity leave; I'm looking forward to introducing you to the new baby, sharing about our adventures as a family of four, and of course, infusing a little style along the way. In the meantime, be sure to follow along on Instagram and Facebook if you're not already!
Wish me luck as I head into the final stretch of pregnancy! Labor during round one was not what I'd describe as enjoyable, so I'm a bit nervous. But, like the last time, the end result is the sweetest, most amazing gift in the world. And for that I simply can't wait. <3